22 July 2017
Aachen: Sandmann strong in sunny marathon
Today was marathon day at the CAIO Aachen. The 24 four-in-hand drivers treated the many spectators who had flocked to the Soers to wonderful sport under a very warm sun. German Champion Christoph Sandmann put down the best performance today and won the marathon.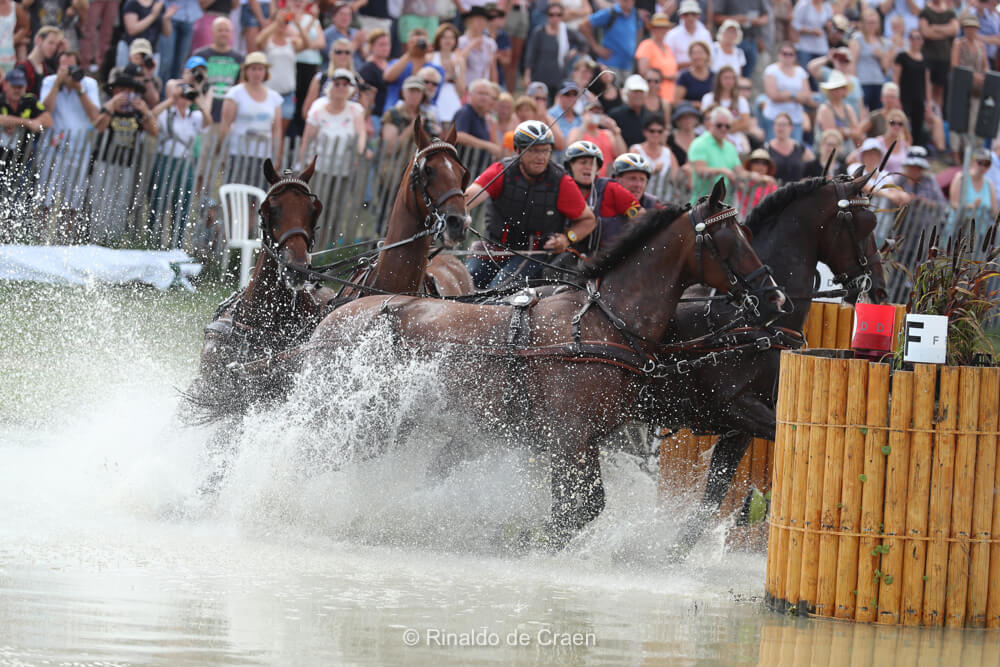 Christoph Sandmann
Photo:
Rinaldo de Craen
Leader of the standings Boyd Exell drove a good marathon, but missed the F-gate in obstacle six and finished on the fourth place. He is still in the lead with a 10 points advantage to his rival IJsbrand Chardon, who finished third in the marathon. Dutch drivers Theo Timmerman and Koos de Ronde finished on the fifth and sixth place respectively, with which the Orange Team has extended their lead to host nation Germany with 15 points in the Nations Cup.
Edouard Simonet beat his mentor for the second time this season. Edouard won the marathon at the Royal Windsor Horse Show earlier this year, ahead of Boyd. The talented Belgian driver finished on the second place with the beautiful team of Arabo Friesian horses from Jelle's Home. Christoph Sandmann drove a near faultless marathon and set very fast times in the eight obstacles, designed by level 4 Course Designer Dr. Wolfgang Asendorf. For the first time, the course included three fixed obstacles. Sandmann has climbed to the fifth place in the standings. The strong performance of Simonet also contributed to Belgium holding on to a top three placing despite the elimination of Glenn Geerts. Geerts had to stop after obstacle eight when one of his horses turned out to be not fit. France's Anthony Horde forgot the start line in obstacle five and was responsible for the scratch result of Team France today. Chester Weber was on the second place after dressage, but had several mistakes in the marathon, which dropped him to the 20th place.
Click here for the starting orders and results.