10 June 2018
Saumur 2018: first CAIO win for Bram Chardon
Dutch four-in-hand driver Bram Chardon claimed his first victory in a CAIO competition this weekend in Saumur, France. It was a very close battle between Charon jr. and Chester Weber, who finished in second place. French top driver Benjamin Aillaud came third. The French team won gold in the Nations Cup, the Swiss won silver. The Dutch team lost their chances to another victory in a Nations Cup competition after Koos de Ronde sadly had to withdraw before the marathon when two of his horses turned out to have fever.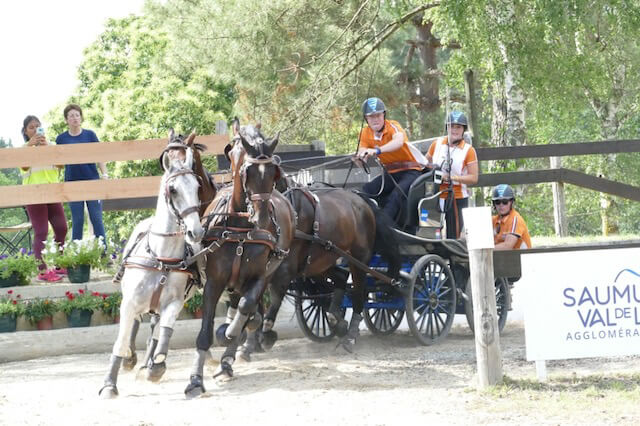 Bram Chardon
Photo:
Pixelvisuel
Bram Chardon started with the third place in dressage, which was won by Chester Weber. The 24-year-old won the marathon, designed by French level 4 Course Designer Jacques Tamalet: "I started not too fast in the marathon. Saumur is known for its heavy marathon and then you know that you need to have some reserve. At some point I was told to speed up a bit and that worked out well for me. After the marathon I had a tiny (0,09) advantage to Chester, but he had some penalty points in the cones. This gave me some air, but I still wanted to drive clear and that worked out well. This was a super general rehearsal for Aachen, I am representing the Netherlands there with my father and Koos de Ronde."
With his victory, Bram also wins valuable points for the indoor FEI World Cup™ Driving, which takes place during the winter season.
Stan van Eijk wins Horse Pairs Class
Another Dutch victory in Saumur for pair driver Stan van Eijk, who won the three-star Horse Pairs Class. Van Eijk finished in fourth place in the dressage, which was won by French driver Franck Grimonprez. In the marathon, Van Eijk finished second behind Frédéric Bousquet and took the lead in the standings. Grimonprez gave Van Eijk some air in the cones competition when he made a few mistakes but like Chardon, Van Eijk was determined to stay clear and managed to do so, which confirmed his first place.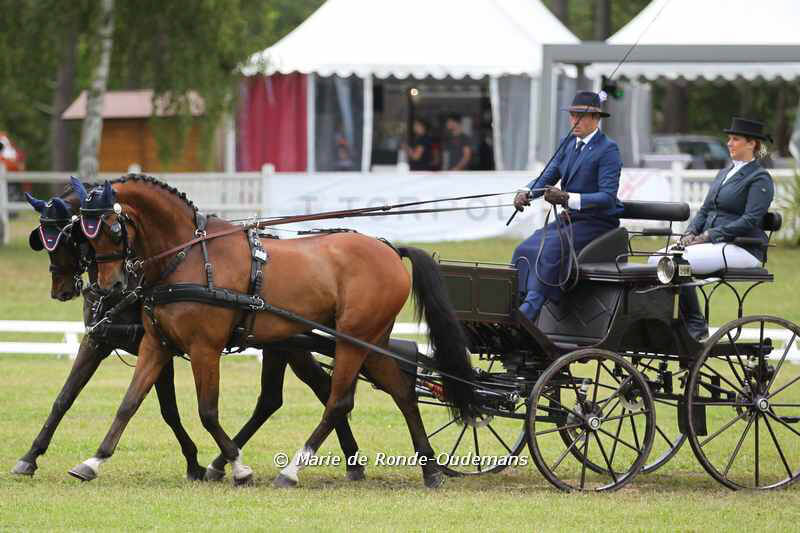 Stan van Eijk
Photo:
Marie de Ronde-Oudemans
Canadian win in Horse Singles Class
The Netherlands-based Canadian driver Kelly Houtappels-Bruder performed excellent this weekend in Saumur with her lovely 10-year-old Oldenburg gelding Flip. After the third place in dressage, Kelly finished third in the marathon and moved up to the second place in the standings, which was headed by Marion Vignaud. The difference between Houtappels-Bruder and Vignaud, who started with two horses, was minimal before the Cones (0,30 points). In the final obstacle driving competition, Kelly was therefore the last driver in and drove the course beautiful without any faults within the time allowed. This resulted in her second win in a row in Saumur: "Saumur is just a very nice competition with a pleasant and quiet atmosphere. The course design was completely different than in Kronenberg and I could drive Flip nice and smooth through the obstacles. My next competition is Chablis and we are gradually preparing for the World Championships in Kronenberg at the end of August," said Kelly who was very pleased with Flip's performance.
Click here for all results, information and photos.
Kelly Houtappels-Bruder
Photo:
Marie de Ronde-Oudemans