12 September 2017
British Carriagedriving National Championships Cirencester Park
The Bathurst Estate hosted the British driving season's finale again and 121 drivers enjoyed strong competition across the 19 classes, which included Evolution and Young Horse on the last day. This year stables and electric hook-ups were available and the event was run by a largely new secretariat.
The intemperate weather every day was nobody's friend and varied suddenly between mist, drizzle, strong winds and downpours to muddy the going in the more exposed obstacles. Alfie Budd, Novice Horse, gained the only dressage score under 50 – 46.93. Phillipa Howe, daughter of Sara, drove the fastest marathon, 76.11, round the eight obstacles with Rosanna Walters-Symons close behind, Advanced Single Pony. Course Designer Kim Andreasen's considered and flowing cones courses were pleasing to watch and delivered only eight double clear rounds out of 109 starters.
Ireland was well represented, as were Scotland and Wales; Gail Bain (AUS), Advanced Single Horse, started well, second to winner John Ripley in dressage, but the tighter obstacles did not suit larger horses. Danish Louise Kaiholm from Lockerbie won all phases, Advanced Pony Pairs, to take the title by 35 penalties from Joseph Adams. Sara Howe, Pony Fours, had a similar victory, Fenix Carriages' Joanna Broadbent taking reserve.
Novice and Intermediate drivers came in force with 37 forward. Howden Insurance Novice Pony Driver of the Year, George Wood, was sadly eliminated in obstacle 2. Sarah McLaughlin deservedly pocketed the championship with Holly Dormer, backstepper for international para-driver Debbie Daniel and driving her pony, coming a firm reserve in a determined class of 13. Mark Riley overtook Chris Patrick in the cones to take the Novice Horse title. Rebecca Boswell took the Intermediate Pony championship with young driver Collette Holdsworth a close second. Jackie Durkin had to finish strongly in the Intermediate Horse class.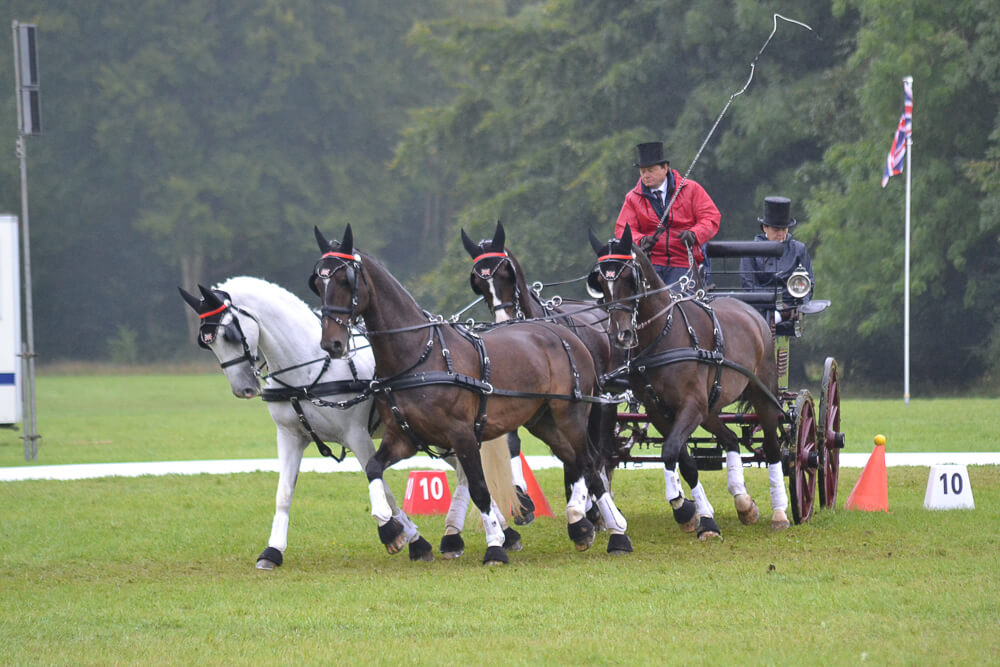 Wilf Bowman-Ripley
Photo:
Jane Wilson
David Whitfield, Fenix Carriages Open Horse Driver of the Year, also took the championship and Nicola Blandin did the same in Open Pony.
Gary Power contents himself with two ponies now and scooped the Open Pony Pairs title while Stephen Williams topped the Open Horse Pairs class. David Matthews was the indisputable leader, Advanced Horse Pairs. Pony tandems had a close contest throughout, the title going to Jeff Ormerod again after a tight cones competition. Wilf Bowman-Ripley, Horse Fours, kept Daniel Naprous and an eight-strong class at bay, Driver of the Year Dick Lane retiring in obstacle three.
The one-day introductory classes, Evolution and Young Horse and Pony were supported by 13 drivers. Several competitors from previous years have progressed to the full three phase format. Margaret Collins had the tightest victory of the Championships, Evolution Pony, 51.15, beating Amelia Waddicor by 0.02 penalties. Christine Twigg had the best Young Horse/Pony score, 57.83.
Fiona Powell