29 December 2017
Mechelen: Swiss bells ring for Jérôme Voutaz
Swiss driver Jérôme Voutaz kept the tension in the Nekkerhal in Mechelen up until the very last moment and won the first competition of the FEI World Cup™ Driving. USA's Chester Weber finished in second place, ahead of best home driver Glenn Geerts.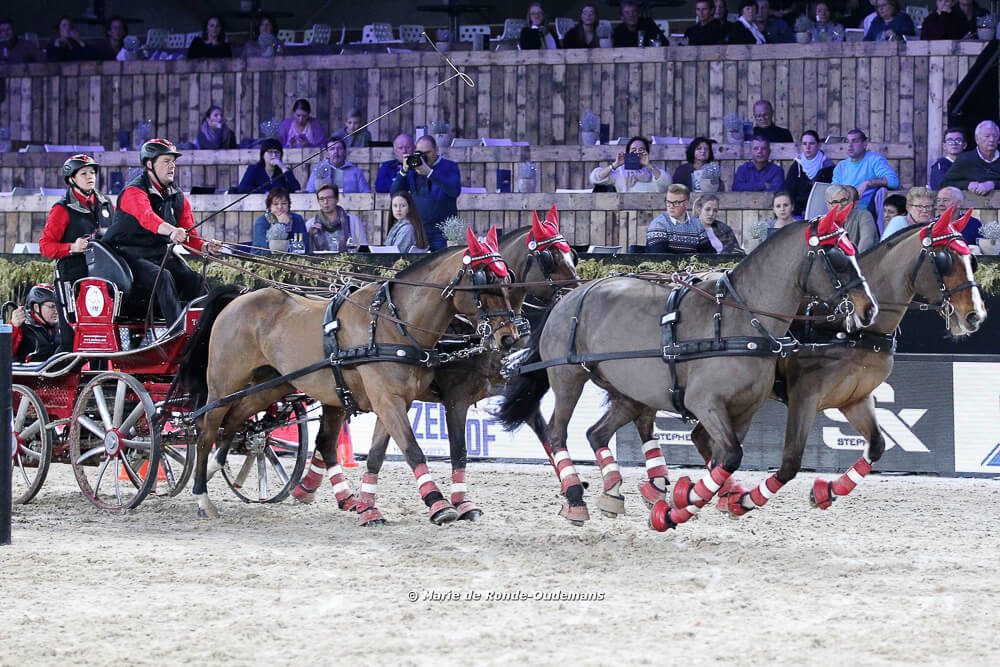 Jérôme Voutaz
Photo:
Marie de Ronde-Oudemans
International level 4 Course Designer Jeroen Houterman had laid out a technical course with two marathon obstacles, a bridge and a speed box. None of the eight drivers managed to stay clear and even last starter Jérôme Voutaz knocked two balls down. His time however was nearly seven seconds faster than the leader until that moment, Chester Weber. With this very fast time, Voutaz claimed the best starting position in the FEI World Cup competition on Saturday.
Despite a hick up in the first marathon obstacle Bram Chardon set the second fastest time, but four mistakes kept him from a top three placing. Koos de Ronde also knocked five, for him unusual, balls down and finished in fifth place. Koos will have to give it all tomorrow in order to win the World Cup competition in Mechelen for the sixth time in his career.
Chester Weber, Glenn Geerts and sixth placed Edouard Simonet compete with a wild card in Mechelen and were able to compete under less pressure. Germany's top driver Georg von Stein missed his experienced leader horse Rocket, who had not passed the horse inspection. This clearly influenced his team and Georg had to be content with the seventh place. French driver Benjamin Aillaud competes in his last World Cup competition of this season and finished in eighth place.