10 May 2018
Windsor 2018: World Class start for Boyd Exell
Reigning world champion and eight times Royal Windsor winner, Boyd Exell (AUS) got off to the best possible start in the Horse Four-in-Hands in the Land Rover International Driving Grand Prix, storming to the top of the leader board a clear five penalties ahead of his closest challenger. Driving his mixed team of black Swedish and Dutch horses, his dressage test earned him top marks from all five judges.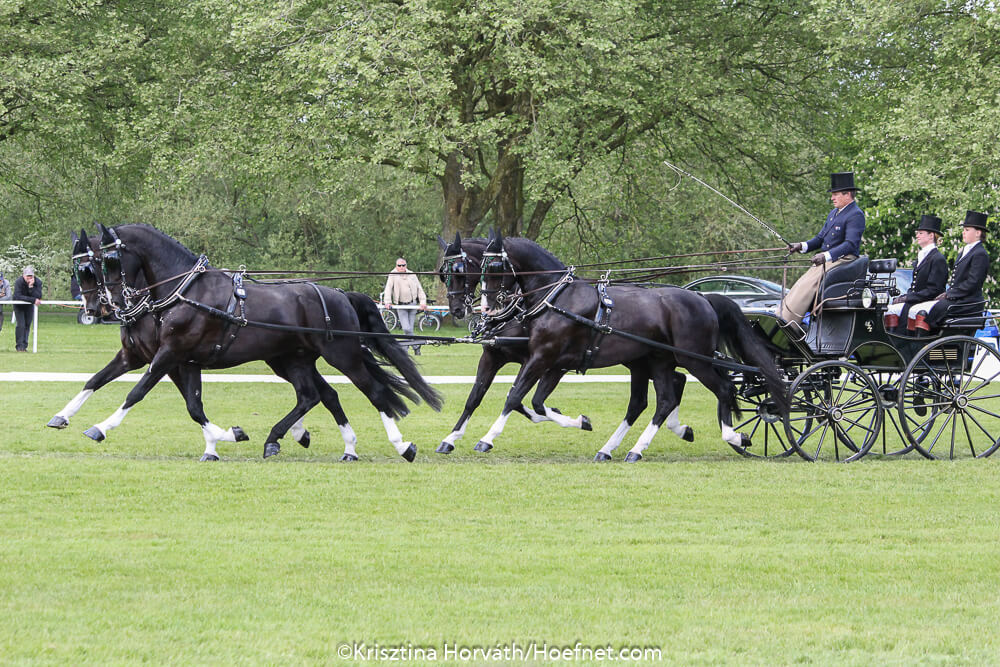 Boyd Exell
Photo:
Krisztina Horváth
"The horses moved beautifully as a team," remarked President of the Jury, Bert Jambon from Belgium. He continued, "it was an accurate test with, above all, excellent transitions."
Following him into the arena was Chester Weber (USA) winner at the Show in 2014 and 2015. His bay Dutch horses completed a fluent, forward test, but a few small mistakes put him in second place. Only these two competitors posted scores in the thirties.
In third place, seven penalties behind Weber, is France's Benjamin Aillaud with his impressive Arab x Friesians. He last competed here ten years ago, after which he took a break from competing horse four-in-hands until just a couple of years ago. GB's highest placed competitor is Wilf Bowman-Ripley, in 18th place.
Also completing this first dressage phase today were the Pony Four-in-Hands which saw last year's winner Tinne Bax (BEL) take the lead from the Netherlands' Jan de Boer who has recorded five previous Royal Windsor wins. Less than two penalties separate these two with Jacqueline Walter (GER) driving her eye-catching palamino team of Welsh Bs taking third place. Great Britain's Roger Campbell is well in touch in this class in 5th place.
Tomorrow the 17 horse pairs competitors – representatives from 13 countries – will undertake their dressage phase. Saturday sees all competitors compete on the Cross-Country Marathon which includes eight gated obstacles situated within the idyllic setting of the Home Park.
Source: Revolution Sports