16 mei 2015
Bregenz: exciting marathon
After the heavy rain on Friday, it stayed dry on Saturday for the marathon day in Bregenz. The fog cleared away during the day and even the sun came out after a while.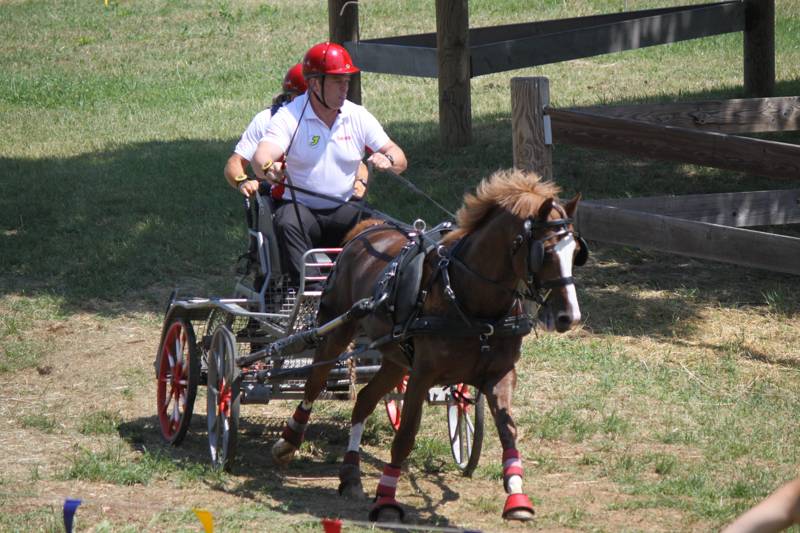 Foto:
Krisztina Horváth
With the singles, the footing was still very wet and slippery but the competitors were used to the conditions so no incidents happened. Austria's Erich Pürstinger won the marathon in the singles class ahead of Claire Lefort from France. Claire also took the seventh place with her second pony. Fabian Gänshirt finished third, but did do so with a different pony than with which he won the dressage. The only Dutch starter in this class Marissa Schuiling put down a good performance and finished on the sixth place.
Fabian Gänshirt was able to keep his lead in the standings. He is one ball ahead of Katja Helpertz (GER). After that it is getting very tight with Marlena Brenner, Claire Lefort and Maxime Maricourt within one ball.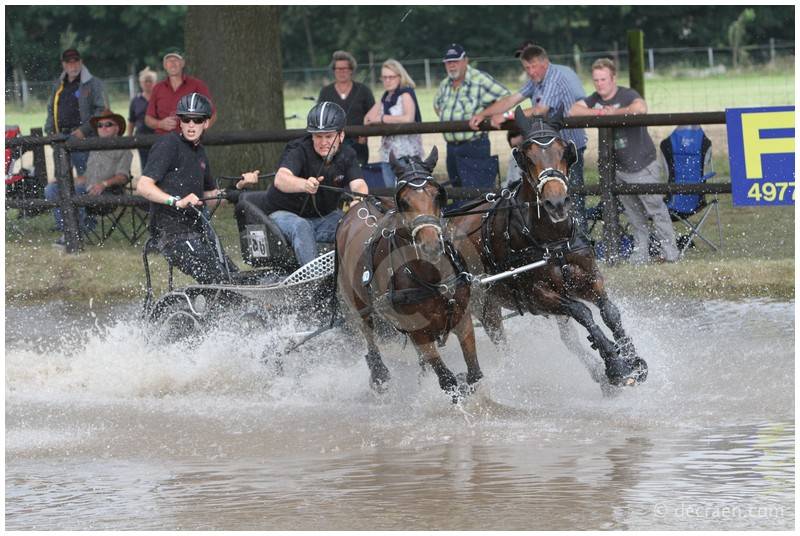 Foto:
Rinaldo de Craen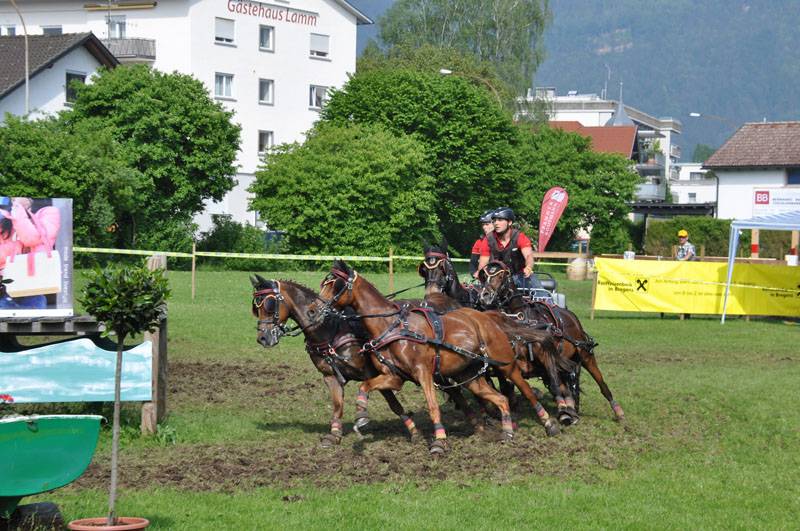 Germany's Carl Holzum put down the best performance in the pairs class. He directed Austrian driver Karl Cvörnjek with one point difference to the second place. Local hero Stefan Bösch, who lost his chance to a better ranking after he knocked a ball down, took third place. Christoph Weihe, organiser of the CAIOP Minden in July finished fourth, followed by the best Dutch drivers in this class Karel van Kekem and Manon van Kasteren. The footing got dryer and stickier which demanded much from the ponies.
Karl Cvörnjek leads the standings thanks to his good marathon, but he is only 0,04 points away from Jan-Felix Pfeffer. Max Berlage (GER) is lying third, closely followed within one ball by Dieter Baackmann and Christoph Weihe.
Steffen Brauchle was also a class of its own in the pony fours class. After winning the dressage, he also won the marathon without any doubt. His compatriots Sven Kneifel and Thomas Bär finished second and third. Wilhelm Tischer completed the German dominance with the fourth place, ahead of the best Dutch driver Peter de Koning.