12 september 2016
British Carriagedriving National Championships, 9-11 September, 2016
Afgelopen weekend was Cirencester Park het strijdtoneel van de Britse nationale menkampioenschappen. De bodemcondities verschilden van glad gras in de dressuur op vrijdag, tot modder en regen in de verkorte marathon en de afwisselende hindernissen op zaterdag en stevig en goed te rijden in de zon tijdens de vaardigheid op zondag. De kampioenen konden na sterke prestaties en koelbloedige acties gekroond worden. Er was tijdens de wedstrijd geen ruimte voor fouten of zwakke momenten.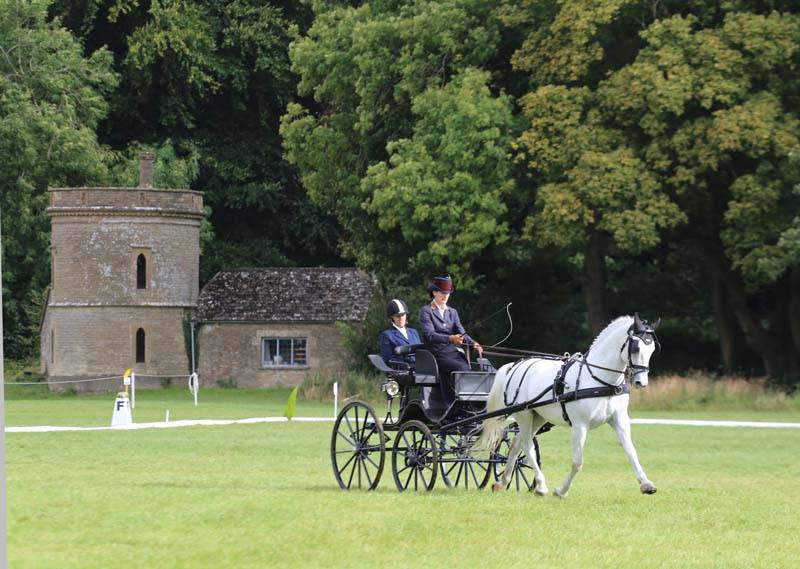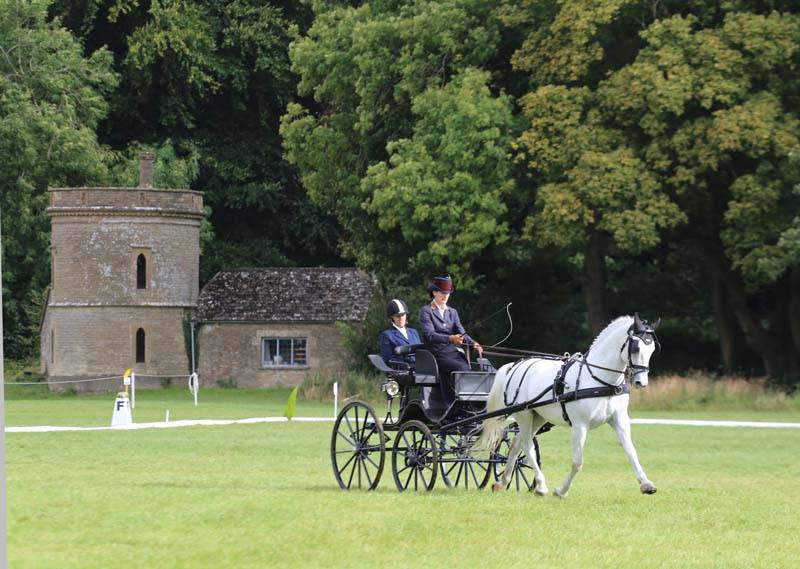 Astonishingly close contenders were the unlikely couple of tandems who finished 0.01 penalties apart. Scotland's Carol Boswell, with over 30 years' experience of driving at national level, and her dun horses took the dressage easily from Jeff Ormerod, but Jeff's ponies overtook in the marathon finishing 3.01 penalties ahead on Saturday night. One ball too many dropped in Jeff's round leaving Carol in front and each takes their respective class title.
Anna Grayston stamped her name again on the best dressage trophy, 30.1, advanced pony pairs, although Pippa Bassett gave an impressive master class in open single dressage with one of her team leaders, 33.07. Anna maintained her lead despite young challenger Tara Wilkinson, 19, driving Emma Burge's ponies, chasing her and Alan Clarke hard in every phase to finish a close third.
There were more exciting finales in the four-in-hand classes. The challengers, Roger Campbell, pony fours, and Dan Naprous, were leading after Saturday's marathon but the masters, Sara Howe and Wilf Bowman-Ripley, both piled on the pressure, each taking their respective titles with a display of cool accuracy and speed in the testing cones course.
Young Megan Wheeldon took the lead early to win the intermediate pony class. Alice Pritchard just kept in front, open pony class, and Sara Clough pulled up from third to take the open horse title. Rosanna Walters-Symons not only won the advanced pony class but also the Chariots of Fire Trophy, in memory of former champion Amanda Nisbet. John Ripley, fresh from Piber, inscribed his name firmly on the advanced horse trophy.
Louise Kaiholm, from Chariots of Fire, won two phases to keep Tom McGregor at bay, winning open pony pairs, while Fred Pendlebury topped open horse pairs. Unusually, Barry Capstick had to settle for third in a strong advanced horse pairs class as local James Broome was on a roll, winning again with Libby Priest, cones winner, second.
The new evolution and young pony classes were run on Sunday with six competitors.
Good judging, challenging obstacles and a close to perfect venue made this a memorable competition and live online results kept supporters at home up-to-date.
Fiona Powell
Among the 108 starters were 22 novice drivers, many showing great promise. Young Jack Ralph added another national title, pony class: Jamie Williams, back from winning team bronze in the FEI World Para Driving Championships, Beesd, is one to watch. Rebecca Boswell, Carol's daughter, was second to Jack, making a family double second, and Mary Jane Campbell, Roger's mother, took the novice horse championship with a cool cones round.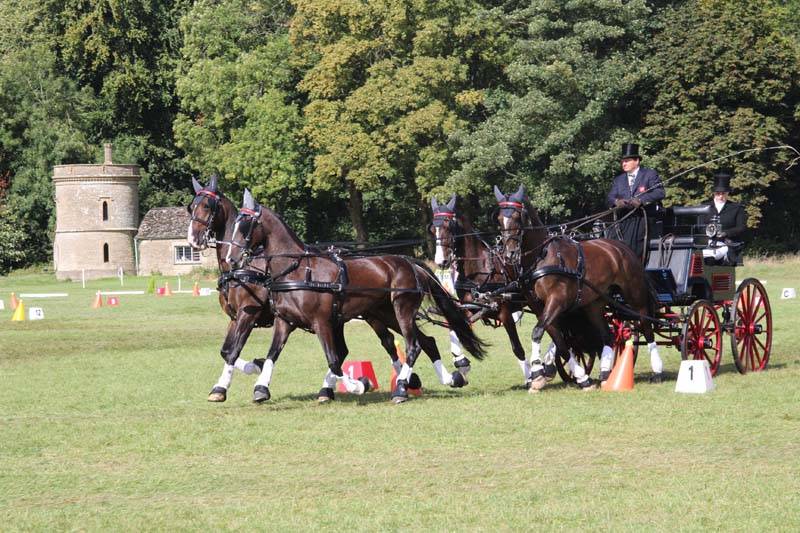 Anna Grayston onderstreepte haar reputatie als beste dressuur menster en won de Best Dressage Trophy met 30,10 strafpunten. Pippa Bassett zat haar echter op de hielen, zij gaf een masterclass in de Open Single rubriek met een van de voorpaarden uit haar vierspan en scoorde 33,07. Grayston bleef in de leiding ondanks de sterke prestaties van de 19-jarige Tara Wilkinson en Alan Clarke.
De meest aan elkaar gewaagde rivalen waren tandemrijders Carol Boswell en Jeff Omerod. Na een spannende strijd won Boswell de titel met slechts 0,01 strafpunt verschil!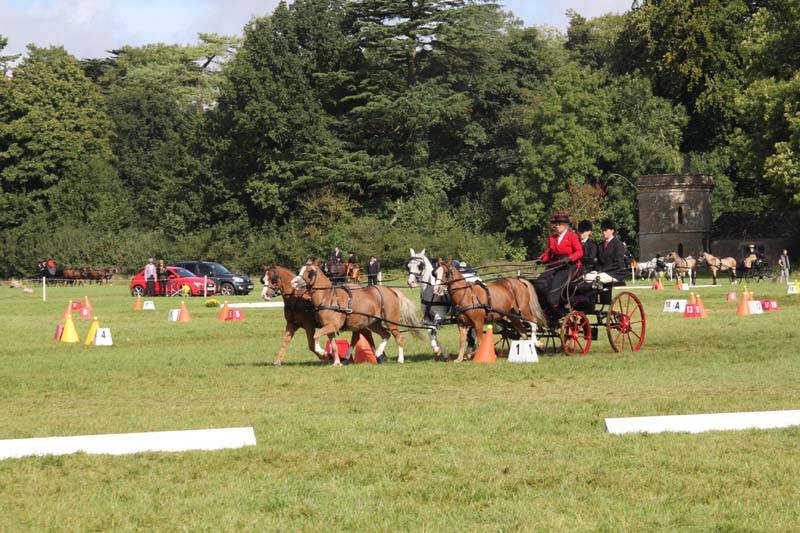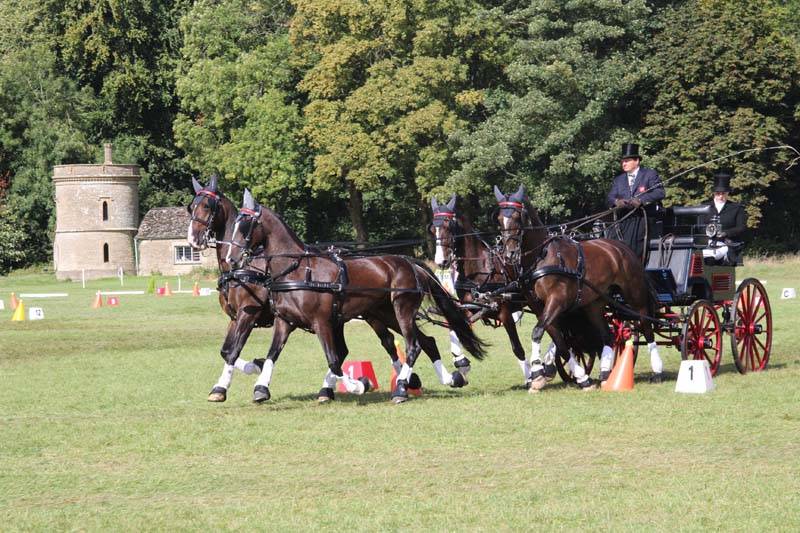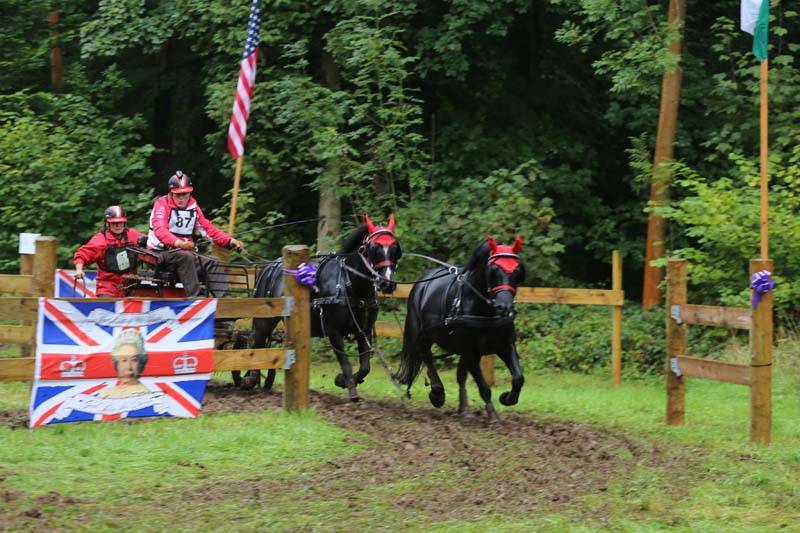 De vierspanrubrieken leverden ook mooie finales op. De uitdagers Roger Campbell bij de pony's en Dan Naprous bij de paarden, gingen na de marathon aan de leiding, maar de ervaren rotten Sara Howe en Wilf Bowman-Ripley zetten de druk er op in de pittige vaardigheid, waar hun concurrenten vervolgens onder bezweken.
James Broome won de nationale titel bij de tweespan paarden, het zilver ging naar Libby Priest, terwijl Barry Capstick het brons won.