7 April 2023
17 countries at the start in Kronenberg
From Thursday the 13th through Sunday the 16th of April, the grounds of Grandorse in Kronenberg will be entirely devoted to the international driving competition. More than 190 participants from 17 different countries will be at the start.
Important first indicator
For many participants and national coaches, the competition in Kronenberg is the first important indicator for the international championships that are scheduled for later this season. And there are quite a few. The Four-in-Hand horses compete for the European Championship in Exloo at the end of August, where the para drivers simultaneously compete for the world titles. A week later, Oirschot is dominated by the World Championship for single, pair and Four-in-Hand ponies. Finally, at the end of September, the pair driving horses will compete for the medals during the World Championships in Le Pin au Haras, France.
Program
The competition starts on Wednesday afternoon, April 12 with the horse inspection, after which all participants take part in dressage on Thursday and Friday. The beautiful marathon and the cones course are on the program for both Saturday and Sunday. The marathon starts on both days, and as soon as the last participant crosses the finish line, the cones course will begin.
The three-star classes horse pairs and Four-in-Hand ponies and pony pairs and Four-in-Hans will do marathon on Saturday and the cones on Sunday. The other classes compete on Saturday in the cones and close the competition on Sunday with the marathon.
FEI Driving Forum
This edition, Kronenberg is a true meeting point for international driving. The FEI has selected Kronenberg as the location for the FEI Driving Forum, which kicks off on Tuesday afternoon in De Peelbergen. The FEI wants to determine the strategy of the driving sport together with all those present. This will be the first time that the FEI will not only discuss the future of the sport with national federations, but will also invite drivers, officials and others involved. Read more about the forum here
Click here for all information about the competition in Kronenberg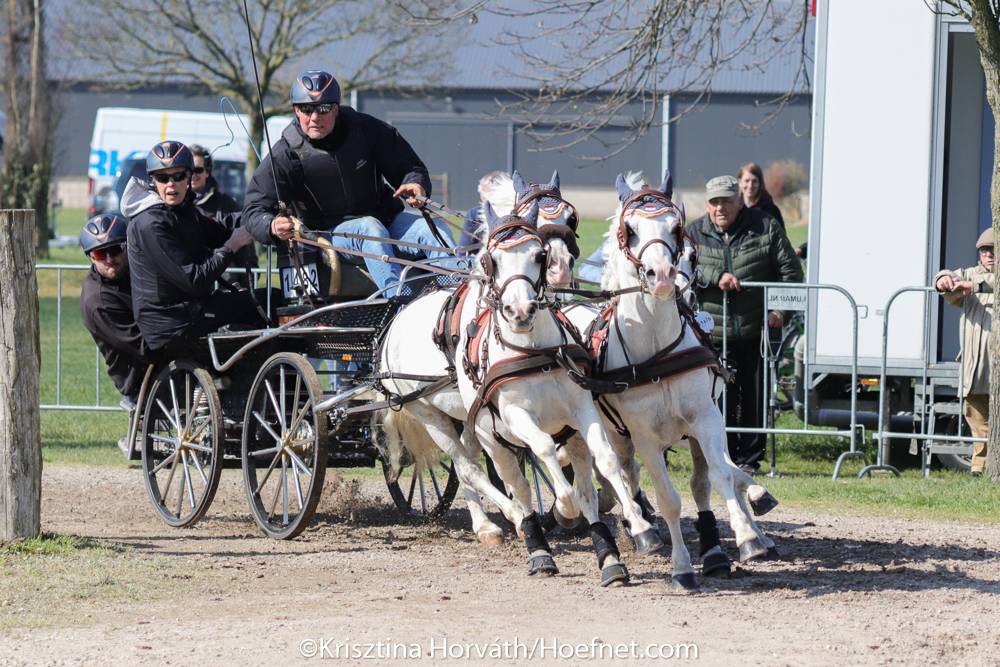 Photo:
Krisztina Horváth
Copyright reserved. Acquisition without acknowledgment and permission from info@hoefnet.nl is not allowed.