16 February 2018
2018 Four-in-hand Nations Cup in Valkenswaard
The Nations Cup for Four-in-hand horses will take place this year in Valkenswaard May 23rd - 27th. National teams will compete against each other during Driving Valkenswaard International (DVI) on the grounds of Exell Equestrian in Valkenswaard.
The Nations Cup has long been organized in Breda, but after it was announced that the show would not take place this year, the Dutch National Equestrian Federation (KNHS) approached the organizers of DVI to see if they would be interested in running the Nations Cup in 2018.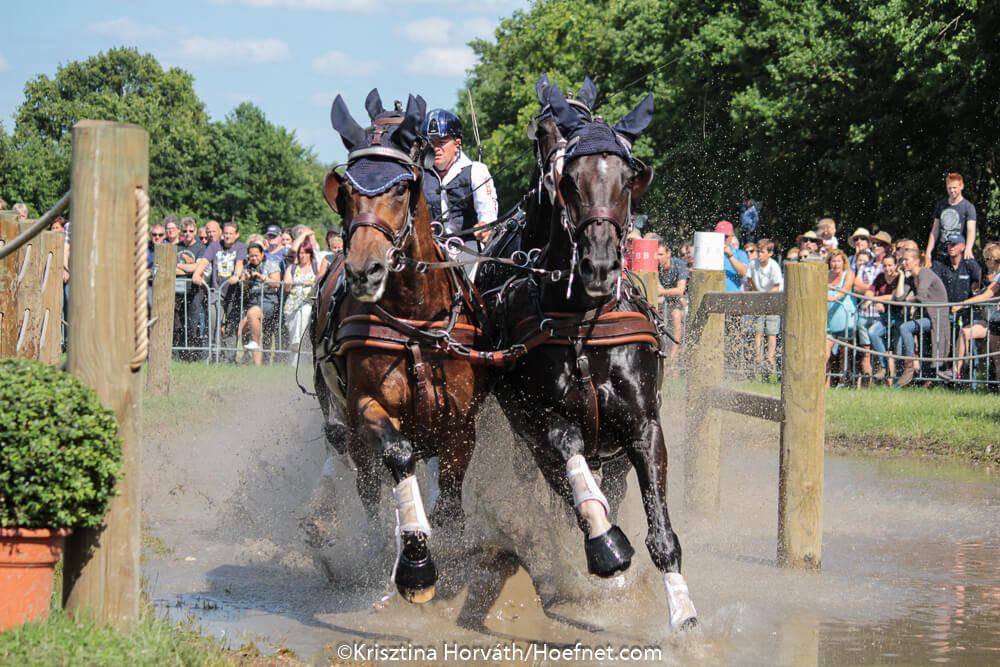 Photo:
Krisztina Horváth
A Show of trust and appreciation
"We are of course honoured that the KNHS has offered us this fantastic opportunity to bring our event to an even higher level," tells Boyd Exell. "This will be the third edition of Driving Valkenswaard International and it will continue to be a driving competition for the best international drivers and teams. The addition of the nations cup completes the picture. Even more, this makes the competition even more interesting for the four-in-hand drivers. Our new four-star status means that drivers will receive extra points towards their World Cup qualification ranking. But above that; this is really a show of trust and appreciation to organize a competition of this level.
Top International Drivers
During Driving Valkenswaard International the top of the international driving sport (pair and four-in-hand) compete against each other in the dressage, marathon and cones. Host and World Champion Boyd Exell who competes for Australia will not be taking part in the Nations Cup as teams must consist of a minimum of two and maximum of three members. But not to worry; this won't take away from the competition as the competitors will compete in both Nations Cup and individual divisions.
Free entry for the entire family
Driving Valkenswaard offers a five-day program that features more than just the spectacular equestrian sport. This year the thrilling bicycle challenge will once again be on the program. New to the program is a Tug of War, where competitors will challenge each other with a real test of strength and stamina. Entry to the grounds is free on all five days. There is plenty for the entire family to enjoy with children's attractions, and a large promo village with food, drink and lifestyle booths.