16 July 2016
Aachen: Boyd Exell master in the marathon
After the eventing riders had left the cross-country course this morning, the course in Aachen was prepared for the exciting marathon of the four-in-hand drivers. Boyd Exell must have been inspired by his compatriots who won the Eventing Nations Cup, because the reigning World Champion was the absolute master in the Marathon. Boyd was last to go and managed to beat Dutchman Koos de Ronde, who had driven the fastest marathon so far. Boyd has herewith widened the gap with second-placed IJsbrand Chardon to over 8 penalty points.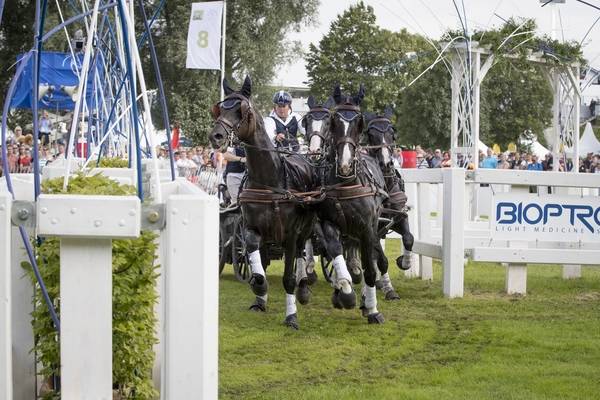 Photo:
Dirk Caremans
Boyd was very pleased with his marathon performance: "In the beginning I tried to drive smooth. The footing was very slippery and my outside leader wasn't performing well. We made some adjustments and after that the team started to feel good again. This is really a super team, the horses have the power to go until the very end."
Chardon finished third in the marathon and has now swapped places in the standings with Chester Weber, who came fifth today in the warm marathon, which was followed by a very large number of spectators.
Georg von Stein put down the best German performance in eight obstacles, designed by German level 4 Course Designer Dr. Wolfgang Asendorf.
Thanks to the strong performances of Von Stein (4th), Christoph Sandmann (7th) and Michael Brauchle (8th) the German team has climbed to the third place in the standings, behind Hungary.
The young Belgian team defended itself very well as well with Edouard Simonet on the 11th place, just ahead of Aachen-debutant Dries Degrieck. Marathon specialist Glenn Geerts had to be content with the 13th place today.