21 July 2019
Aachen 2019: Team Switzerland-Germany victorious in Jump & Drive
Swiss four-in-hand driver Jérôme Voutaz, his compatriot Pius Schwizer and top-eventer Ingrid Klimke from Germany formed the winning team in the spectacular Jump & Drive competition in the fully packed main stadium in Aachen on Saturday evening. Team Glenn Geerts finished in second place, while Boyd Exell and his team came third.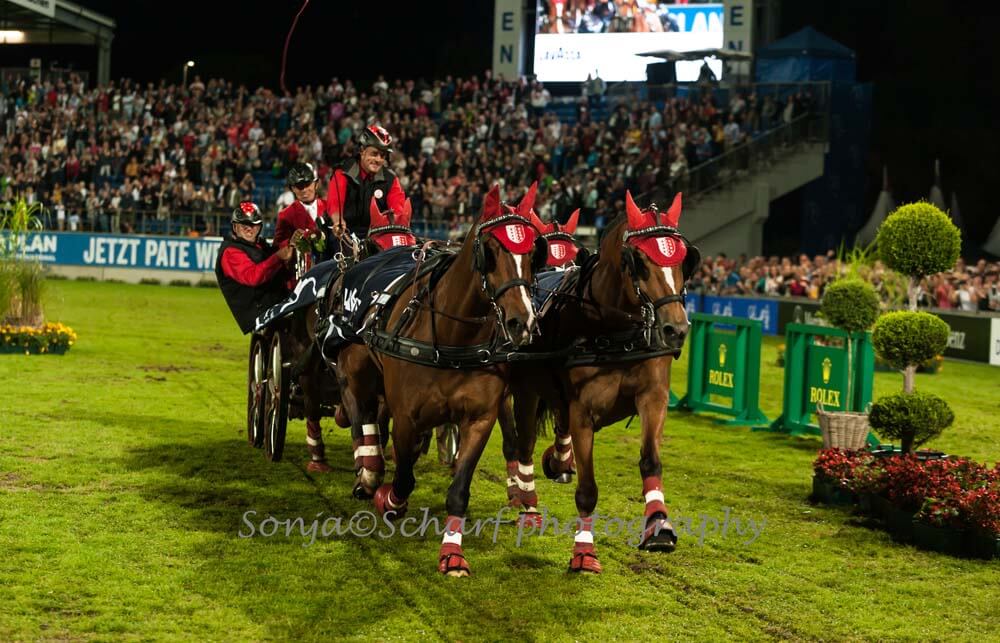 Jérôme Voutaz, Pius Schwizer & Ingrid Klimke
Photo:
Sonja Scharf
Team Voutaz was first to go in this popular competition. After his disappointing marathon, the sympathetic Swiss driver had a fast start as soon as Ingrid Klimke on Weiße Düne and Pius Schwizer on Grand Cooper had completed the jumping and eventing course. Voutaz gave it all and the team managed to set a top time of 143,63. In the end, none of the following five teams were able to beat this time and Voutaz and his Team were declared the winners.
Click here for all starting orders and results
Copyright reserved. Acquisition without acknowledgment and permission from [email protected] is not allowed.