8 June 2021
The Belgians dominate the World Cup Qualification in Saumur
This past weekend the CAI 2*, 3* and CAIO 4* Saumur (FR) took place. Competitors were faced with a range of weather conditions, from 28 degrees on Tuesday upon arrival, to torrential rains and mud for during the second dressage day on Friday.
Winners
The single pony division was won by Sebastien Pallen, while Rodinde Rutjens and Jan de Boer both represented the orange well. Both won the dressage and marathon and finished fourth in cones, winning the overall competition in both the pair pony and four-in-hand pony divisions respectively. Home favourite Marion Vignaud won the single horse division and Sandro Koalick topped the competitive pair horse division over Francois Dutilloy and Franck Grimonprez.
Four-in-hand horses
Dressage day on Friday was extremely heavy going for both the pair horse and four-in-hand horse divisions due to the extreme rainfall that day. "The dressage test became a pulling test", tells Koos de Ronde. Despite the extreme conditions he was still able to steer his horses to a fourth place in the dressage. Both Dries Degrieck (BEL) and Glenn Geerts (BEL) drove a fast and accurate marathon moving their placings up to first and second. De Ronde made the podium complete with a good round of cones on Sunday.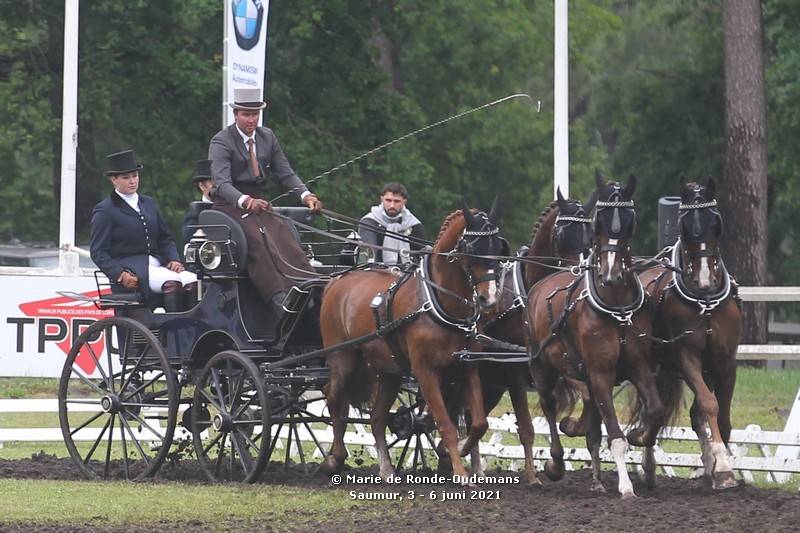 Koos de Ronde tijdens de dressuur in Saumur
Photo:
Marie de Ronde-Oudemans