2 December 2018
Budapest 2018: Bram Chardon victorious in first competition
Bram Chardon has won the first competition of the FEI World Cup™ Driving this evening in Budapest. Chardon jr. drove two steady rounds and beat Glenn Geerts and local favourite József Dobrovitz.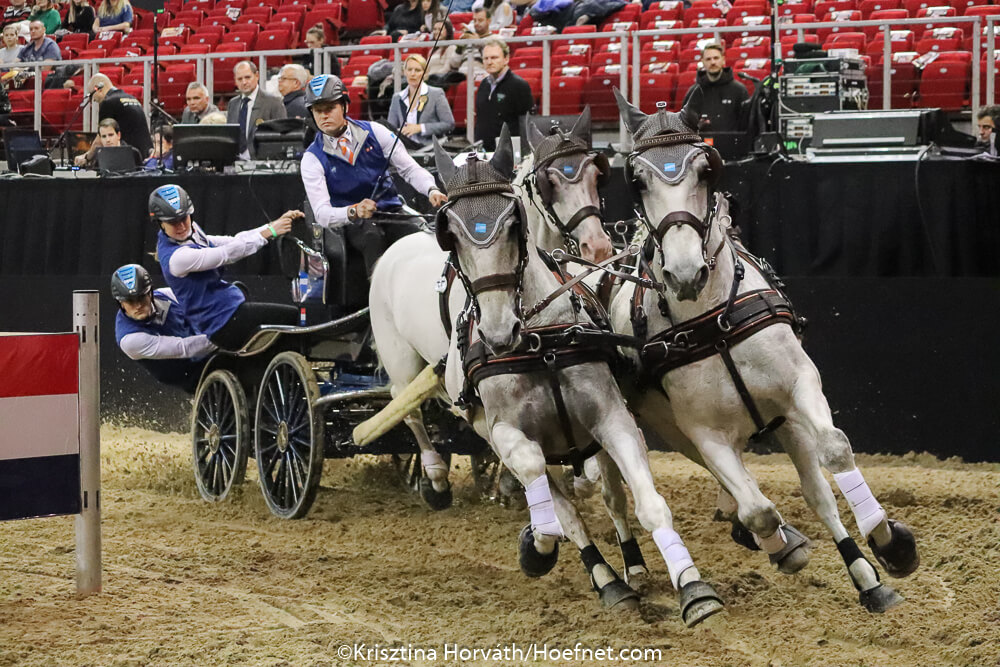 Bram Chardon
Photo:
Krisztina Horváth
Like last year, the shows in the Laszlo Papp Arena in Budapest were late again, which resulted in a 45-minute delay for the drivers. Luckily most of the spectators stayed in their seats and cheered the six drivers full enthusiasm on good music. Hungarian level 4 Course Designer Gábor Fintha had designed a nice course in which the drivers had to pay attention in the fast parts as well. This resulted in good challenges and exciting sport.
Bram Chardon drove the same team of horses as with which he won the first competition in Lyon last month: "My goal was to drive two controlled rounds and to stay clear. I only had one silly mistake in the box, but technically they were great. The footing is quite heavy, but they attacked until the last moment. Tomorrow I will drive the same team and I will drive controlled again. I don't have the feeling that I give everything, but my time is very good every time. I do not need to go faster, this should be good enough to make it to the winning round."
Belgium's Glenn Geerts stayed clear in the second round, which took place over a shortened course, and finished in second place: "It went really well, I did not have to do much, it just happened. This course suits me better than Maastricht last week. This course had more speed and that suits my team. I have the ideal starting position for tomorrow."
József Dobrovitz drove two new horses in his team and had a few mistakes in both rounds, but was very pleased to finish in third place in front of his home crowd
IJsbrand Chardon disappointed this evening. The leader horses of the four-times World Champion were not forward enough, which resulted in too many mistakes. Chardon finished in fourth place, ahead of wild card driver József Dobrovitz jr. who drove a fast and clear second round.
Jérôme Voutaz ran into problems in both marathon obstacles and the Lyon-winner had to be content with the sixth place today.
Results 1st competition FEI World Cup™ Driving Budapest 2018:
Bram Chardon (NED) 238,61
Glenn Geerts (BEL) 244,54
József Dobrovitz (HUN) 261,25
Ijsbrand Chardon (NED) 266,12
József Dobrovitz jr. (HUN) 273,39
Jérôme Voutaz (SUI) 277,70
Click here for the full results.
Copyright reserved. Acquisition without acknowledgment and permission from [email protected] is not allowed.