30 November 2019
Budapest 2019: First victory for Bram Chardon
Bram Chardon won the first competition of the FEI Driving World Cup™ this afternoon in Budapest, but things did not go very smoothly for Bram and several of his colleagues. Chester Weber finished in second place thanks to two good rounds, ahead of Jérôme Voutaz.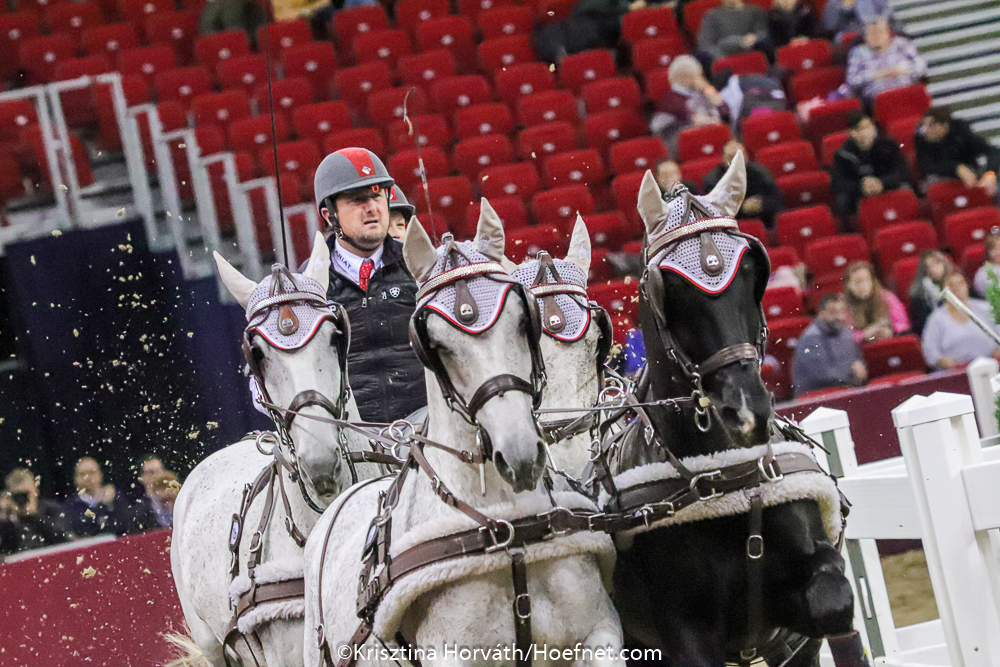 Photo:
Krisztina Horváth
Unlike the previous years, the World Cup competition in Budapest was scheduled before the main Show and the spectators had free admission. This resulted in a good number of spectators in the Laszlo Papp Arena.
Both IJsbrand and Bram Chardon made a mistake in the first round in the first marathon obstacle, which cost them precious seconds. Both drivers furthermore knocked several cones down. The seven four-in-hand drivers all got a second chance in the Drive Off over the shortened course and the results of both rounds were counted together.
IJsbrand drove his team fast through the course and set the fastest time of the day, but had a few mistakes again. Bram finished a fraction of a second slower and only had one knockdown, which put him in the provisional lead. Father and son Dobrovitz both had several faults and had to be content with the fifth and sixth place. Chester Weber drove a very good round, but was not fast enough to beat Bram and finished in second place. Last starter Jérôme Voutaz drove short routes with his Freiberger horses, but two knock downs and the necessary speed prevented him from beating Bram.
The FEI Driving World Cup™ competition in Budapest is scheduled for Sunday afternoon at 15.00. All drivers enter the arena for the first round, after which the top 3 come back for the Drive Off in which they start from zero.
Results Competition 1:
Bram Chardon (NED) 275,91
Chester Weber (USA) 279,28
Jérôme Voutaz (SUI) 281,59
IJsbrand Chardon (NED) 286,33
Jozsef Dobrovitz jr. (HUN) 295,87
Jozsef Dobrovitz (HUN) 311,94
Jozsef Vida (HUN) 402,31
Click here for the full results
Copyright reserved. Acquisition without acknowledgment and permission from info@hoefnet.nl is not allowed.