4 February 2018
Bordeaux 2018: Boyd Exell on his way to renew World Cup title
The FEI World Cup™ Driving Final started just before 11.30 pm on Saturday evening in Bordeaux. Despite the late night hour, the stands were filled with enthusiastic spectators. The seven drivers drove fast, maybe leaving a bit for tomorrow, on the nice course from Level 4 Course Designer Jeroen Houterman, since 50% of the difference between the winner and each driver is carried forward into Sunday's competition.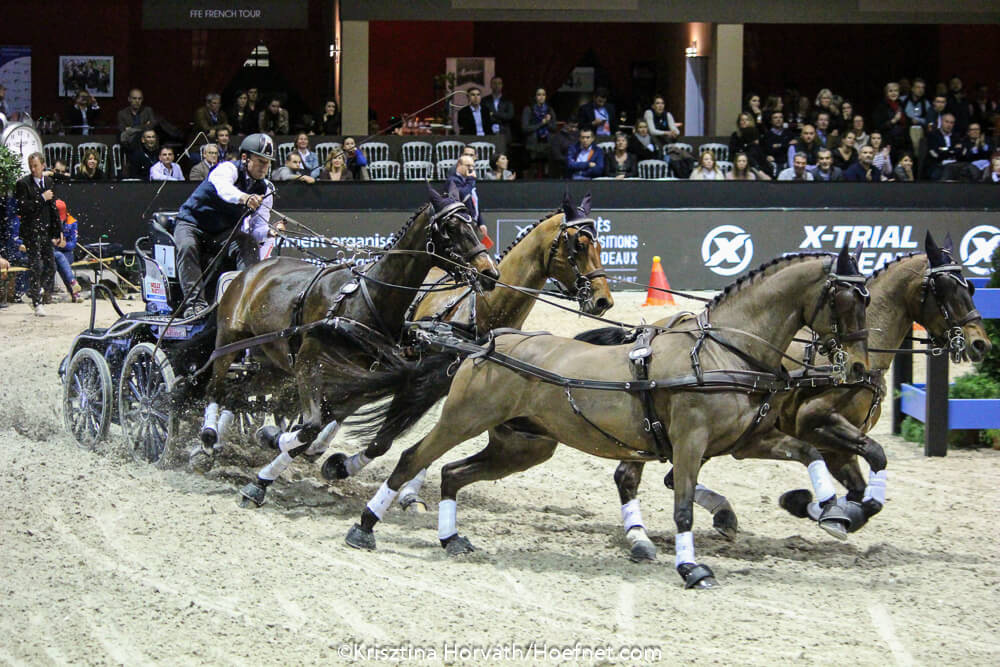 Boyd Exell
Photo:
Krisztina Horváth
The drivers, with another day to go, had to be careful, but in the end experience won over youth. Last to go, Boyd Exell, drove a very fast round and was the only one to stop the clock with no penalties, which put him in the lead. Koos de Ronde drove the fastest time this evening and finished in second place, due to one knock down. De Ronde, the 2013 World Cup Champion will have to catch up 1.39 seconds on Sunday afternoon. His compatriot IJsbrand Chardon, who won the title in Bordeaux in 2016, also had one fault and will have to make up some three seconds on title defender Exell.
Jérôme Voutaz, for Switzerland, was tipped as one of the favourites for a podium place, but was unable to meet the expectations. His bad back, with which he was confronted last week, affected his performance and Voutaz finished in fourth place.
Rookie finalist Bram Chardon, following in his father's footsteps, set the second fastest time of the evening, but had three balls down and finished fifth, ahead of Glenn Geerts who is also experiencing his first final . Wild Card driver Benjamin Aillaud closed the ranking list this evening.
The Final in Bordeaux will take place on Sunday afternoon at 16.45.