10 February 2019
Bordeaux 2019: Bram Chardon in pole position
Young Dutch driver Bram Chardon has taken the lead in the FEI Driving World Cup Final in Bordeaux after two exciting and enervating rounds in the first competition on late Saturday evening. Bram Chardon has an advantage of over 13 seconds ahead of his compatriot Koos de Ronde, while Belgium's Glenn Geerts is currently in third place, ahead of Jérôme Voutaz. IJsbrand Chardon had bad luck and is in fifth place, Boyd Exell finished completely unexpected in last position, behind wild card driver Benjamin Aillaud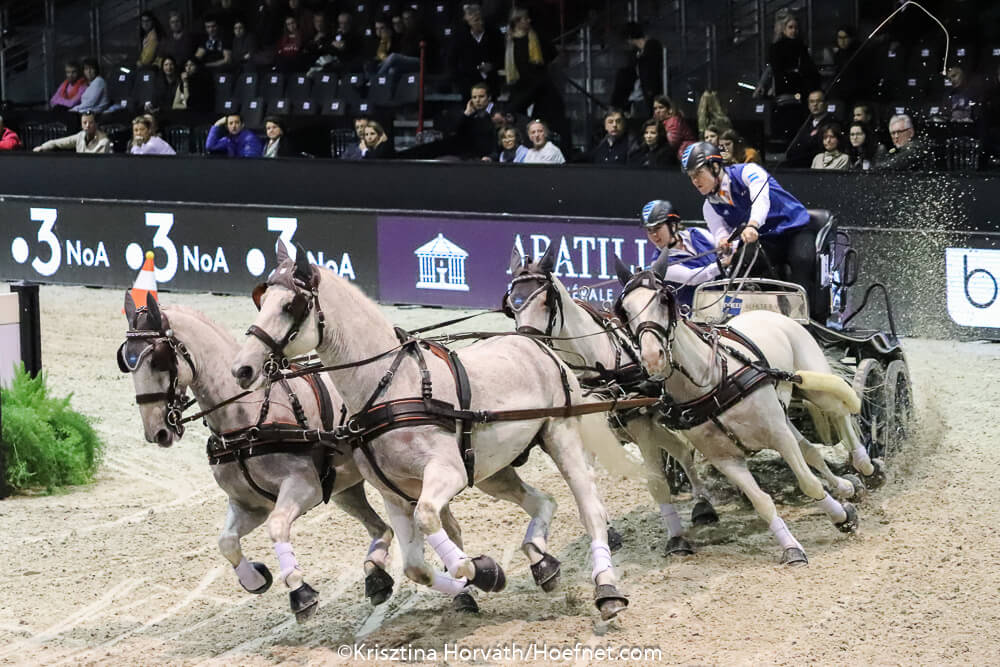 Bram Chardon
Photo:
Krisztina Horváth
Dutch international level 4 Course Designer Johan Jacobs had laid out a nice but challenging course for the seven drivers, who are battling for a podium place in this 18th season of the FEI World Cup.
Bram Chardon drove two amazing clear and fast rounds and deserved his leading position in his second World Cup Final. In 2018, Bram finished just beside the podium on the fourth place. Koos de Ronde stayed clear in the first round, but had one fault in the drive off, which took place over a shortened course. Jacobs had taken out three gates, which made the drivers choose some different routes.
Glenn Geerts drove well with his Lipizzaner horses, but had a few mistakes. Jérôme Voutaz lost his chance to a top position in the first round after he knocked two balls down.
IJsbrand Chardon drove a very good and fast first round and was in second position behind his son Bram before the drive off. Chardon sr. was well underway to secure this position, but one of his grooms had to get off the carriage when his right wheeler horse jumped over a trace of the right leader horse. This cost him 5 penalty seconds and he had to restart the obstacle from the beginning.
Boyd Exell started off very fast, but he knocked a ball off the first and second gate. When the third ball fell in the first marathon obstacle, Exell knew his chance to win the World Cup title for the 9th time had shrunk very much. In his attempt to make up what he could, Boyd flew through the course in the drive off, but drove the D-gate in the second obstacle from the wrong side. Boyd noticed, but his team was too far through and he decided to continue, which cost him 20 penalty seconds.
On Sunday, the drivers will start in reverse order of Saturday evening's standings. The score from this evening will be carried forward by all Athletes into tomorrow's Final. Scores from the first round on Sunday will be carried forward by the top 3 Athletes into the Drive Off.
Click here for more information
Copyright reserved. Acquisition without acknowledgment and permission from [email protected] is not allowed.