9 February 2020
Bordeaux 2020: Koos de Ronde on pole position!
Koos de Ronde won this evening's first competition of the FEI Driving World Cup™ Final in Bordeaux and will start from pole position on Sunday! Boyd Exell finished in second place, ahead of Jozsef Dobrovitz. Title defender Bram Chardon finished in fourth place.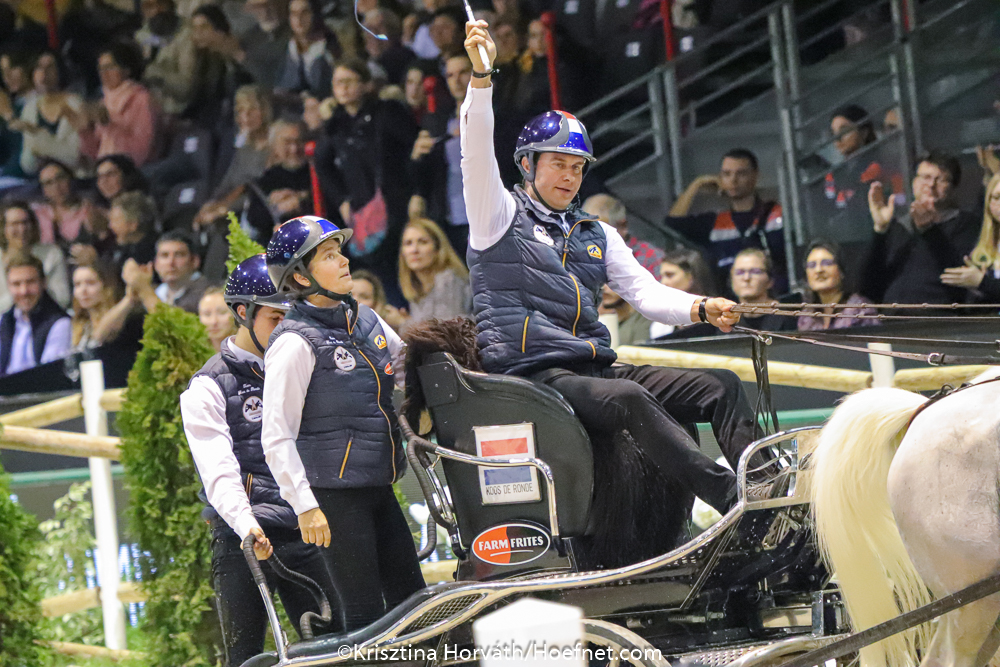 Photo:
Krisztina Horváth
Despite the late hour, the grandstands of Jumping International de Bordeaux were still well filled for the first competition of the Final, which took place over one round. De Ronde, winner of the World Cup Final in 2013, drove his team fast, fluent and faultless through the technical course of Dutch level 4 Course Designer Johan Jacobs. The reigning Dutch Champion took over the lead in the competition so far from Jozsef Dobrovitz, who had also driven a nice and clear round. Bram Chardon used a different leader horse after he withdrew his experienced leader Hector earlier today because the gelding was not fit. Bram was well underway and drove the fastest time of the evening, but had three knock downs in the final part of the course, dropping him to the fourth place. Boyd Exell had an unusual hesitation in the first marathon obstacle and collected 8 penalty seconds. The multiple World Cup winner will therefore start 3,73 seconds behind Koos de Ronde in the Final on Sunday.
50% of the difference in seconds and the winner of today will be carried over into the following rounds. The score of the first round on Sunday will be carried over by the top three drivers into the deciding final round 'Drive Off' that will be driven on a shortened course. Koos de Ronde will have the advantage of starting from zero.
Click here for the full results
Copyright reserved. Acquisition without acknowledgment and permission from [email protected] is not allowed.