9 February 2020
Bordeaux 2020: Ninth Title for Boyd Exell (full report)
And the winner is… Boyd Exell! The Australian Top Driver battled back today in an exciting competition and won the FEI Driving World Cup title for the ninth time in his career. Dutch driver Koos de Ronde took home the silver, while his compatriot Ijsbrand Chardon won bronze. Title defender Bram Chardon finished in fourth position in the 19th edition of the Final which took place in Bordeaux, France.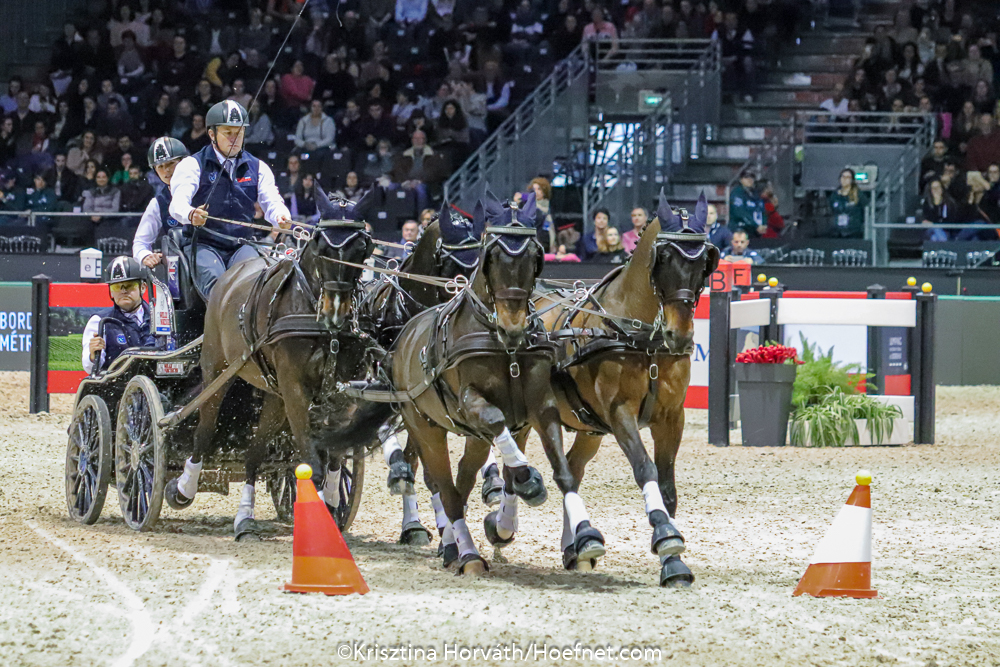 Photo:
Krisztina Horváth
Boyd was very pleased to once again claim his title: "I have a very fast team and I knew that if I could do a clear round, I could put the pressure on Koos." Boyd started on 3,74 seconds behind Koos after the first competition, in which he had a communication error with his horses: "My horses were flying and I was too far ahead so they took a gap too early. I made sure they recovered and our speed kept us in placing." Boyd admitted he was not focused on Saturday, but today there was nothing to disturb his concentration. Boyd did cause a breathtaking moment however when his team went a bit too fast towards the bridge: "I had a super racing line but I did not want to hit two balls, so I told them to wait and I was able to correct them." with that drive Boyd  once again finished on the highest step of the World Cup podium. He dedicated this win to his wife Preetha and his daughter Olivia who is in hospital at this moment recovering from a fall from her pony.
Thank you Demi
After the prize giving ceremony Boyd said farewell in the arena to his loyal 23-year-old wheeler horse Demi. The Swedish bred mare contributed to many indoor successes and can now enjoy her retirement: "She is still fit, but sometimes you just know when it is time to stop. My groom Emma is interested in breeding with her. She already has several children, one of her sons is actually a driving horse which is part of the Swedish team driver Axel Olin."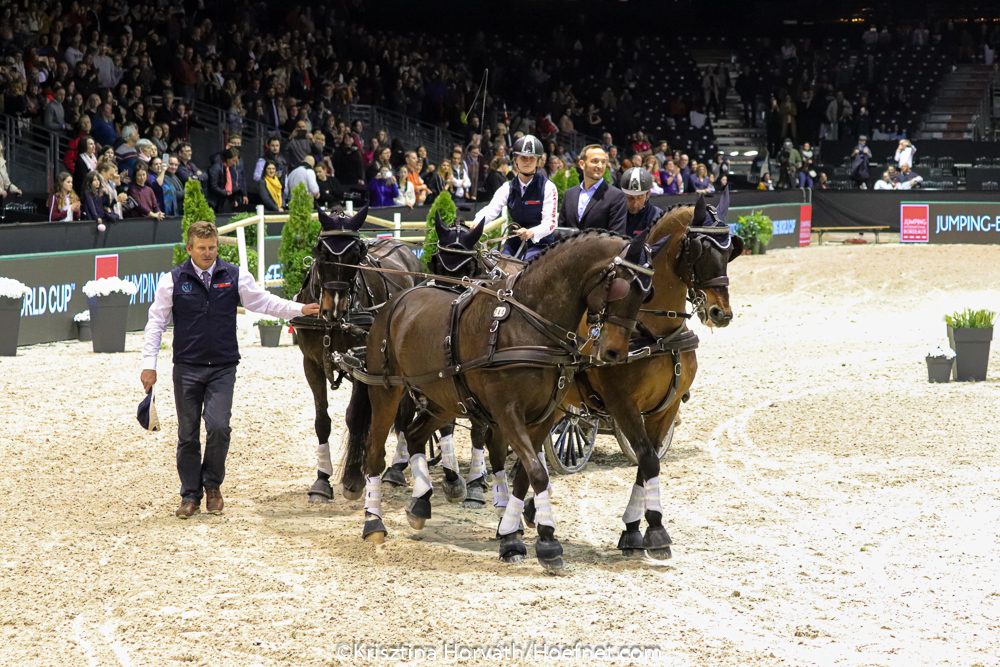 Photo:
Krisztina Horváth
Super happy
Koos de Ronde was very happy with his second place: "Boyd has been the best all season and I knew that the second place was the best I could achieve. It was a pity that I had one ball down in the Drive Off, but the competition remained exciting until the very end," tells Koos who had a family weekend in Bordeaux. His wife Marie and his son Pieter acted as grooms on his carriage while his daughters Anna and Julia supported the team from the ground.
Unexpected
Ijsbrand Chardon was very surprised that he qualified for the Drive Off. After the first competition he was 6,53 seconds behind Koos and in the second competition drove very fast, but unfortunately had three knockdowns: 'I have driven the same horses the whole season and in Maastricht I finished in second place and I won in Budapest, so I knew that they could do it. But in the last competitions it just did not come together while I knew that it was possible. In the Drive Off I knew that I had nothing to lose and I really wanted to show that this team could do it and it worked." Chardon drove a clear round and set the fastest time in the Drive off with which he concluded the 19th FEI Driving World Cup season with the third place.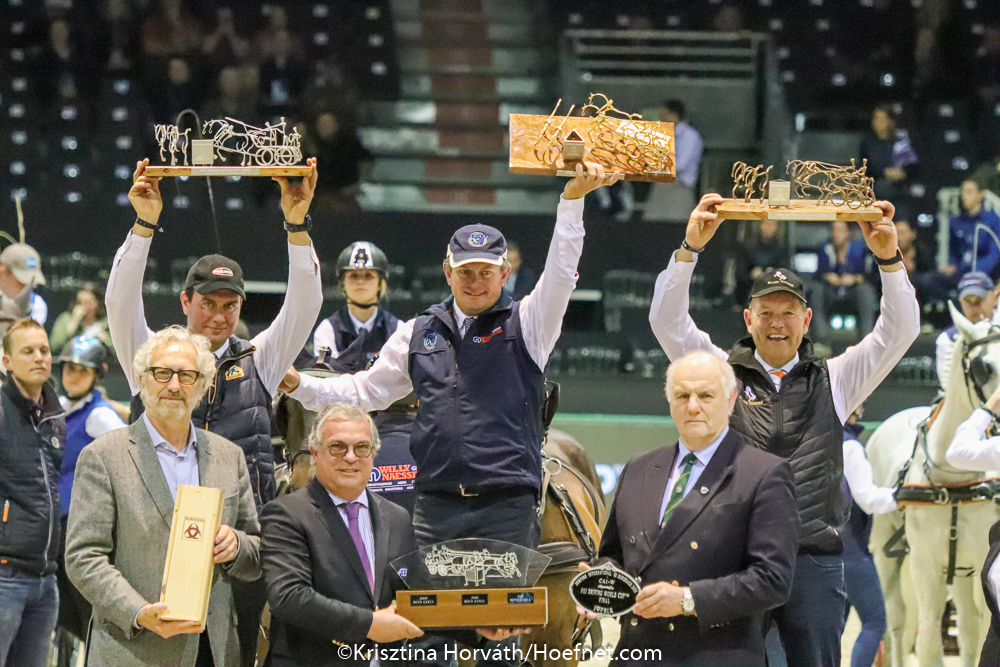 Photo:
Krisztina Horváth
Bad luck weekend
The weekend went not as good as hoped for by title defender Bram Chardon. He had to withdraw his experienced leader horse Hector before the horse inspection because the gelding was not fit. Bram had to replace it with another horse, which missed the necessary routine. Bram had several unlucky errors in both competitions and had to be content with the fourth place this time.
Medal for Anne Marie Turbé
During the FEI Driving World Cup Final in Bordeaux, French judge Anne Marie Turbé received a medal as thank you from FEI Driving Director Manuel Bandeira de Mello for her FEI Driving Committee membership which ended last November.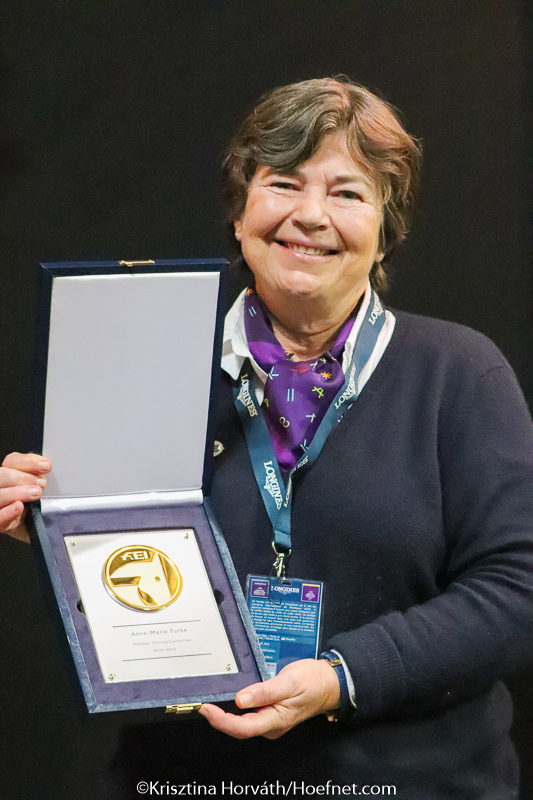 High level performances with Van den Heuvel Carriages
All competitors in the World Cup Final in Bordeaux drove with Van den Heuvel carriages, which confirmed the quality of these Dutch carriage manufacturers once again: "We are very proud that the best drivers of the world compete with our carriages," tells Eric van den Heuvel. "It is good to see that all finalists trust our carriages and perform at such high level with them, over and over again."
Click here for the full results.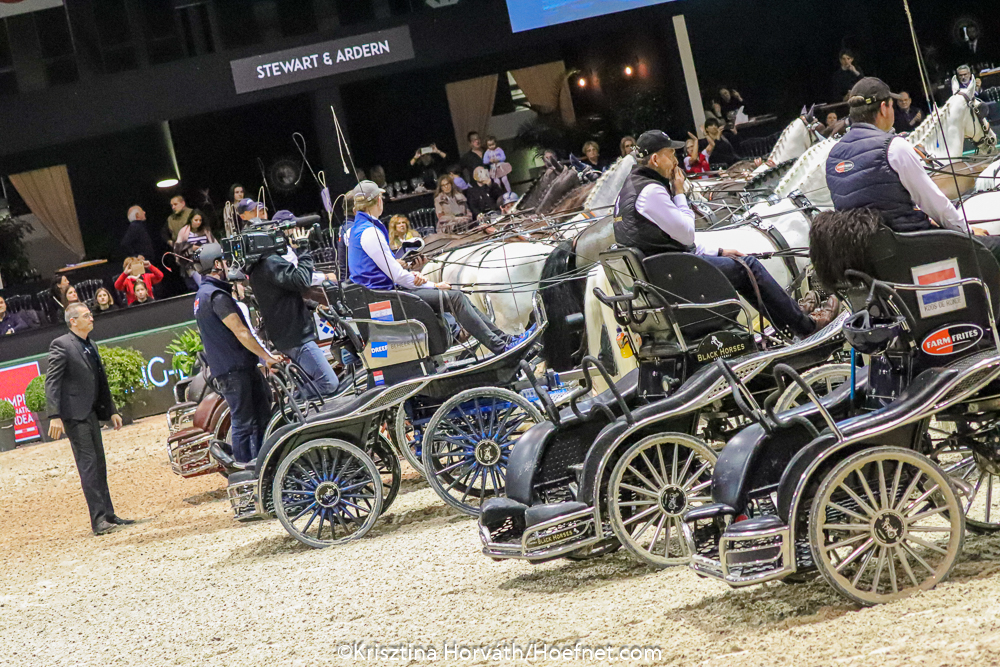 Photo:
Krisztina Horváth
Copyright reserved. Acquisition without acknowledgment and permission from info@hoefnet.nl is not allowed.