9 February 2014
Bordeaux: Boyd claims fifth FEI World Cup™ Driving title
After an exciting Final in the sold out Expo centre in Bordeaux, Boyd Exell (AUS) claimed the FEI World Cup™ Driving Champion title for the fifth time in his career. But it did not come easy for Exell, who won the neck-to-neck race with only 0,69 seconds difference to rookie Daniel Schneiders (GER). Title defender Koos de Ronde (NED) finished third.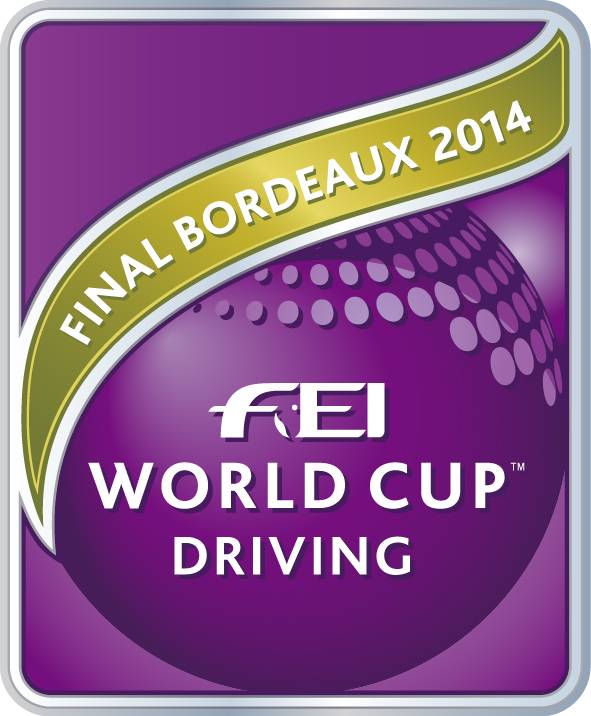 The Final in Bordeaux was not only exciting, but also quite bizarre. Some two hours before the start of the Final, overnight leader IJsbrand Chardon (NED) took the difficult decision to withdraw from the second competition on the advice of his vet.
"It was a tough decision," Chardon explained. "This afternoon we received a letter in the stables informing us that several jumping horses had developed fever and we were advised to regularly take the temperature of our horses. Two of my Lipizzaners had high temperature and the veterinarian advised me not to start in today's competition. I am of course following his advice for the welfare of my horses." In a gesture of fair play, Theo Timmerman offered Chardon his spare horse. However, with three horses out – two with fever and one lame – Chardon was not in a position to accept the generous offer.
After European and Dutch Champion Theo Timmerman (NED) made a mistake in the first obstacle and had several knock downs and Tomas Eriksson got eliminated for driving the course in the wrong sequence, Koos de Ronde, Boyd Exell and Daniel Schneiders battled it out in the fast course, designed by World Championship Course Designer Gábor Fintha (HUN).
Boyd had to make up 4,17 seconds and was well underway with his mixed team of bay horses. In the last phase of the competition, Boyd had a hairy moment when his leaders turned in front of obstacle 11. The double World Champion pulled so hard to get them right, that he pulled himself out of the carriage. Luckily, Boyd was able to prevent himself from falling off and continued without losing any speed. Daniel Schneiders drove a very fast and safe first round after which the difference between himself and Boyd was only 1,46 seconds in Daniel's advantage, going into the winning round.
Boyd was first to go and set the fastest time of the evening, but not taking any extra risk. This put the pressure on Daniel, whose dream to finish in the top three already came true. The 32-year-old farrier knew that he was not allowed to make any mistakes and made a last minute decision to cut a corner in the course after he knew that he was three seconds down on Boyd. Heading to the finish, it looked as if the newcomer was going to make it, but he missed just 0,69 seconds in order to secure the FEI World Cup™ Driving title.
Koos de Ronde already had a knock down in the first round and when he knocked a ball down in the winning round, he knew the third place in this year's Final was the best he could do at this moment with his team, which was composed of three different horses compared to last year when he won the FEI World Cup™ Driving Final in Bordeaux.

Wild card driver Thibault Coudry was eliminated during the first competition on Saturday evening and competed as a guinea pig in today's Final.
Quotes
Boyd Exell (AUS): "I just spent six weeks holiday with good friends in Australia and I knew that that is a disadvantage for me to come back at this level. Last year I paid the price, this year my horses saved me. I am really delighted for my sister and my mother, who follow me from Australia. This win is really for them. I must say that it would have been nice to win with a fair fight; it is a shame for him that he could not compete."
Daniel Schneiders (GER): "It has really been a dream to be able to make it to the Final after my first FEI World Cup™ Driving season. My goal was to end in the top three and to finish so close to Boyd on the second place is just amazing. I really enjoyed Bordeaux with its great atmosphere for the horses and the drivers. I owe many thanks to my team, including my brother Dennis who is a competition driver himself. They are behind me and I appreciate it that they take holidays to help me all the time. My goal for the outdoor season is to qualify again for the FEI World Cup™ Driving. I hope my new team will be ready in time to make this goal."
Koos de Ronde (NED): "It is of course a pity to loose the title, but my performance today was the best I could achieve. I have had some problems with my horses this season and I used a new horse in the wheel in Bordeaux, who got a bit excited today. Today we were just not good enough to put down a better performance. But next season will be a new season with new chances which I am already looking forward to."