7 February 2016
Koos De Ronde takes the lead in the FEI World Cup™ Driving Final in Bordeaux
In a very exciting competition where the tension was shown on the faces of the seven drivers, Koos de Ronde (NED) put down the very best performance of the evening by putting down the only clear round. De Ronde has herewith taken the lead in the FEI World Cup™ Driving Final in Bordeaux, but he is very closely followed by his compatriot IJsbrand Chardon (NED) and defending FEI World Cup™ Driving Champion Boyd Exell (AUS).
Koos de Ronde used the same team set up as in Mechelen, where he finished second: "It was a very difficult course, we had to work very hard. But my team went very well and I am very pleased, although the race is definitely not run yet. We really nearly start from zero again since the differences between me, Chardon and Exell are so little. I know that they will come in the Final! I will be the last driver in on Sunday afternoon, and it can either be an advantage or a disadvantage. If Boyd and IJsbrand both make mistakes, I will be more relaxed. But if they both go clear I really have to go for it." De Ronde however knows that his horses can go even faster at some points in the course.
Swedish Course Designer Dan Henriksson had laid out a quite technical course in the Bordeaux Exhibition Centre, which was filled with several thousands of spectators, despite the late timing as the class started 15 minutes before midnight.
The challenging course selected the top three after this first Competition. Although every driver did his very best, the first four starters made too many mistakes, and the differences between them and Koos de Ronde are rather large, so a top-three placing is nearly out of reach for them. Both Jérôme Voutaz (SUI) and European Champion Michael Brauchle (GER) came somewhat close to the times of the top three drivers, but they both had knockdowns.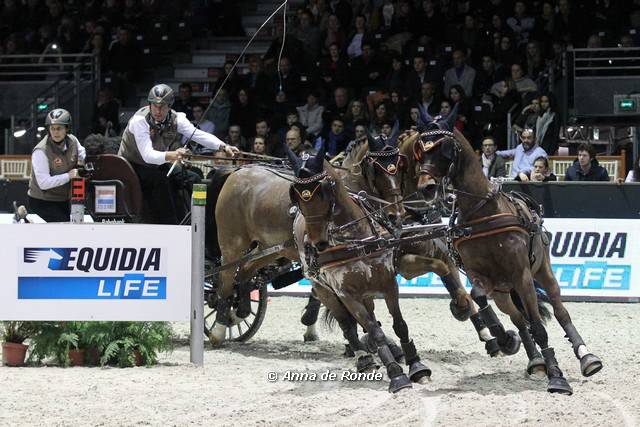 IJsbrand Chardon beat De Ronde's time in the first competition by 4,56 seconds, which is very promising for the Final. The four-times World Champion however made a mistake on the third obstacle, when his Lipizzaner horses wanted to turn left but he needed to go right: "This was a miscommunication," explains Chardon. "It is a pity that this happened, but this does not affect the super feeling I had with my team. I knew I could not win today and that was not my goal either. My intention was to make no stupid mistakes and to stay in the race. The competition is completely open now and the three of us are really on the same level at the moment, so anything can happen."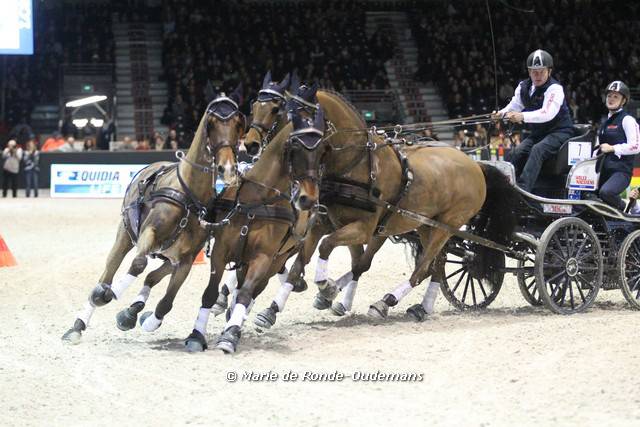 Photo:
Marie de Ronde-Oudemans
1. Koos de Ronde (NED) 144,26
2. IJsbrand Chardon (NED) 144,70
3. Boyd Exell (AUS) 145,22
4. Jérôme Voutaz (SUI) 159,87
5. Michael Brauchle (GER) 164,33
6. Georg von Stein (GER) 169,99
7. Sébastien Mourier (FRA) 186,84
Having won five out of the seven qualifying Legs, Boyd Exell was the last man in the arena on Saturday night and all eyes were set on the six-time FEI World Cup™ Driving champion. Boyd started off well, but despite playing safe in the marathon type obstacles, he had one unfortunate knock down when one of his wheeler horses hit an element: "I wasn't quite as quick as I should have been," said Boyd. "But I am happy, my horses were good, they had plenty of power. For the Final, I know three places in the course where I can improve so this should be enough. I am ready for the two rounds on Sunday!"
In the Final in Bordeaux, 50% of the score differential between each driver and Koos de Ronde will be carried forward by that driver into the competition on Sunday. This means that Chardon will start with 0,22 seconds behind his name, while Exell will have to catch up 0,48 seconds only. All drivers will enter the arena of Jumping International de Bordeaux this afternoon at 13.25 hrs. for the first round. The top three drivers will qualify for the Winning Round, which takes place immediately following the first round, over an altered course.
Click here for the photo album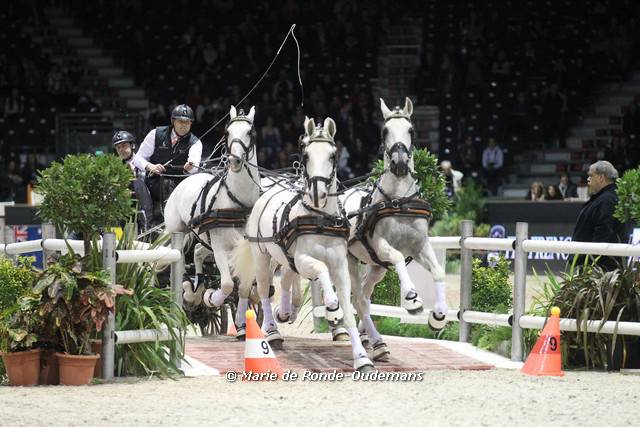 Photo:
Marie de Ronde-Oudemans