9 February 2014
Bordeaux: IJsbrand Chardon takes the lead
IJsbrand Chardon (NED) is well on his way to secure his third FEI World Cup™ Driving champion title. Chardon won the first competition of the exciting FEI World Cup™ Driving Final, which got under way in Bordeaux, France last night. Daniel Schneiders (GER) finished second, ahead of title defender Koos de Ronde (NED). Boyd Exell (AUS) came fourth.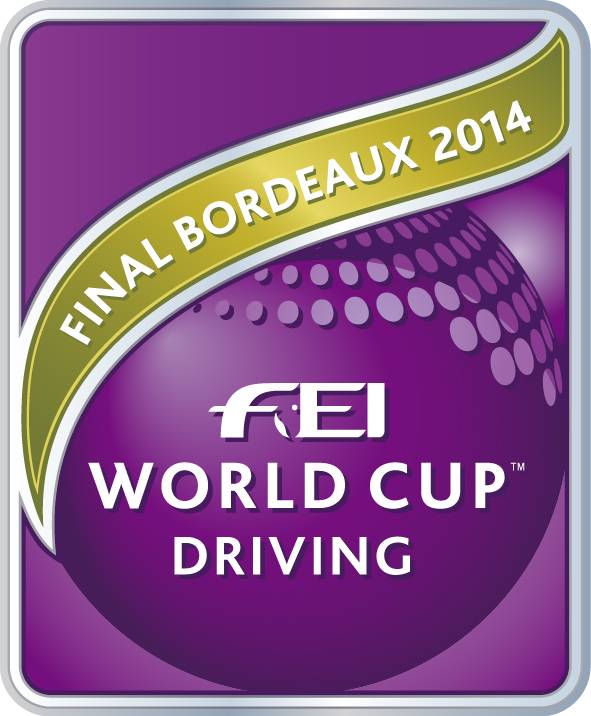 The enthusiastic spectators of the Jumping International de Bordeaux enjoyed a very exciting competition, despite an incident with the first starter. Wild card driver Thibault Coudry (FRA) tipped over after the fourth obstacle, but his horses, his grooms and Thibault himself remained unharmed. Coudry will start in the Final on Sunday afternoon, but it is obvious that he won't be able to make the podium.
The rule, according to which 50% of the score differential converted into seconds are carried forward to the competition on Sunday, ensured that all drivers had to give it their best from the start, which resulted in an excellent show.
Budapest and London Olympia winner IJsbrand Chardon held on to his strong performances with his Lipizzaner horses and drove a very fast and fluent round around the course, designed by FEI O-course designer Gabor Fintha (HUN). Fintha was also the Course Designer at the Final in 2013. The FEI World Cup Champion of 2005 (with Michael Freund) and 2006 took quite a bit of risk in the last phase of the course by cutting it, but he succeeded and beat the leader until that moment Daniel Schneiders with over 6 seconds and won.
Daniel Schneiders drove his mixed team of German and Dutch warm blood geldings safe and sound through the course and even beat Koos de Ronde's time by just 0,59 seconds, which resulted in the second place. The 33-year-old farrier thoroughly enjoys the FEI World Cup™ Driving circuit of which he is part for the first time. Schneiders praised the organisation in Bordeaux for their wonderful event with excellent facilities for the horses and the competitors and their teams.
Reigning FEI World Cup™ Driving Champion Koos de Ronde used his new chestnut gelding Zimba for the first time in the wheel at an FEI World Cup™ Driving event. Zimba is replacing the experienced piebald gelding Mario, who got injured half way through the season. Koos drove a little too safe, but was still pleased with his third place.
Four-time FEI World Cup™ Driving Champion Boyd Exell got the speed of his team right and was well on his way to take the lead, but his left leader horse hit a ball of the last pair of cones, dropping Boyd to the fourth place. But Boyd only has a 4,17 second difference to Chardon to make up, which will guarantee an exciting Final.
Tomas Eriksson (SWE) drove a clear round, but missed the necessary speed to end in the top. European and Dutch Champion Theo Timmerman was a bit too greedy and had a knock down, which resulted in the sixth place.
Seconds carried forward
By winning the first round, IJsbrand Chardon will be the last starter in the Final this afternoon at 17.00 hrs. Runner-up Daniel Schneiders will have to make up only 2,61 seconds to catch up, closely followed by number 3 Koos de Ronde who is 2,96 seconds behind the leader.
Chardon knows he can't take anything for granted as his rivals are very focused and one knock down can make the difference between a place on or beside the podium.
The course in the FEI World Cup™ Driving Final is the same course as on Saturday evening. The course for the Winning Round, for which the best three drivers will qualify, will also remain unchanged.
Quotes
IJsbrand Chardon (NED): "My team has been performing well all season. This is the Final and there is no room for a defensive round, so I decided to drive what I could. I am very happy with my results, but I know that the differences are very small so I will see tomorrow if I have to drive even faster."
Daniel Schneiders (GER): "My goal was not to drive too fast and to drive safe. I really enjoyed the course and in the Final I will see what I can make up. My horses are forming a good team and I am very pleased with them."
Koos de Ronde (NED): "I think I drove a bit too safe, but I did not want to make any mistakes. Zimba did very well and I am pleased with him. I know I can drive faster and in the Final I will have to drive faster, but I also realize that one knock down can make a big difference.