21 November 2015
Boyd Exell a Class of his Own at FEI World Cup™ Driving in Stuttgart
The 15th season of the FEI World Cup™ Driving series started today in Stuttgart (GER) and the reigning FEI World Cup™ Driving Champion Boyd Exell (AUS) proved to be a class of his own again. Exell put down two faultless clear rounds and won this first leg easily ahead of IJsbrand Chardon (NED) and Rainer Duen (GER). Exell won the leg in Stuttgart for the fifth time in his career.
The Schleyer Halle in Stuttgart was filled with enthusiastic and knowledgeable spectators, who enjoyed the top performances of the six four-in-hand drivers in the fast, at some point technical and horse-friendly course, designed by Dr. Wolfgang Asendorf (GER).
Boyd Exell, who was recently awarded with the prestigious title 'Reem Acra Best Athlete' during the FEI General Assembly in Puerto Rico, used a new leader horse in his experienced team: "This is the first time I used the 15-year-old bay Lipizzaner Whiskey (Conversano Cselentano in his FEI passport, red.) at a World Cup competition. I tested him two weeks ago at an indoor competition in the Netherlands," said Boyd. "Clinton and Lucky were my wheeler horses. I haven't used Lucky for two years, he was part of my team when I won my first World Cup title in Gothenburg in 2009. I have a new wheeler horse at home, but I thought it was better not to use two new horses at the same competition. I had a new navigator in Stuttgart and I felt secure with my experienced back stepper Hugh, who allowed me to go at top speed."
Boyd was one size too big for his opponents in Stuttgart. IJsbrand Chardon drove his team of Lipizzaner horses and one Dutch warm blood horse, with which he has competed last season as well. The four-times World Champion had one knock down in the first round but was fast enough to qualify for the Winning Round, which took place over a shortened course. After knocking one ball down in the first marathon obstacle, Chardon put the throttle down even more but made another mistake which cost him precious seconds. A second knock down gave last starter Exell even more advantage: "I tried everything, but I went too fast and made mistakes, I should have concentrated more on Duen than on Exell, " admitted Chardon. "Boyd Exell was simply the best and you just can't afford to make any mistakes. But my four-in-hand went well and they gave me a good feeling."
József Dobrovitz (HUN) had a bad start in Stuttgart. Dobrovitz used young horses in his team and had two knockdowns in the first part of the course. When he lost precious seconds after missing out on gate six and had to drive an extra circle, he knew that his chances for a high ranking were gone.
Rainer Duen's last FEI World Cup start was in Leipzig (GER) in 2012 and it was Duen's first ever start in Stuttgart: "Stuttgart is simply bombastic, what an atmosphere!" The driver from Minden put his indoor team of horses to the test at two competitions in the Netherlands and was very happy with his performance in the Schleyer Halle: "This is only the third competition for my left leader, so I am very pleased. The first round went very well, the second round went less well, but I am the one with the least experienced horses here so I don't complain."
Duen owns the two small, pony type leader horses, which he purchased especially for the indoor competitions. The wheeler horses and his spare horse are kindly lent to him by their owners Carl Holzum and Jürgen Weber. Duen also uses one of them in his outdoor team.
Duen drove a clear first round and qualified for the Winning Round after his compatriots Georg von Stein and Michael Brauchle made mistakes.
Georg von Stein finished on the fourth place, ahead of reigning European Champion Michael Brauchle, who had received a wild card from the organiser in Stuttgart.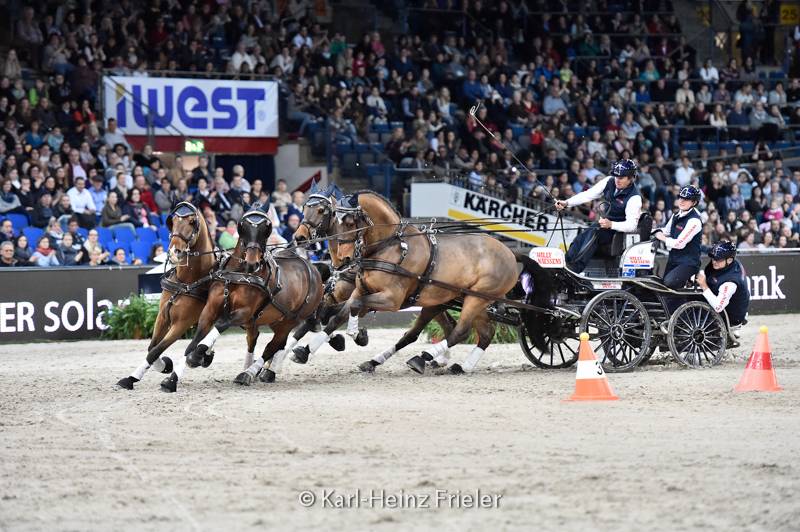 Photo:
Karl-Heinz Frieler