5 February 2020
Drivers make last preparations for World Cup final
After nine exciting World Cup competitions, the World Cup finalists are all getting into game shape for the World Cup final this coming weekend in Bordeaux, France.

Defending Champion Bram Chardon made clear during the last World Cup competition in Leipzig that he was a serious contender after beating dominant driver Australian Boyd Exell.
Bram's compatriots IJsbrand Chardon and Koos de Ronde as well as Jozsef Dobrovitz (HUN) and Glenn Geerts (BEL) will compete in Bordeaux. The Frenchman Benjamin Aillaud will be driving with a wild card. The provisional World Cup standings after Leipzig will be used as the starting order for the first competition on Saturday evening 8 February. Since both IJsbrand and Koos finished with the same amount of points a draw will be made to see who starts in 3rd and 4th on Saturday night.
On Saturday morning 8 February, the course will be set out to give competitors and their grooms the chance to walk and learn the course. Dutch level 4 course designer Johan Jacobs will be responsible for the design as he was in 2017 and 2019.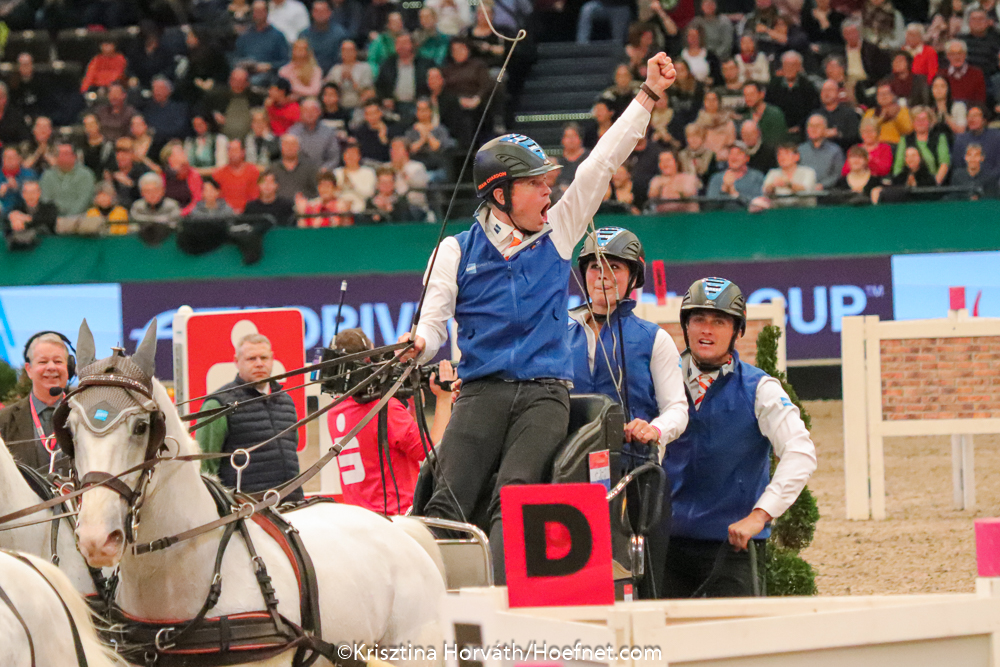 Photo:
Krisztina Horváth
Format
On Saturday evening all seven drivers will drive one round. From there, 50% of the difference in seconds will be carried over into the following rounds. The score of the first round on Sunday will be carried over by the top three drivers into the deciding final round 'Drive Off' that will be driven on a shortened course.
Programma
Saturday 8 February:
08:30 – 09:00: course walk
09:15 – 09:45: training in the main arena
16:00 – 17:00: veterinary inspection
23:15: first competition
Sunday 9 February:
16:45: Final
Copyright reserved. Acquisition without acknowledgment and permission from info@hoefnet.nl is not allowed.