21 January 2023
Bram Chardon unbeatable in Leipzig
The first competition of the World Cup competition in Leipzig was eventful to watch. Jeroen Houterman's course consisted of many turns from left to right. Due to many cone gates being close to the obstacles, the drivers were forced to enter and exit the obstacles accurately.
IJsbrand Chardon (NED) had many communication errors in the first round. Despite the fact that he incurred 34 penalty points in round one, he recovered fantastically. In the second round he had only one ball. Michael Brauchle (GER) came to a standstill in obstacle 5 in the first round. He also recovered in the second round, but ran into errors when entering obstacle 9. As a result, an element fell over.
The obstacle elements fell quickly, which benefited the horse's welfare. Koos de Ronde (NED) had a communication error with his right leader in the second round, causing him to hit an element with his chest. That cost him four penalty points, but due to his otherwise flawless and smooth drive he finished fourth.
Bram Chardon unbeatable
Boyd Exell (AUS) had to settle for third place today. Despite his very fast start, a ball fell after which he drove an extra circle. Then another ball fell when he grazed an element of obstacle 5. With his score of 313.44 he couldn't match Glenn Geerts (BEL). Glenn drove a good first lap, with a ball falling on the very last gate. The second lap he drove fluidly and accurately again. Despite a dropped ball on gate 12, he finished in second place with a score of 306.31 seconds. He will start second-to-last on Sunday, when the World Cup points are being fought.
Bram Chardon (NED) was unbeatable today. He won the first round against Boyd Exell with a difference of 0.14 seconds. In the second round he was again fast and the only one who left all the balls up. Due to his score of 290.71 seconds, he will start last on Sunday.
Click here for the photo album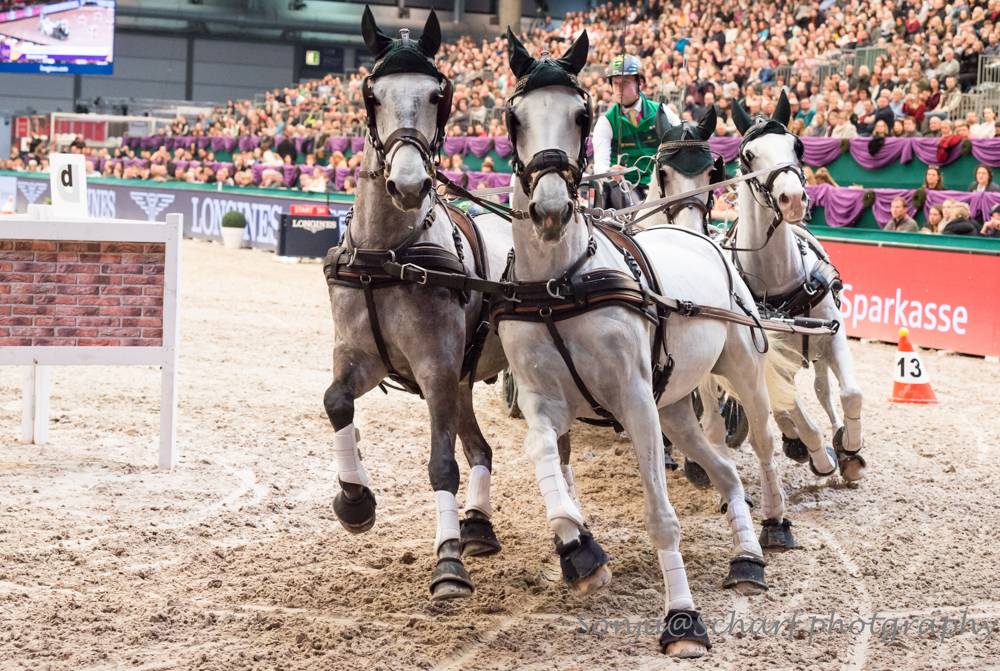 Photo:
Sonja Scharf
Copyright reserved. Acquisition without acknowledgment and permission from [email protected] is not allowed.