9 December 2018
Geneva 2018: Boyd is king of Geneva again
Boyd Exell has won the FEI World Cup™ Driving leg in Geneva for the 11th time this morning and was declared 'King of Geneva' by the organisers. But Boyd got good competition from Bram Chardon and József Dobrovitz.
The crowd in the Palexpo cheered the six drivers throughout the nice course, designed by level 4 Course Designer Johan Jacobs and his Swiss colleague Michael Mayer, who received compliments from the drivers. The Dutchman had laid out a fast course with technical parts in the largest arena on the World Cup circuit, including a water splash. This resulted in nice images and some excitement as well. The backstepper of Swiss driver Jérôme Voutaz left the carriage involuntarily in the water, which cost him 5 penalty seconds and a place in the Winning Round.
"I was very comfortable with my team," commented Boyd who drove the same team of horses as with which he won in Stockholm last weekend. "Our tactics in the second round was to go a little bit careful once we knew Bram had a second ball. Problem with that tactic is that you can have a ball late in the course and you don't have time anymore to make up for it. In the second obstacle I pushed my wheeler horse Demi too much and then we touched a ball going out of the obstacle. We kept our head cool because we knew that we could not have one more ball, but on the last two cones I had to ease off and use a little bit more time."
Boyd was lucky before when he hit the barriers of the speed box, but the balls on the cones all stayed in place, which did not cause any penalties.
Bram Chardon finished in second place despite two knock downs: "I came out of the water obstacle a bit too rough which caused a ball to fall. I decided to speed up a bit more after that. In the marathon obstacle I was doing well, but then I hit a ball with my whip. This was a real shame because my times were very good. If it had not been for that one ball, I could have won here." Bram used his fast leader horse Rezgo in Geneva for the first time this season: "I am very happy that I have used him. He brings extra speed to my team. I choose deliberately to use him here because the arena is so big. This worked out well on both days, so I am happy."
József Dobrovitz used two new horses in his team, which were used by his son József Dobrovitz jr. last weekend in Budapest: "The horses were very good today, even better than on the first day. They have not been together very long and they are getting better every competition. I knew that all drivers were going to perform better than on the first day and I tried to be as fast as possible."
Jérôme Voutaz' groom Pierre Emonet did not get injured when he fell of the carriage and jumped back on before the finish, which resulted in just 5 penalty seconds. The wild card driver however just missed the winning round because of this incident, but Voutaz did not blame him: "I make mistakes as well sometimes, it can happen."
Edouard Simonet finished in fifth place today, ahead of Benjamin Aillaud.
With three more competitions to go, Boyd Exell is in the lead of the standings, followed by Bram Chardon. Both drivers are already certain of a starting place for the Final in Bordeaux, for which the top 6 after Leipzig are qualified.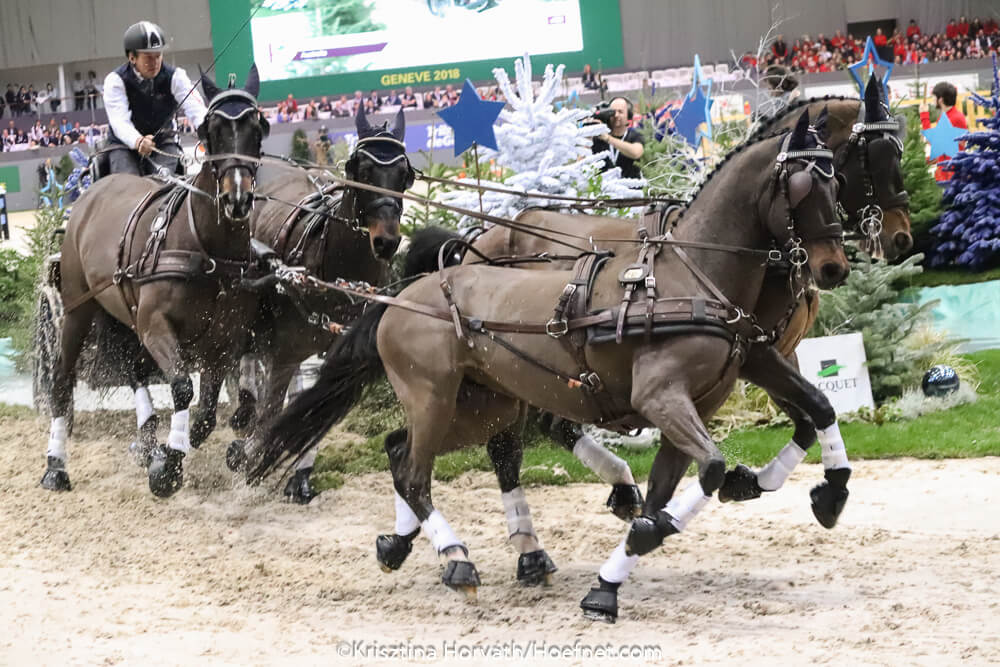 Boyd Exell
Photo:
Krisztina Horváth
Results
Results FEI World Cup Driving Geneva 9 December 2018:
Boyd Exell (AUS) 150,72
Bram Chardon (Den Hoorn) 153,24
József Dobrovitz (HUN) 158,03
Jérôme Voutaz (SUI) 166,90
Edouard Simonet (BEL) 167,13
Benjamin Aillaud (FRA) 182,84
Standings FEI World Cup Driving 2018/2019 after 6 out of 9 competitions:
1         Boyd EXELL                                     AUS            30
2         Bram CHARDON                               NED            22
3         IJsbrand CHARDON                          NED            19
Jérôme VOUTAZ                              SUI             19
5         József DOBROVITZ                          GER           15
6         Koos DE RONDE                              NED            14
7         Glenn GEERTS                                BEL            13
8         Chester WEBER                                USA            11
9         Edouard SIMONET                          BEL            8
10       Benjamin AILLAUD                          FRA            4
Click here for the full results and more information.
Copyright reserved. Acquisition without acknowledgment and permission from [email protected] is not allowed.