4 September 2015
Breda: Bram Chardon takes the lead
Title defender Bram Chardon has taken the lead in the individual standings of the four-in-hand competition at the FEI World Pony Driving Championships in Breda. Germany's Steffen Brauchle is on silver, while home driver Jan de Boer is on bronze. The German team have taken the lead in the nations competition, followed by Great Britain and the Netherlands.
After the pairs had rounded up their dressage, the arena was cleared after lunch for the pony teams. The sun occasionally replaced the rain, but the footing in the arena was already too heavy to dry up properly. All eyes were set on the second starter, double World Champion Bram Chardon. The 22-year-old driver put down a nice, faultless test with his Welsh ponies: "I am very pleased," says Bram. "When I entered the arena I noticed that the footing was very heavy and my team lost a bit of power. I trained a lot on my walk and it went well today." Bram left the arena with a score of 41.23.
Steffen Brauchle, the elder brother of freshly crowned European Four-in-Hand Champion Michael Brauchle, put down a very nice test with his team of German riding ponies and came second with a score of 43.89.
The 2007 World Champion Jan de Boer scored 45.48 and is very closely followed by Lars Dau from Denmark (45.78) who put down a well-driven test with his beautiful Haflinger ponies.
The gap between Dau and the fifth placed (45.95) Tinne Bax from Belgium, who drove the presentation carriage she got from her husband as wedding gift last year October, is yet again very little, which means that everything is still possible in tomorrow's very challenging marathon.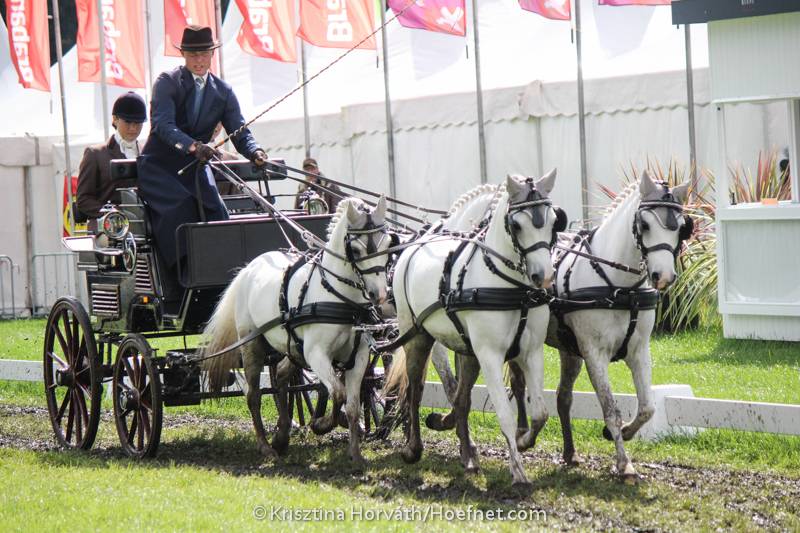 Photo:
Krisztina Horváth