10 April 2018
British Indoor Carriage Driving Championships Keysoe
Sixteen-year-old Colette Holdsworth claimed the strongly contested Open Pony Championship and also became the new Supreme Champion, closely followed by Reserve Champion, Stephie White, of Scotland's Sports Driving Unlimited.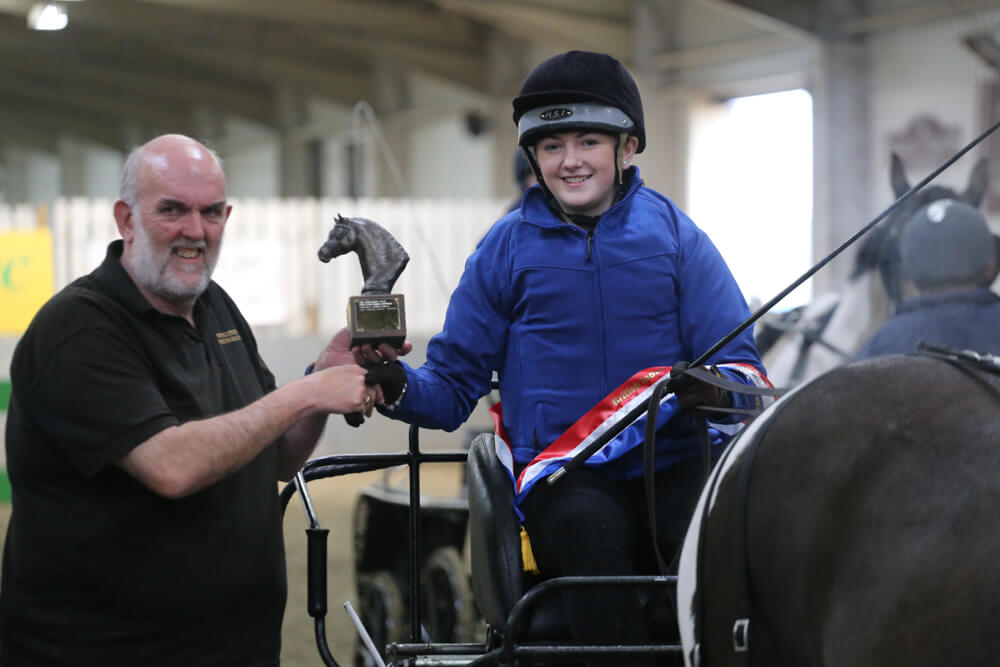 Caitlin Coles
Colette's success was down to consistently excellent results in all three phases, keeping her cool with the fastest time in obstacle four. Her mother Catherine backstepping, Colette drove her nine-year-old coloured mare Pepper, this combination having won national and international medals in their two-year partnership. Joseph Adams' clockwork-like Section A pony pair, Mini and Hero, was third best overall with Linda Hill, celebrating her 70th birthday, fourth with her single pony, Timothy, winning the Veteran Champion's title. Linda also regained her Small Pony Pairs title. Penny Craven took the Small Pony Supreme Championship from former champion Maria Keady. The youngest driver taking part was novice junior Phoebe Matthews, nine, whose well-known father David was navigator/backstepper.
Topping the Team Challenge was seven-times champion Julie Wedgbury with her flying Shetlands but hot on her heels was Catherine Walton and her Shetland unicorn. Pony Tandem Champion was Liz Harcombe, with 2017 winner Anne Chambers in second place. New novice title holders were Jackie Hinds, with her strikingly athletic Norwegian Fjord, and Lynn Riley, horse, both showing great promise for the coming outdoor season. Intermediate Pony Champion Olivia Routledge benefits from her aunt Anna Grayston's backstepping expertise. Intermediate Horse Champion Caitlin Coles was another driver who kept up the pace. Rachel Moast, who won the Intermediate class last year, worked hard to stay in front of Charlotte Chard, Rachel taking the Open Horse honours driving David Whitfield's horse Curly.
No three-phase event in the British driving world compares with the ICD-UK Finals: quiet calm and harmony reign for dressage; the cones course is 64 seconds of exciting, challenging driving, right in front of the spectators; the third phase, obstacle driving, against the clock, is accompanied by deafening cheering, screaming and clapping from the enthusiastic audience. Not only do the horses and ponies have to maintain their concentration in that atmosphere but the driver and backstepper must remain cool and focussed too. Standards of performance continue to rise and the young drivers coming through are gaining valuable experience throughout the winter season that they will build on this summer. There is nothing to match ICD-UK for making driving champions, now and in the future.
Results: www.indoordriving.co.uk
Fiona Powell