1 December 2013
Budapest: Second victory in a row for IJsbrand Chardon in Budapest
IJsbrand Chardon (NED) has won the fourth leg of the FEI World Cup™ Driving 2013/2014 in Budapest, Hungary. Chardon drove his experienced team of Lipizzaner horses to victory and stayed ahead of his compatriot and European Champion Theo Timmerman (NED) and local favourite József Dobrovitz (HUN).
Hungarian O-course designer Gábor Fintha had laid out a very nice course in the Lászlo Papp Sports Arena with fast and technical parts, which was much appreciated by the drivers.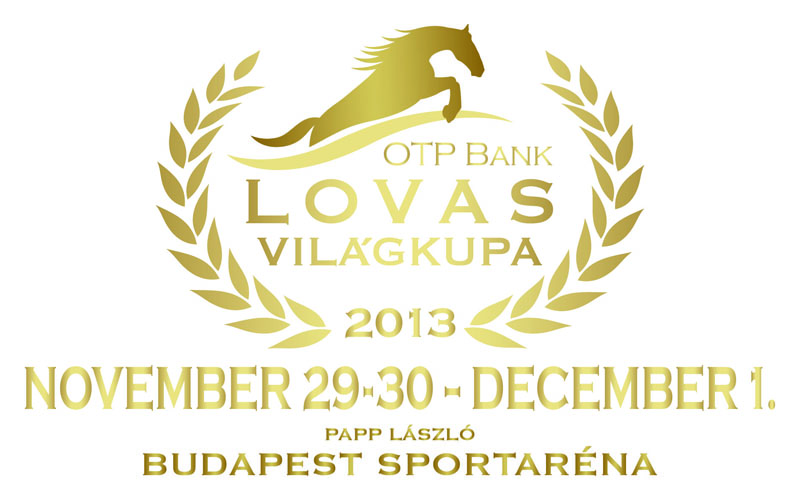 Back to basic
After a non-satisfactory first competition in Budapest on Saturday evening, IJsbrand Chardon decided to go back to basic and he changed his new leader horse, with which he finished 3rd in Hannover, for the experienced Inci. This resulted in two amazing clear rounds, which contributed to the great atmosphere in the arena. Chardon and his team of Hungarian Lipizzaner horses could count on much support of enthusiastic spectators. It is the second time in a row that Chardon won the FEI World Cup™ Driving, in 2012 he was equally successful. Chardon finished over 23 penalty seconds ahead of Timmerman and Dobrovitz.

According to plan
Theo Timmerman has set himself as goal to use the first competition in Hannover and his wild card start in Verona to get into the right rhythm for his next four events. After his fifth place in Hannover and his second place in Verona, his aim was to do well in Budapest. Theo started off very fast in the first round and an unfortunate ball off the last cone luckily did not endanger his qualification for the Winning Round, in which he was second to go. The reigning European and Dutch Champion has been driving his indoor team for several years now and the experience was paying off. After a flying start, Theo slowed down a little bit after he had a knock down in the second marathon obstacle and he finished just over one second faster than Dobrovitz, securing his second place.
New leader horse
József Dobrovitz, who is from the town of Vecsés, around 20 kilometers away from Budapest, brought many supporters. József qualified for the Winning Round despite two balls in the first round, thanks to the magnificent high speed of his team. The successful Hungarian driver used a new Lipizzaner horse in the lead of his team and despite the high speed, he had another two knockdowns, which resulted in the third place.
Safe round
Stuttgart-winner Daniel Schneiders decided to go for a safe round. Daniel took his mixed team of German, Dutch and English horses fast through the course, but unfortunately had one ball down, which resulted in the fourth place.
Family affair
The fifth place went to József Dobrovitz junior, who, like his father, also drove a new horse in the lead of his team. The nephews of József, Mark and Kristof Osztertág, both received a wild card in Budapest. This resulted in a true family affair, with four Dobrovitz family members on the competitors list.
The 21-year-old Kristof finished sixth. Kristof competed as an individual at the FEI European four-in-hand Championships in Izsák and competed in the horse pairs and pony pairs classes this season. Kristof was member of the bronze-medal-winning Hungarian team at the FEI World Pony Championships in Pau, where he finished 15th individually.His 23-year old brother Mark came seventh. He drove both a pair and a four-in-hand this season. He competed as an individual at the FEI World Pair Championships in Topolcianky and at the FEI European four-in-hand Championships in Izsák.
Quotes:
IJsbrand Chardon (NED): "With Inci I was able to drive two fantastic rounds, my team of horses went extremely smooth. I hope he stays like this. He is a good horse, but sometimes he does not do what I ask him to do, which makes him unreliable. In the Winning Round I decided to go safe and even then I was one second faster than in the first round."
Theo Timmerman (NED): "I was not too pleased with my performance on the first night, but today it all went according to plan. I started off very fast, but I decided to take more control after the knock down to prevent more balls to fall. I learn every time and my team is getting better every time as well."
József Dobrovitz (HUN): "I am very pleased with the spectators, who helped me to get this result. It was a super course. My left leader does not have the routine yet, it was his first time at an indoor competition. I tried to do my best in the marathon obstacle, but unfortunately I had two knockdowns. But I am confident that this horse will get better next time.
1. IJsbrand Chardon (NED) 243,13 (0)
2. Theo Timmerman (NED) 266,09 (5)
3. Jozsef Dobrovitz (HUN) 267,89 (10)
4. Daniel Schneiders (GER) 136,68 (5)
5. Jozsef Dobrovitz Jr. (HUN) 148, 60 (15)
6. Kristof Osztertag (HUN) 164, 91 (10)
7. Mark Osztertag (HUN) 172, 41 (20)
Click here for the photoalbum.