15 April 2021
Checking in with…….Christian Plücker!
The sport of combined driving has had the privilege of knowing a great number of people who have had a lasting impact on the sport. Hoefnet went in search of these legends in the sport to ask how they are doing now. In this chapter we are talking with Christian Plücker.
Ten years ago, the German driver Christian Plücker (1981) had an extremely successful career as an international four-in-hand driver. Up until 2014 he was a member of the short listed German team, but due to time issues and responsibilities at work he made the decision to end his young driving career.
Father as inspiration
The master baker and business economist is together with his twin brother Malte the owner and manager of the over 100 year-old family mill and bakery.
Christian is responsible for production of bread and other baked goods. His father Walter Plücker (1955) remains active within the company. As a business owner, passionate rider and four-in-hand driver, Walter was an inspiration and teacher to Christian. Walter won the bronze medal in 1996 at the Hessan Championships and competed at the World Championships in Wolfsburg in 2000. It was no surprise that Christian, at just 17 years-old, was competing with a pair of horses and in 2004 took over the reins of his father's team as well. After finishing high school, a stint in the army and his secondary education, Christian won the Hessan Championships at just 23 years-old.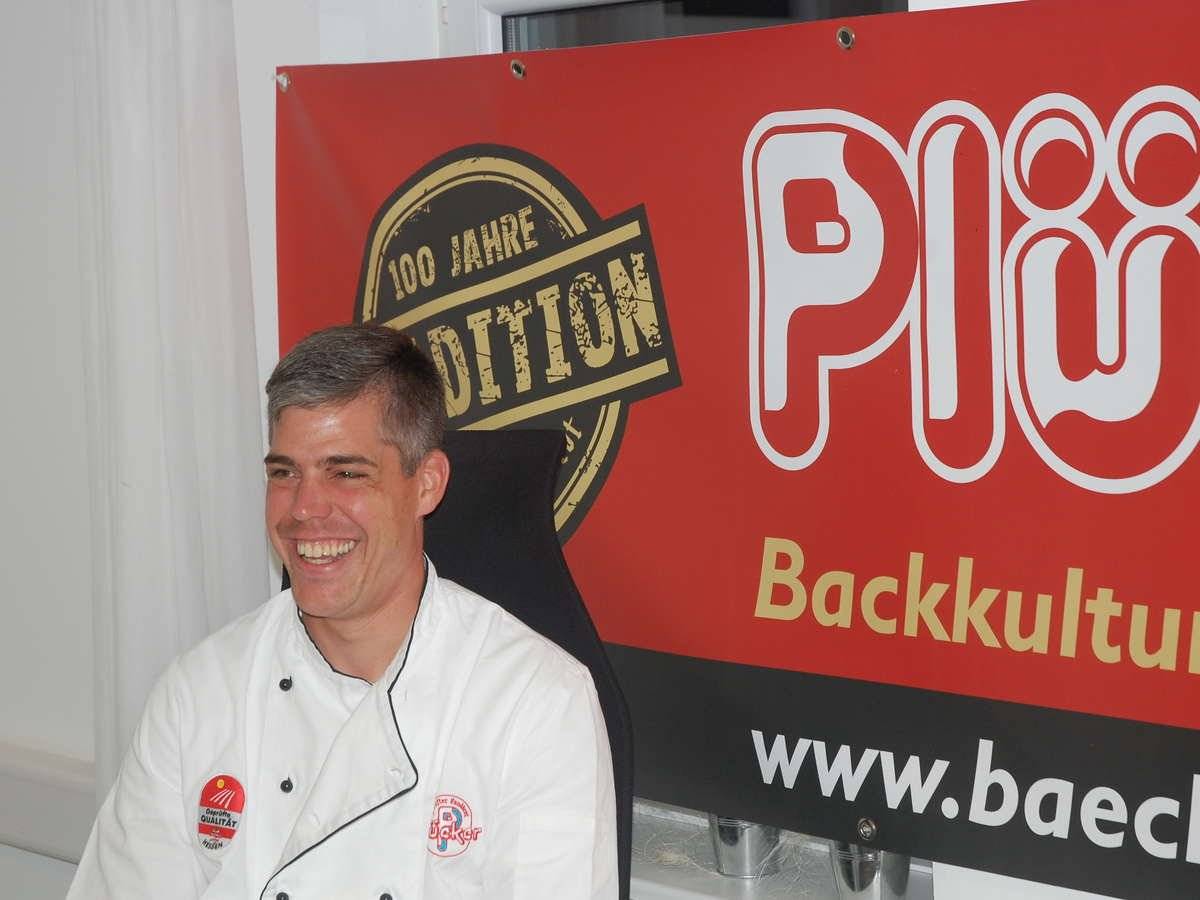 Photo:
From perspective team to the short list
Christian came into the German perspective team with his father's horses Boss, Lucky, Vagabund, Rascal, Iwan, Schicco and Feiner Kerl. He along with the other young talents at the time, Raphael Tobias, René Poensgen, Georg von Stein, Christian Scheid and Michael Brauchle, were trained by Michael Freund. Christian was a member of the short-listed German team until 2014 and continued to work closely with Michael Freund through the years. Walter was instrumental in the formation of the perspective team and generated a great deal talent and sponsorship throughout that time.
German Championships
In Nunsdorf in 2005 Christian took part in his first German Championship. During the 2010 German championships in Lähden he earned the silver medal just behind host and gold medalist Christoph Sandmann. "I was incredibly proud to win my first medal at a German Championship, it was super, and it was the first time where everything went according to plan! Up until that moment I was never able to use the horses I wanted to use as we were dealing with a few injuries. I was myself on the sidelines for a few months with a hand injury, which made even being able to compete at the championships extra special."
During his last German Championships in Donaueschingen in 2013 he just missed the podium finishing fourth after Christoph Sandmann, Michael Brauchle and Daniel Schneiders.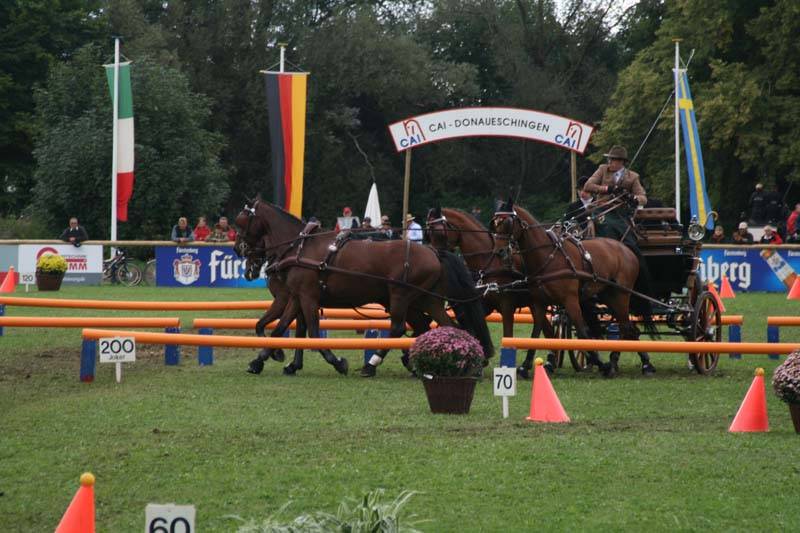 Christian in Donaueschingen 2013
Young and unproven
Thanks to Michael Freund Christian received a wild card in 2008 for the World Cup in Stuttgart. When he just missed the winning round behind the to-be winner Jozsef Dobrovitz he was even congratulated by IJsbrand Chardon, who had placed second there.
The four-in-hands were for Christian the Formula 1 of the horse sport. The spectacular marathon in Aachen over the specially prepared trails beside the main arena attracted more than 30 000 spectators. To be able to compete in Aachen was for Christian a truly great honour.
International success
Under the leadership of team coach Ewald Meier, Christian won the cones at the CAIO Aachen in 2008. Under the leadership of team coach Karl-Heinz Geiger in 2012 he was the best individual German driver in Aachen with a 15th placing. After the World Championships in 2012 where he placed 15th, Christians last competition with the German team was at the European Championships in Izsák in 2013. After very strong performances in the dressage and cones he unfortunately had to stop in the marathon. It was a surprise to everyone when he decided to end his driving career in January of 2014.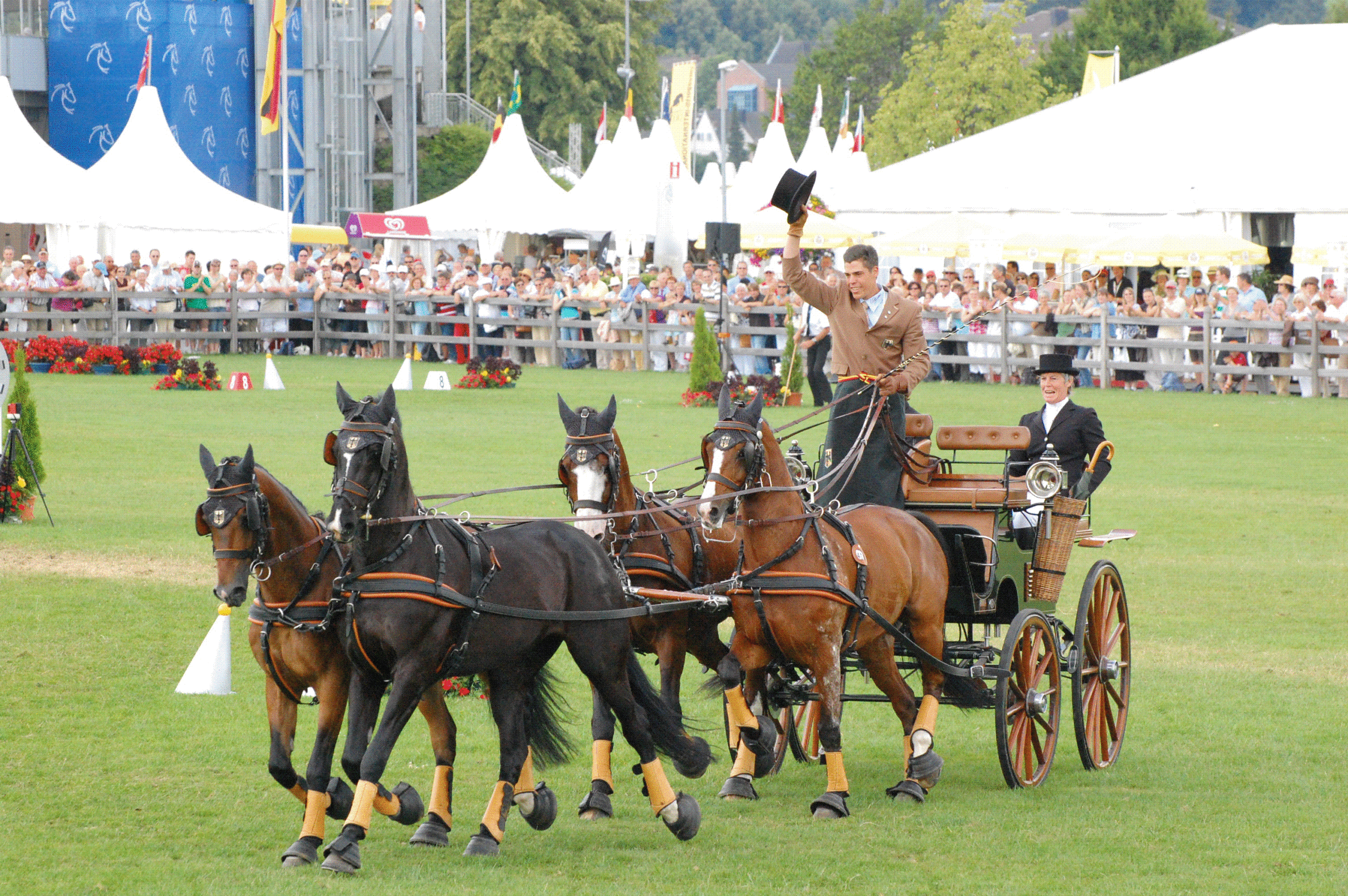 Christian won the cones at CAIO Aachen 2008
Photo:
Private collection
From the truck straight to the night shift
There were many reasons why Christian ultimately decided to stop with the sport. In April 2014 he and his wife were expecting their second child and children and families cost quite a bit of time. On the other hand, he had a growing family business that took quite a bit of energy as well.
"As an amateur competing internationally it was extremely difficult. The quality control at the business is impossible to do over the phone, and when I came home on Sunday evening from the show I would immediately head to work and start the night shift. It was exhausting. On top of that the number of observation competitions was increased and along with a European Championship the seven or eight shows a year became nine or ten. It was just not possible to be away from Wednesday to Sunday that many weeks a year. This is why we decided to stop with the sport."
Bringing regional character to their business
Christian and Malte Plücker are constantly busy with the development of their company. They offer regional specialties as well as training and mentoring young people wishing to make a successful start to their career. Four years ago, the business celebrated their 100-year anniversary. The mayor of Waldeck is extremely thankful to the Plücker family as the company brought fiberglass internet to the town, which everyone was able to profit from.
From a four-in-hand to ponies
"The best part about the sport was being able to compete together with my family. My family remains my top priority, just now without a team of horses on the side. Driving isn't in the picture anymore, but for my wife, our son and two daughters we have a riding pony and a Shetland pony. The Shetland is named Mäxchen and was originally a part of Marco Freunds team."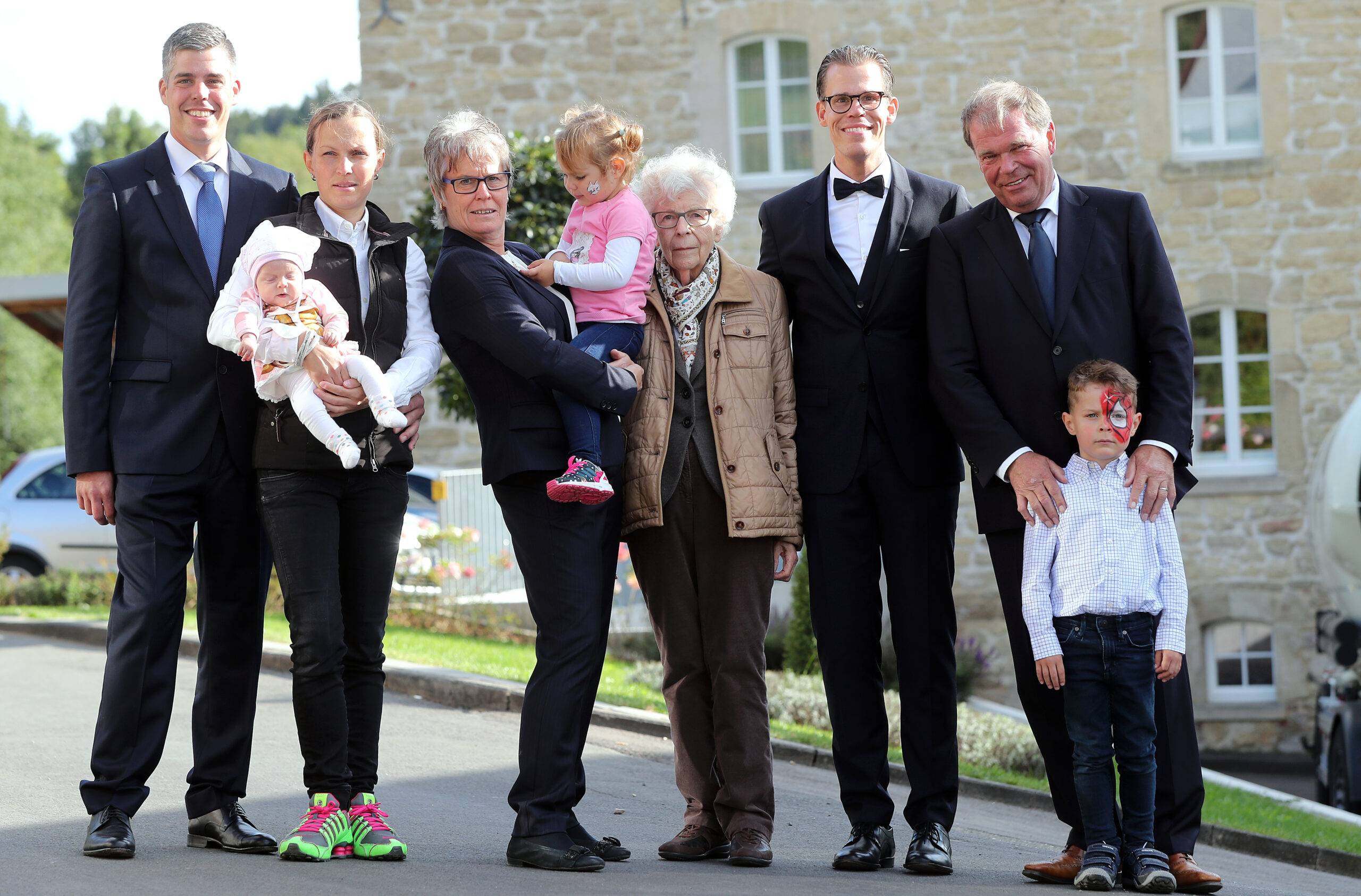 Four generations of the family Plücker. From left to right: Christian Plücker with his wife and youngest daughter, mom Regina Plücker met granddaughter, grandma Plücker, brother Malte R. Plücker and Walter Plücker with grandson
Photo:
Private collection
Still in contact with the driving world
Even with his busy company, Christian has not lost all of his contacts in the driving world. He still has regular contact with Michael Freund, Christoph Sandmann, Georg von Stein and René Poensgen: "I still follow the four-in-hand sport and the competitions. I like to support the sport and often try to volunteer in Lähden as well as going to watch the shows in Aachen and Donaueschingen."
Text: Eberhard Platz. Edit: Hoefnet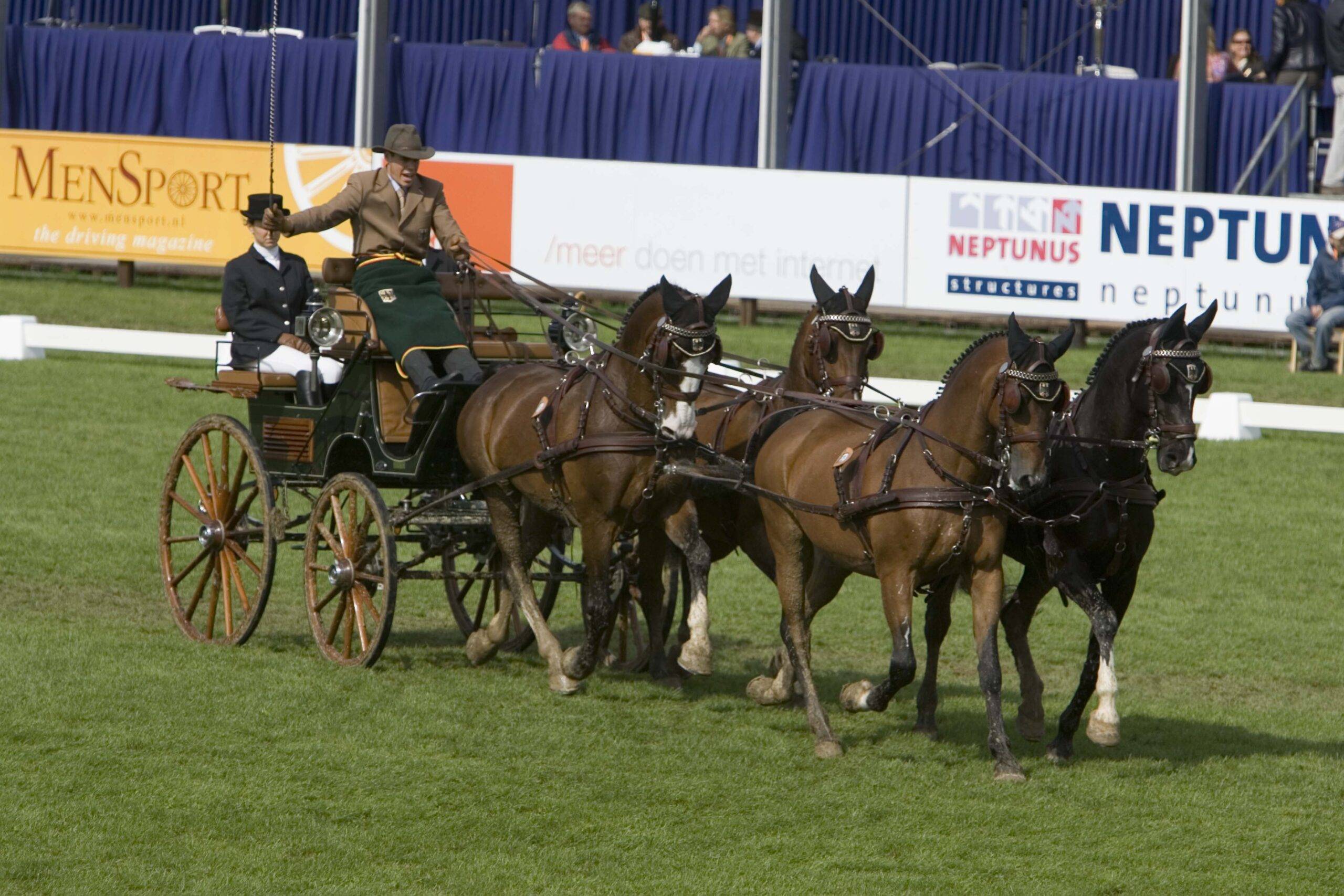 World Championship four-in-hand Beesd 2008
Photo:
Rinaldo de Craen
Copyright reserved. Acquisition without acknowledgment and permission from info@hoefnet.nl is not allowed.