23 April 2018
Test event Tryon 2018: Chester Weber holds on to the lead
Chester Weber maintained his hold on the lead through the Cones phase of FEI CAI 2* Four-in-Hand competition as part of the FEI World Equestrian Games™ Tryon 2018 (WEG) Driving Test Event at Tryon International Equestrian Center (TIEC), guiding his team to victory after blazing cleanly through the Richard Nicoll-designed course. The all-American podium remained unchanged from day two: Weber landed on 159.38 points after three days, while Misdee Wrigley-Miller maintained second place after driving Bravour, Beau, Bolino D, and Calipso to a score of 173.34 on a clean run, and James Fairclough finished in third with Bento V, Citens, Dapper and Zenden on a final penalty score of 180.21.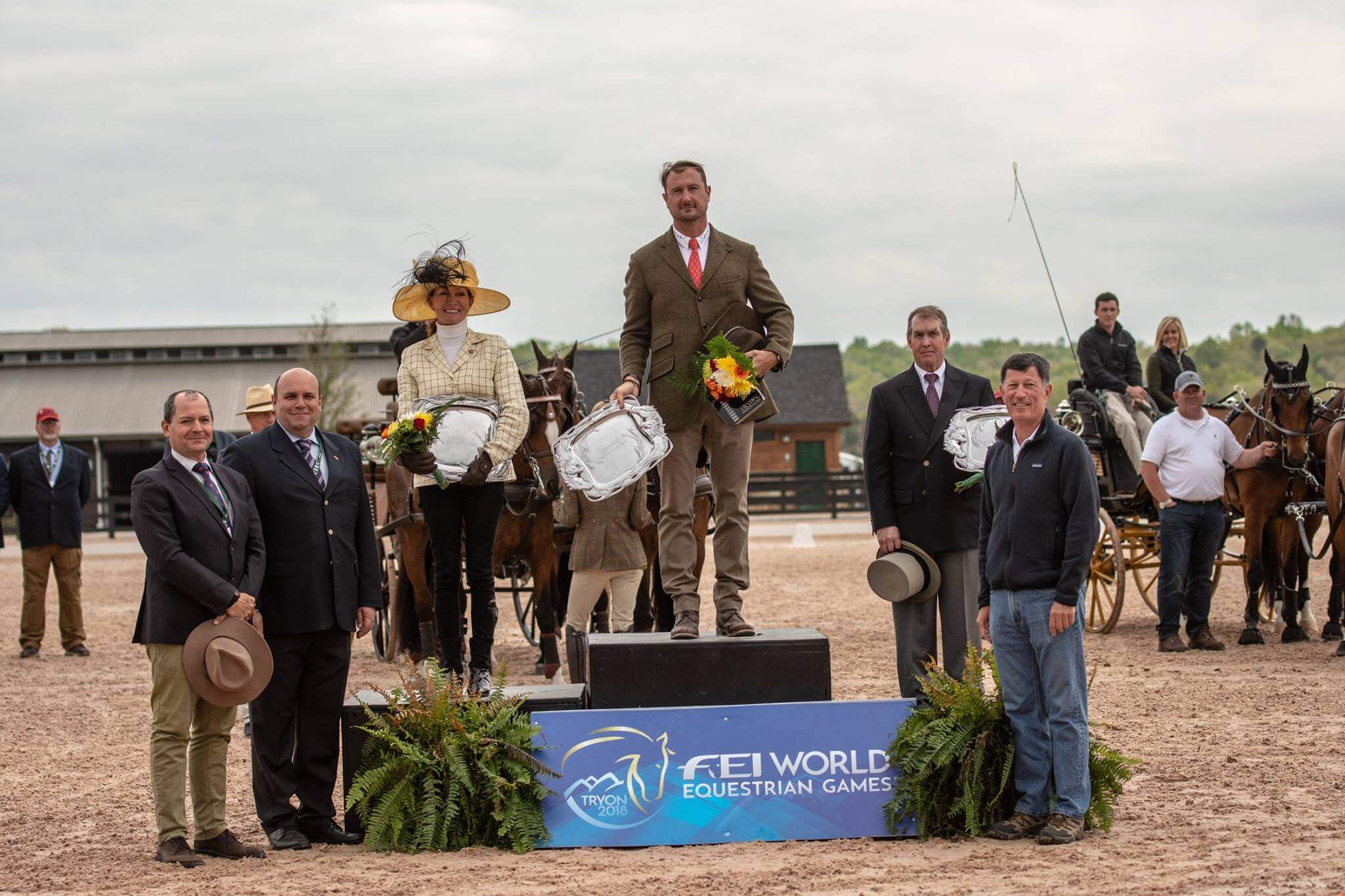 Weber spoke highly of his day-three team, consisting of Amadeus, Asjemenou, Gouveneur, and Ultra, and explained that he added Gouveneur into the team after testing potential WEG contender, Reno, in his place for the Marathon phase. "I drove the Dressage team again, which was my plan from the beginning and they were really nice," he said. "I have a sort of inexperienced seven-year-old in the group [Gouveneur], and I wanted to know what I had in him for a Cones leader and he actually did really well. I was really pleased with him."
Wrigley-Miller maintained her podium spot with a speedy round through the Cones phase and complimented the noticeable improvement in harmony for her team this week. "The team is really starting to gel and come together to work as a team and that was really what I noticed. They were all balanced together. I could really drive more forward, they felt great in my hands, and the obstacles drove so well," she emphasized. "I just feel like we've been a work in progress and we made huge strides yesterday. I was really pleased with our Marathon, but I went back and watched the videos and thought, 'I can go faster!' So, I think the horses and I have good timing going forward."
For Fairclough, this week's FEI World Equestrian Games™ Tryon 2018 Test Event was his first chance to drive obstacles and Cones since Live Oak International a month ago, and described how the weather at home had really thrown a kink in his ability to train, but had not dampened his competitiveness at TIEC.
Fairclough also hopes to return in the fall and emphasized the honor of representing Team USA. He said, "It's wonderful to represent team USA and to have the Games here. The few times that we [Weber and I] have had the national anthem played for us, there's nothing better. But, to be an ambassador for our country is really an honor. It's a real thrill no matter what, when you do it."