23 July 2017
Gold for Dieter Lauterbach and Dirigent at German Championships
Reigning World-and German Champion and National Coach of the German Youth Drivers Dieter Lauterbach had travelled to Rastede last weekend to defend his national title. Together with his top horse Dirigent, he accomplished his mission and stayed ahead of Marlen Fallak and Anika Geiger.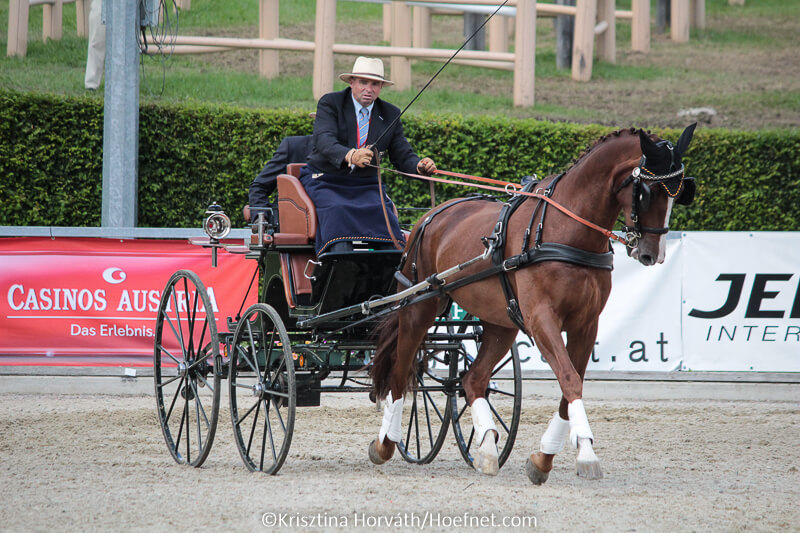 Dieter Lauterbach (archive)
Photo:
Krisztina Horváth
The 52-year-old driver did not win any of the three phases of the competition, but had an advantage of 2,1 points to Marlen Fallak and 3,23 points to Anika Geiger in the end.
"It was a close victory," tells National Coach Wolfgang Lohrer. "The top was very close together after dressage and marathon, which caused some nerve-wrecking moments for some in the cones."
Unfortunately, Rastede was tortured with very bad weather last weekend. The organisation did all they could to keep the terrain in good state, but the marathon was extremely heavy. Jens Chladek and his mare Cheyenn did not care about the circumstances and set the fastest time sin four out of the seven marathon obstacles. They won the marathon ahead of Philipp Faißt with Ann in Time G.W. and Dieter Lauterbach.