2 October 2017
Donau Alp Cup 2018 in Szilvásvárad
Every other year, in between the FEI World Pair Driving Championships, the Donau Alp Cup is organised for singles and pairs. The next edition will be held during the international driving event in Szilvásvárad, Hungary, in September 2018.
The Donau Alp Cup is an individual and team competition. Teams from Austria, Croatia, Czech Republic, France, Germany, Hungary, Italy, Liechtenstein, Romania, Slovenia, Slovakia and Switzerland are eligible for the Team Competition. Competitors from all competing nations are eligible for the individual classification.
The Team classification is done separately from the regular FEI classes at the competition and is not an official FEI competition.
Each Team consists of minimum two and maximum three competitors from one Nation, this can be a mix of single and pair drivers. Each Nation can only be represented with one Team.
The Team with the least penalty points over the three phases of the competition will be the winner of the Donau Alp Cup. In addition, there is a special prize for the winner of the presentation competition. The presentation is obligatory for the team members.
During their last meeting at the FEI World Pair Driving Championships in Lipica, Slovenia, FEI Level 4 Judge Jiri Kunat (CZE) was elected as the successor of József Borka as President. FEI Level 3 Judge and Technical Delegate Wolfgang Csar (AUT) replaces Dr. Günther Heincz as Secretary General.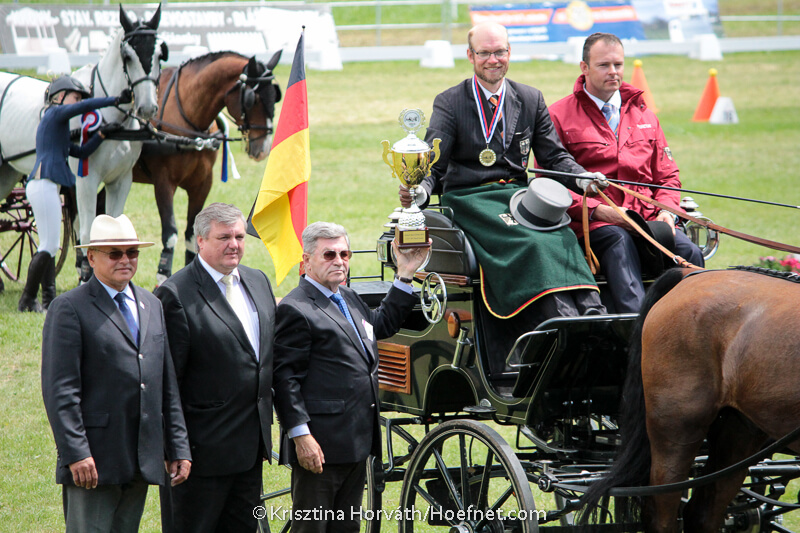 The last Donau Alp Cup was held in Topolcianky 2016 and was won by Germany
Photo:
Krisztina Horváth