17 August 2019
Donaueschingen 2019: Bram Chardon and German team take over the lead
The very selective marathon at the FEI Driving European Championships in Donaueschingen resulted in a day with ups and downs. The Dutch team dropped to the fourth place after IJsbrand Chardon tipped over and Koos de Ronde received 35 penalty points in the A-section. Bram Chardon has taken over the lead in the individual standings from Benjamin Aillaud, who is in second place. The German team has taken over the lead in the Nations Cup.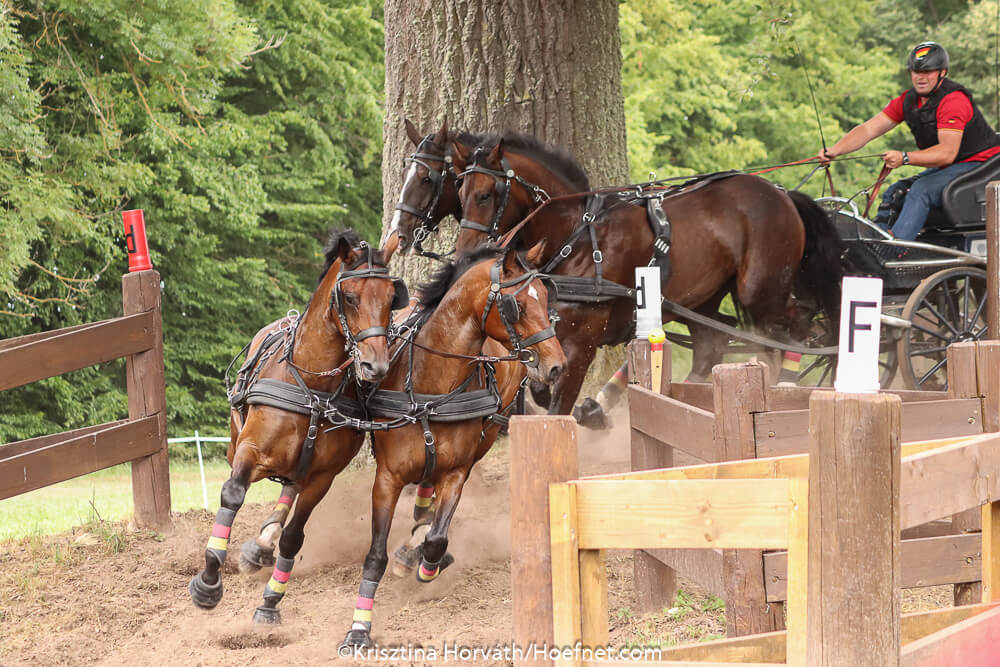 Michael Brauchle
Photo:
Krisztina Horváth
Around 19.000 spectators witnessed the performances of the four-in-hand drivers. The obstacles were technical and selective, a mistake was easily made. Koos de Ronde drove a fantastic marathon. He set the fastest times in five of the eight obstacles and was well underway to win the marathon, but unfortunately he had not used the right timetable and received 35 penalty points in the A-section. He herewith lost his chances to an individual and a team medal, as he withdrew after the marathon.
Bram Chardon drove very well and finished in second place in the marathon, which was won by German team member Michael Brauchle. IJsbrand Chardon tipped over in obstacle four, fortunately horses, driver and grooms remained uninjured.
Germans in the lead
Cheered by many fans, the German drivers clearly felt at home in this marathon. Michael Brauchle and Georg von Stein really went for it. Brauchle took some risks and that paid off, he won the marathon and helped the German team climb to the first place in the standings.
Cones
Tomorrow's cones will be just as exciting as the marathon. The top 4 in the individual standings have small differences between them.
Follow the cones live on FEI TV.
Copyright reserved. Acquisition without acknowledgment and permission from info@hoefnet.nl is not allowed.