18 August 2019
Donaueschingen 2019: Gold for Bram Chardon and German Team
After a thrilling final cones round, 26-year-old Bram Chardon was crowned European Champion Four-in-Hand Driving. The German Team also held on to their leading position and won gold on their home soil. The silver individual medal went deserved to Benjamin Aillaud, while Glenn Geerts took home the bronze medal.
Dutch international level 4 Course Designer Johan Jacobs had laid out a course, which was described as easy at first, but which was still challenging enough.
The excitement grew as the top ten drivers entered the arena, as the differences were very small. Best German driver Georg von Stein dropped to the fourth place after knocking one ball down, which allowed Glenn Geerts to climb to the third place, securing his first individual medal at an international Championship in his career.
After winning the dressage and his fifth place in the marathon, Benjamin Aillaud also won his first ever-individual medal, after some minor penalties for exceeding the time allowed, taking home the silver.
Last man in the arena Bram Chardon only had some 4 points advantage to Aillaud and the excitement grew when he knocked a ball down in the first part of the course. Bram however had put his best team for the cones together, the same team with which he won the Cones at the WEG in Tryon, and passed the finish line without any further mistakes. Bram herewith takes over the European title form his father IJsbrand, who won the gold medal in 2017.
After having been crowned as World Champion with his four-in-hand ponies three times, this European title is Bram's first title in the four-in-hand class.
The German team performed very strong with Georg von Stein (4th), Michael Brauchle (6th) and first-time European Championship competitor Anna Sandmann (5th), the Germans were very happy to won the gold team medal for the first time in the history of the European Championships. Five times World Champion Boyd Exell acted as trainer for the Germans and was very pleased with the performances of the German drivers: "I told them to focus on defending the silver position and not to look at the Dutch. We never expected this to happen."
Belgium finished in second place, while the French took home the bronze. The Dutch team finished last after IJsbrand Chardon tipped over in the marathon and Koos de Ronde went home after he got 35 penalty points in the A-section because he used the wrong timetable.
Bitte hier klicken für die Ergebnisse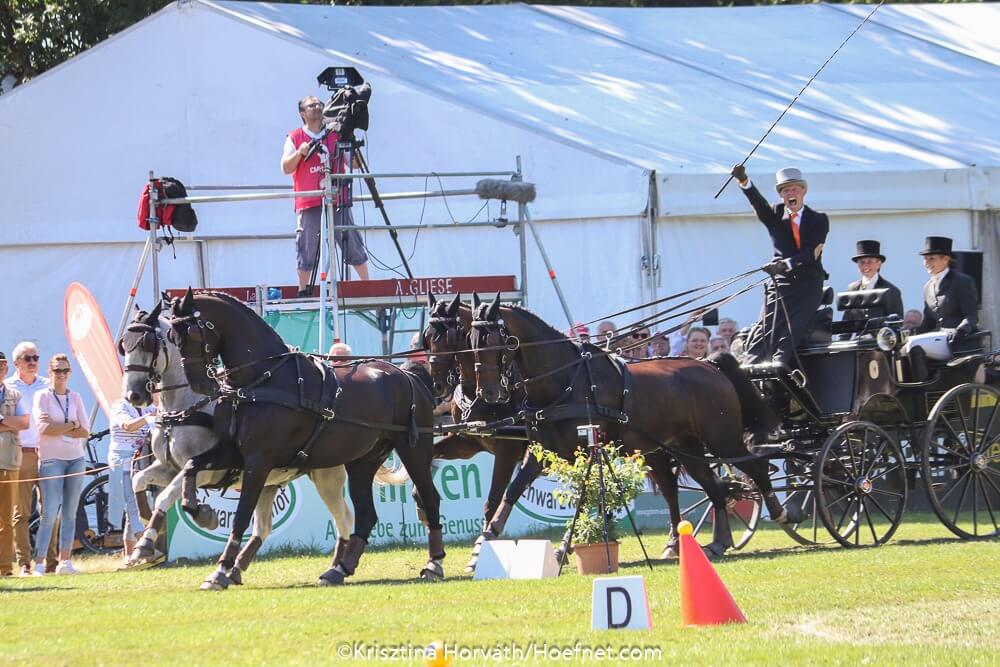 Copyright reserved. Acquisition without acknowledgment and permission from info@hoefnet.nl is not allowed.