3 December 2013
Eriksson retains win in Stockholm
Tomas Eriksson won the fifth leg of the FEI World Cup Driving in Stockholm last Sunday despite a dubious jury decision. In the first round, Eriksson drove backwards through obstacle 5. The jury however allowed Eriksson to continue his round, qualified for the Winning Round and won the competition.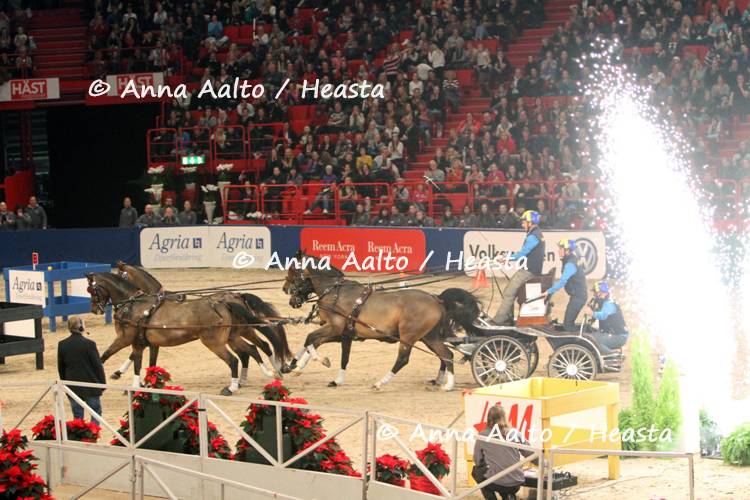 The Appeal Committee convened after queries from the competitors in Stockholm on the decision. According to the
FEI World Cup Driving Rules, Eriksson should have been eliminated. The following articles of the FEI rules applied:
(Art. 8.2: Wrong course single obstacle – sequence or direction)
(Art. 12.9: A cone-type obstacle must be driven through by at least one wheel of the carriage….)
However, and in accordance with Art. 159.6 of the FEI General Regulations (see below), no appeal can be filed against Field of Play decisions made by the Ground Jury, that is where the decision is based on a factual observation of performance during a competition.
(Art. 159.6: there is no appeal against decisions of the Ground Jury arising from the field of play, which are final and binding, such as, but not limited to … the time taken for the round, whether the particular track followed by an Athlete caused him to incur a penalty under the applicable Sport Rules,…)
The decision of the Ground Jury is a "Field of Play" decision and all such decisions must comply with the provisions of the General Regulations. Therefore this decision by the Ground Jury was not subject to appeal. The FEI cannot over rule the Ground Jury decision and the results therefore remain unchanged.