23 March 2015
Four USEF Driving National Championship Titles Awarded
Vier nieuwe Amerikaanse menkampioenen werden gisteren gehuldigd na de afsluitende vaardigheid van de internationale menwedstrijd in Live Oak, Ocala.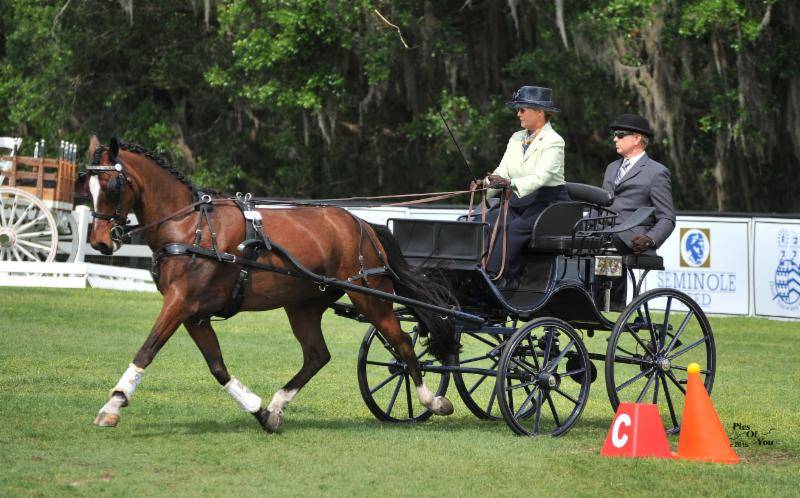 Photo:
PicsofYou
Photo:
PicsofYou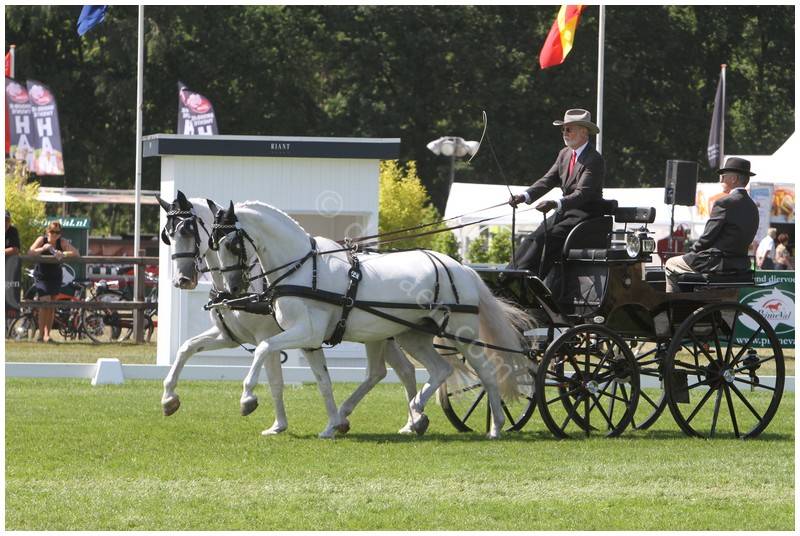 Photo:
Rinaldo de Craen

Tracey Morgan went into the ring with a substantial 17 point lead and with just one ball down secured her ninth USEF National Championship title with a score of 130.17.
"Fuego is just as powerful as a pair; he's my Ferrari. This is my third year competing him and we're really finding a partnership," said Morgan of her 14-year-old German Riding Pony gelding. "We will be heading to Europe later this summer to prepare for the World Championships and this weekend has given us a great confidence boost."
Miranda Cadwell (Southern Pines, N.C.), who moved up to second from fifth place after winning yesterday's marathon, had two balls down to finish on an overall score of 144.77. The score was enough to take Reserve National Championship honors for Cadwell and Leslie Brendl's Cannon's Majestic Leyla, a 12-year-old Welsh Pony cross mare.
Paul Maye added 10.44 penalty points through the cones track to finish in third with 151.20.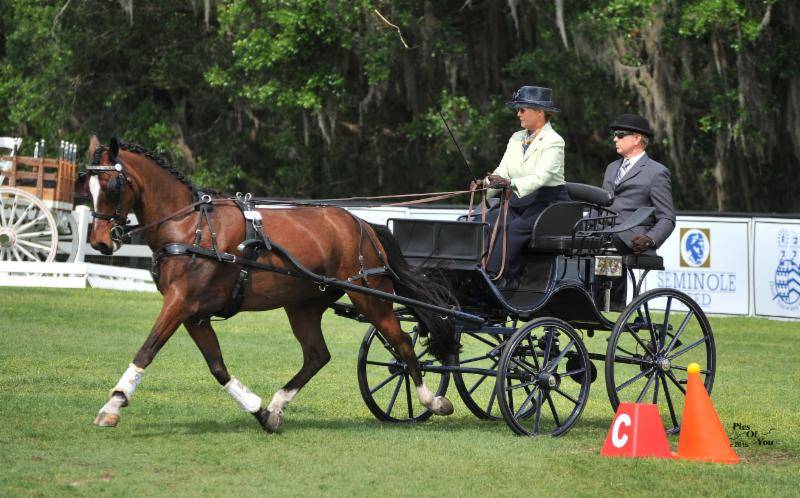 Photo:
PicsofYou
With less than one ball between the two, Amy Cross (Aiken, S.C.) and Katie Whaley (Paris, Ky.) went into the cones phase with steel determination. Cross stuck to her plan to drive an on-point course and expertly guided Wendy O'Brien's Welsh pony pair to a double-clear, winning the National Championship for the second consecutive year on a score of 134.40.
"I was nervous coming into today with less than a point separating Katie and me. We knew we had to go in there and perform, and luckily they are great in the cones and make it so easy for me," said Cross. "The start of the weekend went according to plan as we had a strong dressage test. Our marathon could have been better, but we really nailed the cones and that was exciting for us."
Whaley and her handsome pair of Welsh cross geldings finished the course within the time allowed, but had a costly ball down at obstacle six to add three points, finishing in second with an overall 138.30.
Jennifer Matheson was the only other driver in the division to go double-clear, but it was not enough to catch the leaders. She finished in third on an overall score of 150.49.
Photo:
PicsofYou
Heather Schneider (Palm City, Fla.) secured the National Championship title as the sole competitor in the division on an overall score of 233.44.
"I drove a pair for a long time, and in fact my two leaders are my former pair. It's been a long time in the making and I am very happy with their performance here this weekend."
In the two driver field, Steve Wilson (Louisville, Ky.) put the pressure on Casey Zubek (Manhattan, Ill.) all weekend, finishing a close second in both the dressage and marathon phases. Wilson, driving in his first USEF National Championship, took a decisive win in the cones phase with just one ball down and 3.33 in time penalties, overtaking Zubek for the National Championship title with a final score of 164.92.
"I am the oldest and the least experienced in this sport," joked Wilson. "I have worked for the last five years to become a serious competitor and have always hoped to win an event of this magnitude. I am really happy to have finally accomplished that goal."
Zubek had a little more than a ball in-hand going into Sunday, but succumbed to the technical challenges of the course, having a single ball down at obstacles four and six and two balls down at obstacle 11 in addition to time penalties. On an overall score of 176.71, Zubek took home Reserve National Championship honors.
Live Oak International combined driving and jumping competition can be viewed on demand on USEF Network.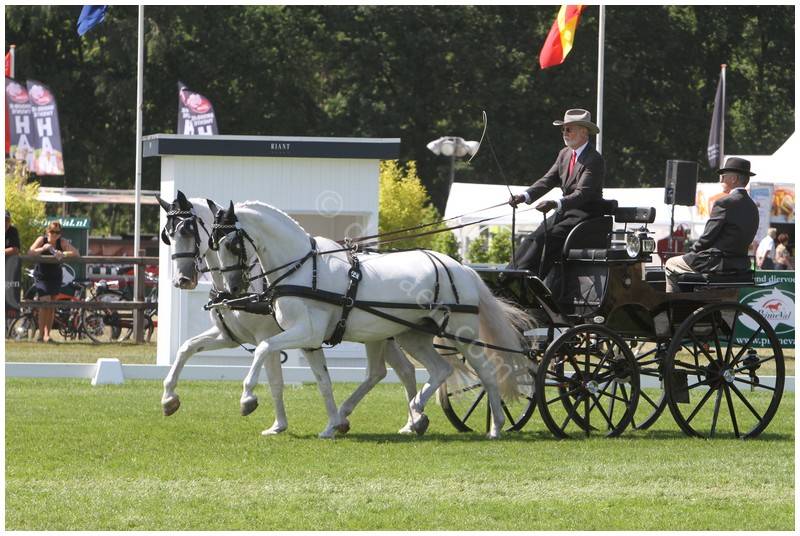 Photo:
Rinaldo de Craen
Tracey Morgan won de dressuur, werd tweede in de marathon en ging met maar liefst 11 strafpunten voorsprong op haar naaste concurrent Miranda Cadwell de vaardigheidsring in. Hier liet zij slechts een balletje rollen waarmee ze haar negende nationale titel zeker stelde. Cadwell werd tweede, voor Paul Maye.
De leidster in het klassement na de dressuur en de marathon Amy Cross werd op de voet gevolgd door Katie Whaley, wat een spannende ontknoping beloofde in de vaardigheid. Whaley liet een balletje rollen, maar Cross reed de Welsh pony's van Wendy O'Brien vlekkeloos door het parcours, waardoor zij haar nationale titel kon prolongeren.
Jennifer Matheson eindigde op de derde plaats.
Heather Schneider was de enige deelnemer in de vierspan ponyrubriek en kreeg het kampioenslint omgehangen. De voormalig tweespanrijdster stelde haar tweespan op als voorspan en was tevreden met haar resultaten.

De tweespanrubriek telde twee Amerikaanse en een Canadese deelnemer. Steve Wilson en Casey Zubek streden om de nationale titel, waarbij Wilson in de dressuur en de marathon steeds nipt achter Zubek eindigde. In de vaardigheid was Wilson echter de sterkste waardoor de 67-jarige menner trots zijn eerste kampioenstitel op zijn naam kon schrijven: "Ik ben de oudste en minst ervaren deelnemer," lachte Wilson naderhand. "Ik heb de laatste vijf jaar hard gewerkt om een serieuze menner te worden en ik hoopte altijd ooit een wedstrijd als deze te kunnen winnen."
Beelden van Live Oak International zijn te zien op het USEF Network.