8 December 2018
Geneva 2018: Victory for Boyd Exell despite warm-up incident
Boyd Exell has won the first competition of the FEI World Cup™ Driving this morning despite an incident in the warm-up arena before the start of the competition. Bram Chardon finished in second place while József Dobrovitz took the third place.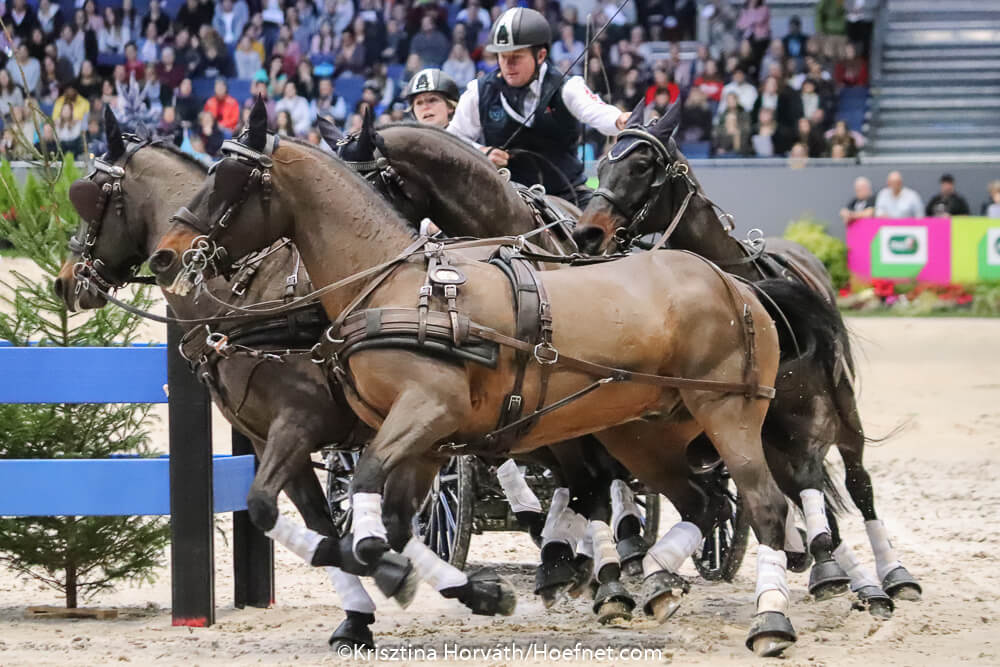 Boyd Exell
Photo:
Krisztina Horváth
Just when the drivers returned to their carriages in the warm-up arena after the course walk, Boyd's left wheeler horse Barny did a capriole and had a leg over the pole: "Dobrovitz jr. and Edouard Simonet were very helpful and then Jozsef Dobrovitz offered to go in before me. I said 'no thank you' because I did not want to let anyone think that I had an advantage. But then the stewards took him in anyway. It was good sportsmanship to help us and we had a little bit more time to prepare."
In the first round, the five-times World Champion dropped a loop in the first obstacle, but corrected quickly and passed the finish line after in a fast time. In the second round, which took place over a shortened course, he nearly took the wrong way, but was corrected by his navigator Emma. "Maybe our composure was not so good after our warm-up," commented Boyd afterwards.
Bram Chardon used his fast left leader horse Dreef Rezgo today, which resulted in two fast rounds: "I am very happy that I decided to use him. I did however have two mistakes in the same obstacle, but that was my own fault. I am very pleased with this team, our times are quite close to Boyd's, so if we start off a bit faster tomorrow in the first round, we should be able to qualify for the winning round."
International level 4 Course Designer Johan Jacobs had laid out a nice course for the six drivers in the largest arena of the World Cup Driving circuit, in which he made use of a new set of mobile marathon obstacles. The spectacular water splash resulted in nice images, but not all drivers had included the lake in their line to drive. Belgium's Edouard Simonet drove around it twice and also Boyd Exell avoided the tight turn before the lake once in the second round.
Results 1st competition FEI World Cup Driving Geneva 2018:
Boyd Exell (AUS) 304.34
Bram Chardon (NED) 316.66
József Dobrovitz (HUN) 337.34
Jérôme Voutaz (SUI) 179.07
Benjamin Aillaud (FRA) 194.26
Edouard Simonet (BEL) 196.94
Click here for the full results
Copyright reserved. Acquisition without acknowledgment and permission from info@hoefnet.nl is not allowed.