15 December 2019
Geneva 2019: 12 out of 12 for Boyd Exell
After an exciting battle in the largest arena in Europe, Boyd Exell won his 12th out of 12 starts in the FEI Driving World Cup™ in Geneva. Glenn Geerts finished in second place, ahead of Bram Chardon.
Good decision
International level 4 Course Designer Jeroen Houterman had laid out a challenging course for the six drivers, including the characteristic spectacular water obstacle, two marathon obstacles and the speed box. The technical and fast parts resulted in nice sport.
After Bram Chardon drove a clear first round and was even faster than Boyd, the expectations were very high for the second round, for which both Glenn and Boyd had qualified as well. Glenn drove his team very fast through the course and was even faster than Bram in the first round. Boyd started off very fast but had a ball in the first marathon obstacle after which he put the throttle on even more, which resulted in a score of 150,19: "This is a very fast team. I decided to replace my new horse Orias today with one of my more experienced horses because this course was not about speed. I knew I could not afford to make mistakes and I am happy that I took this decision."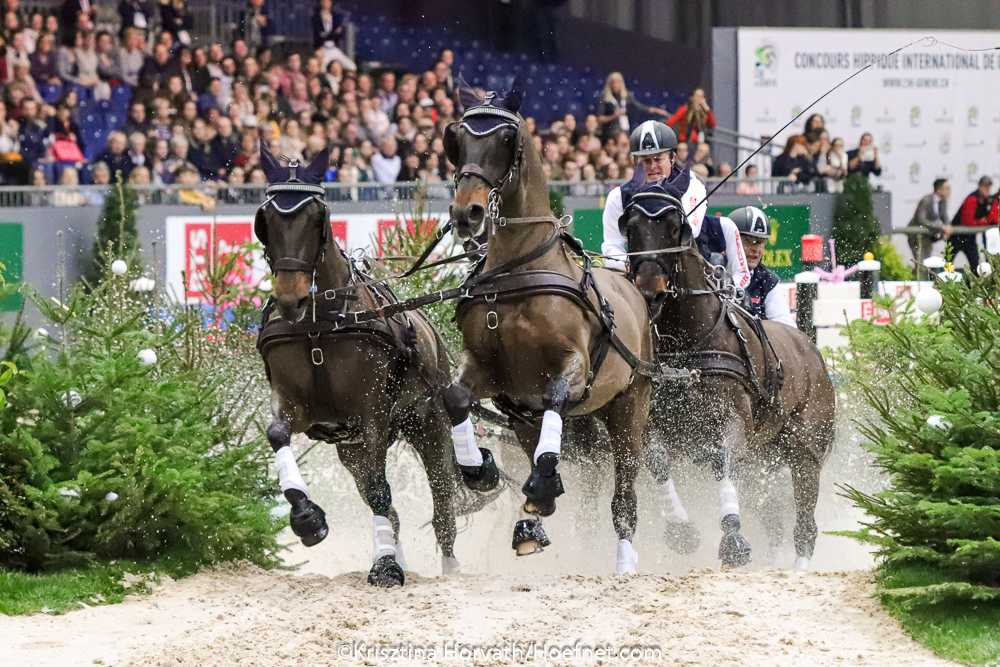 Photo:
Krisztina Horváth
Wrong decision
Last man in the arena Bram Chardon also made a mistake in the first obstacle after which he went for all or nothing which caused three more balls to fall and he herewith lost his chance to the second place: "The first ball was maybe a mistake of one of my horses, he could have helped me a little bit more, but all other balls were my own mistake. There was absolutely no reason for panic after that first ball because my time was very good, but I went for it and I should not have done that. But my team is fantastic, they have a lot of speed and I noticed that once again yesterday and today."
Points for Geerts
Glenn Geerts was the happiest man in Geneva. The bronze medalist of the European Championships in Donaueschingen had his last chance for points in the Palexpo in order to qualify for the Final in Bordeaux and he did not expect to finish in second place at all: "I have had a very difficult season so far. I have a new horse, a six-year-old and he is still learning but progressing every competition. I have been searching for the right settings, but today it all came together."
Geerts has ended up with 14 points in total and is currently in fourth place in the standings. With three more competitions to go in which his colleagues can win points, Geerts will have to wait to see if he finishes in the top six in order to travel to the Final.
Benjamin Aillaud drove a very nice and fast clear round and missed the drive off by only 0,47 seconds, finishing on the fourth place, ahead of wild card driver Jérôme Voutaz and lady driver Mareike Harm who had three knock downs today.
Results
Results FEI Driving World Cup™ Geneva 15th December 2019:
Boyd Exell (Aus) 150,19
Glenn Geerts (Bel) 154,55
Bram Chardon (Den Hoorn) 160,16
Benjamin Aillaud (Fra) 161,20
Jérôme Voutaz (Fra) 174,47
Mareike Harm (Ger) 183,12
Standings FEI Driving World Cup™ after 6 out of 9 competitions:
1          Boyd EXELL                 AUS     30
2          Bram CHARDON          NED     19
3          IJsbrand CHARDON     NED     17
4          Glenn GEERTS             BEL      14
5          Koos DE RONDE         NED     13
5          József DOBROVITZ      GER     13
7          Mareike HARM             GER     10
7          Benjamin AILLAUD       FRA     10
9          Chester WEBER           USA     9
10        Jérôme VOUTAZ          SUI      5
Click here for the full results
Copyright reserved. Acquisition without acknowledgment and permission from info@hoefnet.nl is not allowed.