9 December 2017
Geneva: Boyd Exell: "This is my favourite course of the season so far"
Boyd Exell won the first competition of the FEI World Cup™ Driving this morning in the beautiful arena in Geneva with a ten-second advantage to Bram Chardon, while Georg von Stein finished in third place. "This is my favourite course of the season so far," commented Boyd after his round. "The speed box is doing its job, some mistakes were made and it is interesting to watch."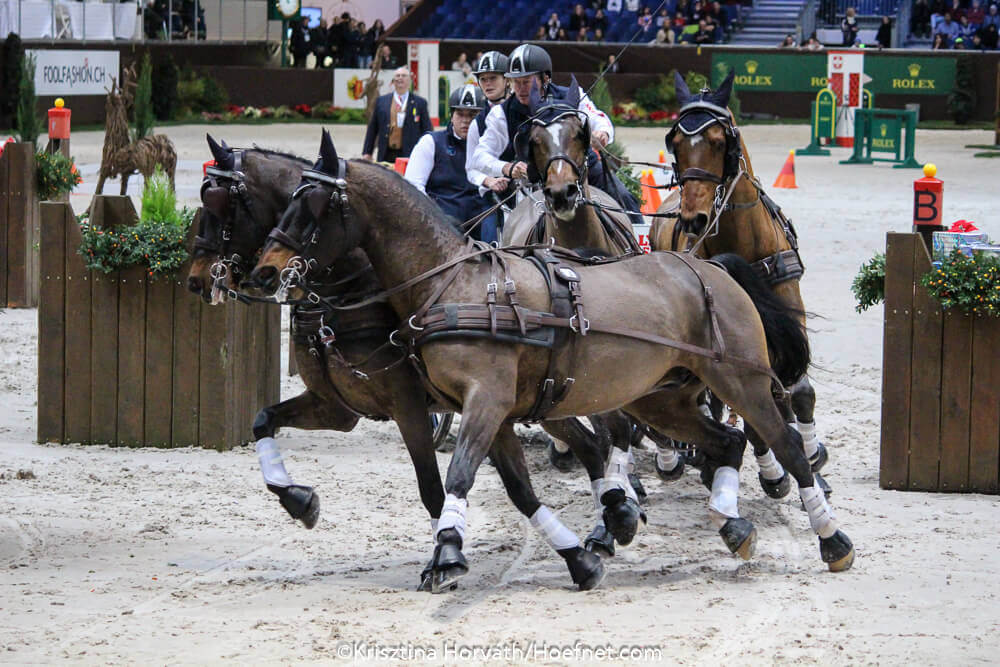 Boyd Exell
Photo:
Krisztina Horváth
The course was designed by Dutch Level 4 Course Designer Johan Jacobs, who had laid out a nice and spacious course in the large arena, including two marathon obstacles, the spectacular water splash and the new speed box.
Being the fifth starter, Boyd was the first driver to stay clear, using a new right wheeler horse in his team. Swiss driver Werner Ulrich previously drove the 11-year old Swiss gelding: "The horse did a very good job, he coped well in such an organised group of horses and he met the high standard we are performing at." Boyd decided to give Demi a rest who will be part of his team again at London Olympia next week.
Bram Chardon had one knock down in the speed box but admitted it was his own fault as he came in too fast: "Other than that I am very pleased. This was a much wider course than last week in Budapest and very nice to drive. I thought Georg von Stein would beat me with his clear round, but he did not make the time. So this is a nice starting position for me tomorrow!"
Fourth-placed Edouard Simonet was happy with his team, in which he used a new left leader horse, which he previously used as a wheeler horse. The silver medallist from the European Championships is hoping for a high placing during his third and last start for points in Geneva in order to qualify for the Final in Bordeaux. Simonet will start with a wild card in Mechelen but will then not be entitled to World Cup points.
Home driver Jérôme Voutaz started with a wild card but had four knock downs and finished in sixth place, ahead of Chester Weber and second wild card driver Benjamin Aillaud.
The FEI World Cup™ Driving competition will start Sunday morning at 11.15 in which the Top Three drivers qualify for the Winning Round over the same course in which they start from zero.
Click here for all information.