10 December 2016
Geneva: Dutch touch to Exell's victory
There was a Dutch touch to Boyd Exell's victory of the first competition of the FEI World Cup™ Driving this morning in Geneva. Boyd used the 14-year-old KWPN horse Vadirmo, better known as Gijs, for the first time in the wheel of his team and he came first with an advantage of six seconds to József Dobrovitz, while Jérôme Voutaz finished on the third place.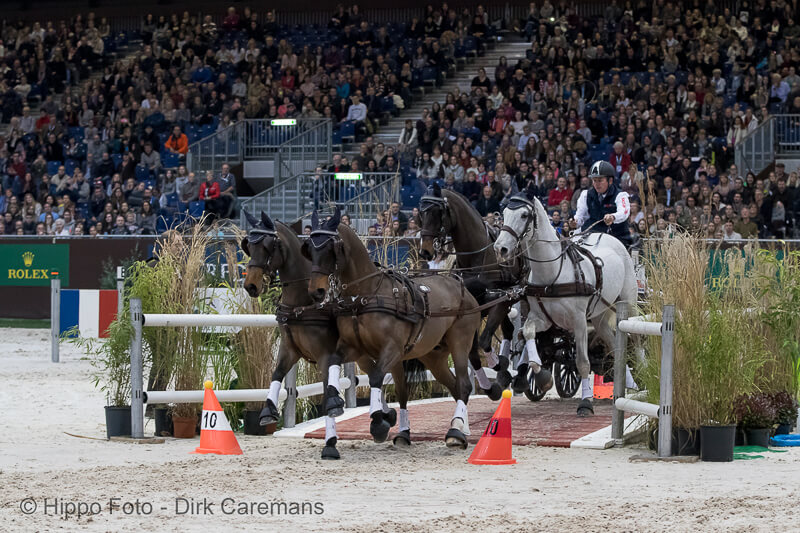 Boyd Exell with Gijs in the left wheel
Photo:
Dirk Caremans
Exell used Gijs, who was previously owned by Dutch driver Mark Weusthof, to spare one of his elder wheeler horses: "I normally use my routinier Clinton Star in all competitions, but I would like to spare him every now and then. I have only had Gijs for a couple of days, but I am very pleased with him. He is very easy to drive, he looks steady but he covers a lot of ground. I will use Clinton again tomorrow and Gijs will come into action again next week at London Olympia."
Level 4-course designer Johan Jacobs had laid out a nice and fluent course in the very large arena in Geneva, where the beautiful water splash and the hill always ensure spectacular images. József Dobrovitz drove a clear round as well, but was unable to beat Exell's time. Voutaz drove his manoeuvrable team of Freiberger horses very fast through the obstacles and was only four seconds slower than Exell, but one knockdown prevented him from finishing second.
József Dobrovitz jr. drove clear and finished fourth, ahead of Georg von Stein and wild card drivers Werner Ulrich and Benjamin Aillaud. The latter drove his beautiful team of Lusitano horses, who never competed at an indoor at this level before. The bridge formed a challenge for this young team, but Aillaud proofed to be a good horseman and drove his team over the bridge the second time without any problems.