16 May 2014
Grüezi Schwiiz: Switzerland is the partner country of the CHIO Aachen 2014
Switzerland is the official partner country of the CHIO Aachen 2014. "We are extremely looking forward to our Swiss riding comrades at the World Equestrian Festival," commented CHIO Aachen Show Director, Frank Kemperman. Together with Carl Meulenbergh, the President of the organisers, Aachen-Laurensberger Rennverein e.V. (ALRV), Kemperman presented the meanwhile 13th partner country.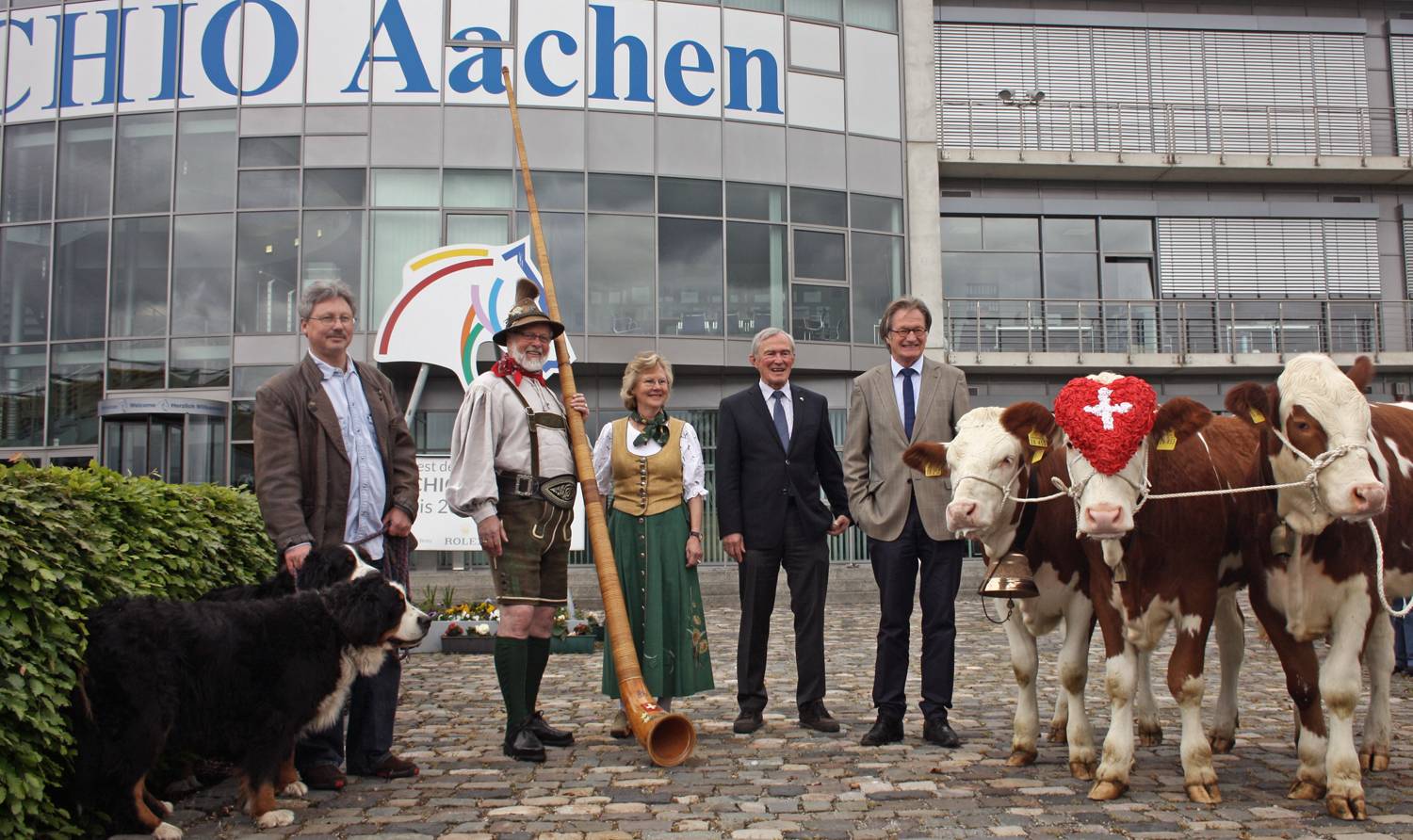 Traditionally, the partner country sets the scene for the entire show week at the Soers. The Swiss delegate will present itself with countless horses and carriages, accompanied by traditional "Trychlern", alpine horn players and flag bearers. 40 Freibergers, the light cold-blood horses, which are considered to be the only native Swiss horse breed, will take part in a big show parade. The national stud will be sending its 7-in-hand carriage team and the Bern Dragoon, the mounted parade troop from the Canton of Bern, will be in action throughout the show. "Switzerland pure", said Carl Meulenbergh while presenting the partner country. He personally is particularly looking forward to the Simmentaler cows – after all Meulenbergh was an independent farmer, before moving into politics. Switzerland will particularly shape the Opening Ceremony on July 15. Tickets for this spectacular show are available online at www.chioaachen.de or from the hotline on +49-(0)241-917-1111).
The Swiss themselves have good memories of the CHIO Aachen. Last year Janika Sprunger came second in the Rolex Grand Prix – narrowly beaten by the British rider, Nick Skelton. Previous to that, three Swiss riders succeeded in riding to victory in the world's most important jumping competition: Paul Weier (1973), Willi Melliger (1983) and most recently Markus Fuchs (2004). Switzerland has won the Mercedes-Benz Nations' Cup in Aachen five times. The Swiss squad is traditionally supported by many fans – this year it is going to be a few more.