7 February 2018
Heinrich Berning Prize awarded to Michael Bügener
This past weekend World four-in-hand pony Champion Michael Bügener celebrated his win at the World Championships in Minden this past August. In addition to his gold medal, Bugener was also recipient of the Heinrich Berning Memorial Prize and was presented with the award by his colleague silver medalist Jan de Boer.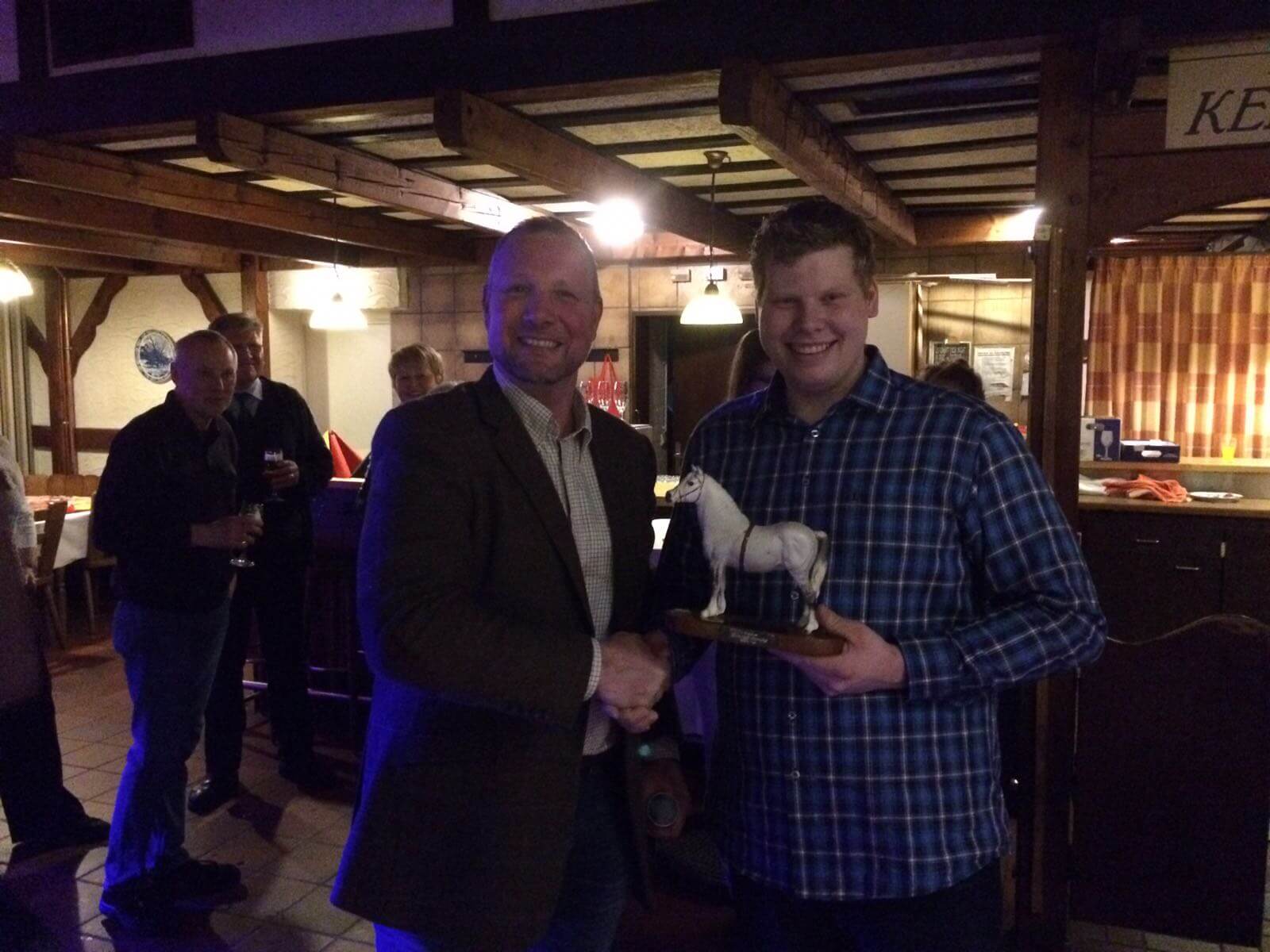 Jan de Boer (left) and Michael Bügener
Heinrich Berning was a German pony driver who at the time was committed to growing the international four-in-hand pony sport to the level of a European or World Championship. He passed away in April 1983, and that same year his wife presented the first Heinrich Berning Memorial Prize in Beekbergen. Bernings dream came true when the first European Championship was held in Breda in 1995, and in 2003 the first World Championship was held in Karlstetten. The prize has been awarded at the largest international competitions, European Championships and World Championships for more than 25 years. All of the winners names are engraved on the base of the trophy which is a statue of a Welsh Mountain Pony.
Winners Heinrich Berning Prize
2017 Michael Bügener (GER)
2016 Sven Kneifel (GER)
2015 Bram Chardon (NED)
2014 Bram Chardon (NED)
2013 Jan de Boer (NED)
2012 Jan de Boer (NED)
2011 Bram Chardon (NED)
2010 Bram Chardon (NED)
2009 Marcel de Vries (NED)
2008 Tobias Bucker (GER)
2007 Niet uitgereikt
2006 Tobias Bücker (GER)
2005 Bart Verdroncken (BEL)
2004 Bart Verdroncken (BEL)
2003 Gerhard Gerich (GER)
2002 Dirk Gerkens (GER)
2001 Geen wedstrijd in Breda wegens mond- en klauwzeer
2000 Georgina Frith (GB)
1999 Gerhard Gerich (GER)
1998 Georgina Frith (GB)
1997 Gerhard Gerich (GER)
1996 Tobias Bucker (GER)
1995 Georgina Frith (GB)
1994 Abel Unmüßig (GER)
1993 Diethelm Kneifel (GER)
1992 Diethelm Kneifel (GER)
1991 Mia Allo (BEL)
1990 Karen Bassett (GB)
1989 Karen Bassett (GB)
1988 Mia Allo (BEL)
1987 Franz Knapp (GER)
1986 Edwin Flerackers (BEL)
1985 Bernt Weyerman (GER)
1984 Niet uitgereikt
1983 Mieke van Tergouw (NED)