16 February 2021
Checking in with…….Diana Brownlie!
The sport of combined driving has had the privilege of knowing a great number of people who have had a lasting impact on the sport. Hoefnet went in search of these legends in the sport to ask how they are doing now. In this chapter we are talking with Diana Brownlie.
The British judge Diana Brownlie (1944) retired in 2014 due to the FEI age limit for officials. For decades she was a popular judge at numerous international competitions and World Championships all over the world.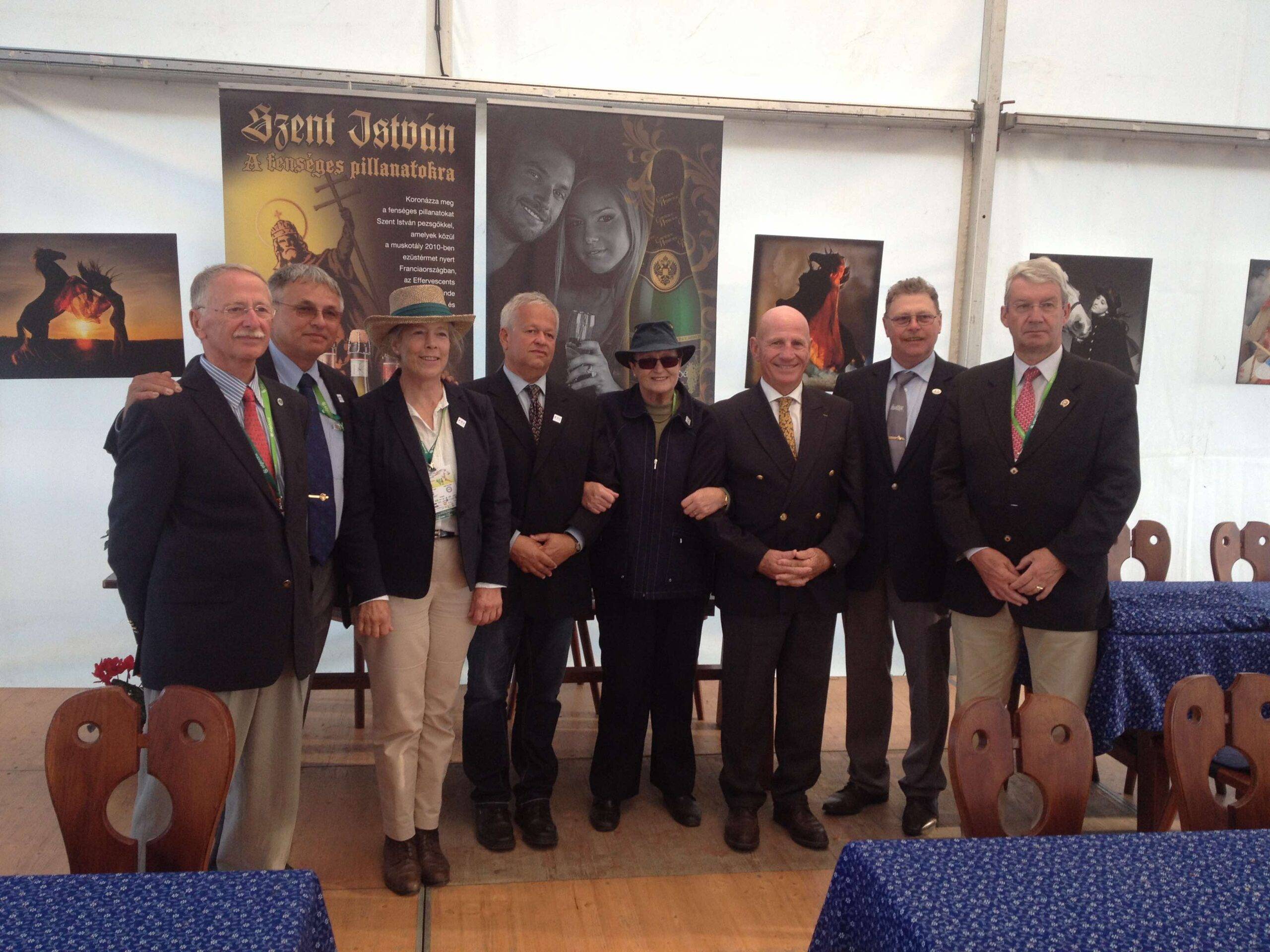 Diana Brownlie (middle) during her last performance as FEI Judge at the World Singles in Izsák 2014
Photo:
With a pony and cart to school
Diana grew up in the New Forest area of Great Britain and was immersed in the horse world from the time she was a baby. Her mother was one of the biggest breeders of New Forest ponies in Great Britain, and a number of the ponies she produced made the trip to the Netherlands. Diana and her twin sister grew up in a time where they took the pony and cart to school every day. When they turned eight years-old they were allowed to make the trip on their own. "I can look back on my youth as a really special time. My sister and I would go picnicking with a pony and cart, taking turns who drove there and who drove back, never having any problems."
It just happened
A few years later, Diana earned her diploma from the prestigious BHSI (British Horse Society Instructor). She was introduced to pleasure driving through Richard James and became involved with tandem driving. There was a shortage of judges at the time, and before she knew it, she had been named a judge!
After her marriage, Diana moved to Scotland and settled there with her husband David and they welcomed two sons to their family. As a newcomer to the area, nobody there knew who she was, so she would venture out on a Sunday to help at dressage shows. This eventually turned into being asked to judge as well. "It was not something that I went out looking to do, it just happened. I went to help one Sunday, and that just turned into more and more Sundays." This snowballed into Diana being asked to judge at Lowther and at Windsor. "John Cowdery asked me if I was interested in judging an international competition, and I thought 'why not?!'. I went to a clinic in Windsor that was given by the Austrian Helmut Kolouch. He was such a fantastic teacher!"
No horn
After being named a candidate judge, everything took off. In 1995 she made her debut as a FEI judge in Dorthealyst Denmark and after that the competitions just kept on coming, including trips across the ocean to America. "One of the very first times that I judged in Dorthealyst, I was sitting in a new Mercedes that was completely computerized. For some reason the electrical system in the car stopped working and I could no longer honk the horn to signal drivers. We were also locked in the car but luckily Philip (Bateman) rescued me."
Diana was able further to foster her curiosity of the sport by attending dressage clinics given by the Scottish Dressage Group which featured Olympic level riders. "I have always found it extremely important to be able to judge dressage well. As a judge you have to continue to educate yourself and I learned so much sitting in on these clinics."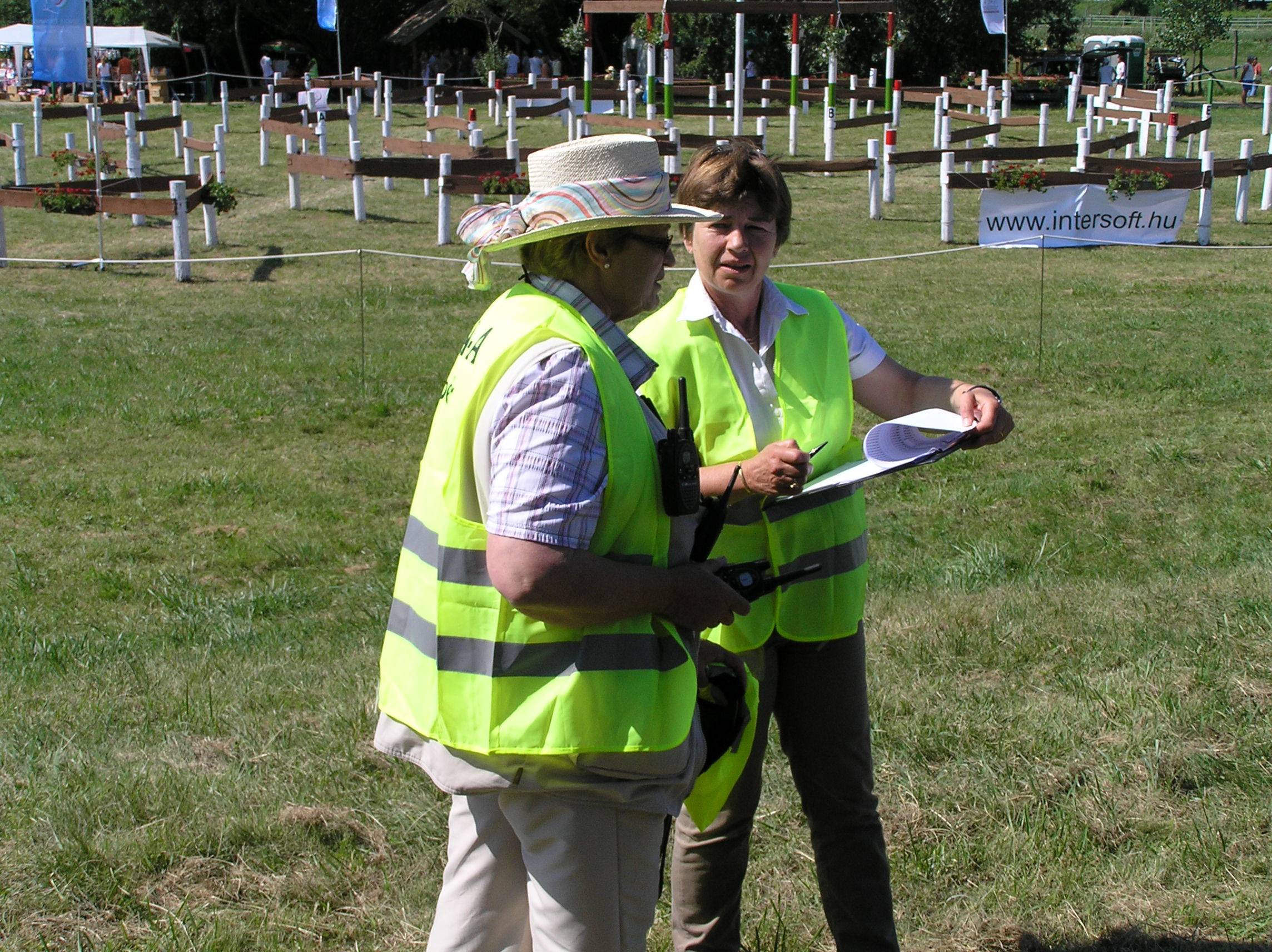 Diana Brownlie and Anne Marie Turbé at the competition in Kisbér
Photo:
Philip Bateman
President of the World Championship judges panel
A few years later, Diana was attending an FEI officials' course in Switzerland that was being given by Jack Pemberton (CAN) and Tjeerd Velstra (NL) "It was a very interesting course where I once again learned so much, but it turned out to be more than just that. A year later I received a phone call from Jack, who at that time was the chairman of the FEI Driving Committee who asked if I would be interested in being the president of the jury at the 2004 World Championships for Four-in-hands in Kecskemét Hungary! I must admit that this came as a bit of a shock to me. Just when he rang me, I was holding a bundle of baby, my first grandson, in my arms so was completely unprepared and surprised. But I said yes."
From food poisoning to sleeping under towels
Diana has experienced her share of highs and lows at competitions over the years: "At the 2002 Single Horse World Championships in Conty there was an incident in the cones involving Anne Violaine Brisou, and it took quite a while before we reached an agreement. The World Equestrian Games in Kentucky were a challenge just based on the number of incidents that occurred there; including the sabotage of IJsbrand Chardon's carriage. And at the 2008 World Championships for Single horses in Jarantów I came down with a bad case of food poisoning after dinner on Tuesday evening. Luckily, I was able to receive medication and potions from the veterinarians on site, but I survived the rest of the week on bread and potatoes!
I was once a judge at a competition in Pennsylvania and was put up at the so-named 'Yellow House'. When I arrived, there was a large party going on. I was completely exhausted and just wanted to go to bed, but there were no blankets and no toilet paper to be found! I ended up sleeping under a pile of towels and fortunately had a package of tissues with me. The next morning everything was spic and span as if there was never anybody there and the entire house was empty. I felt like the 'Marie Celeste', but eventually they came to pick me up and after that everything was properly arranged, it was just a really strange welcome."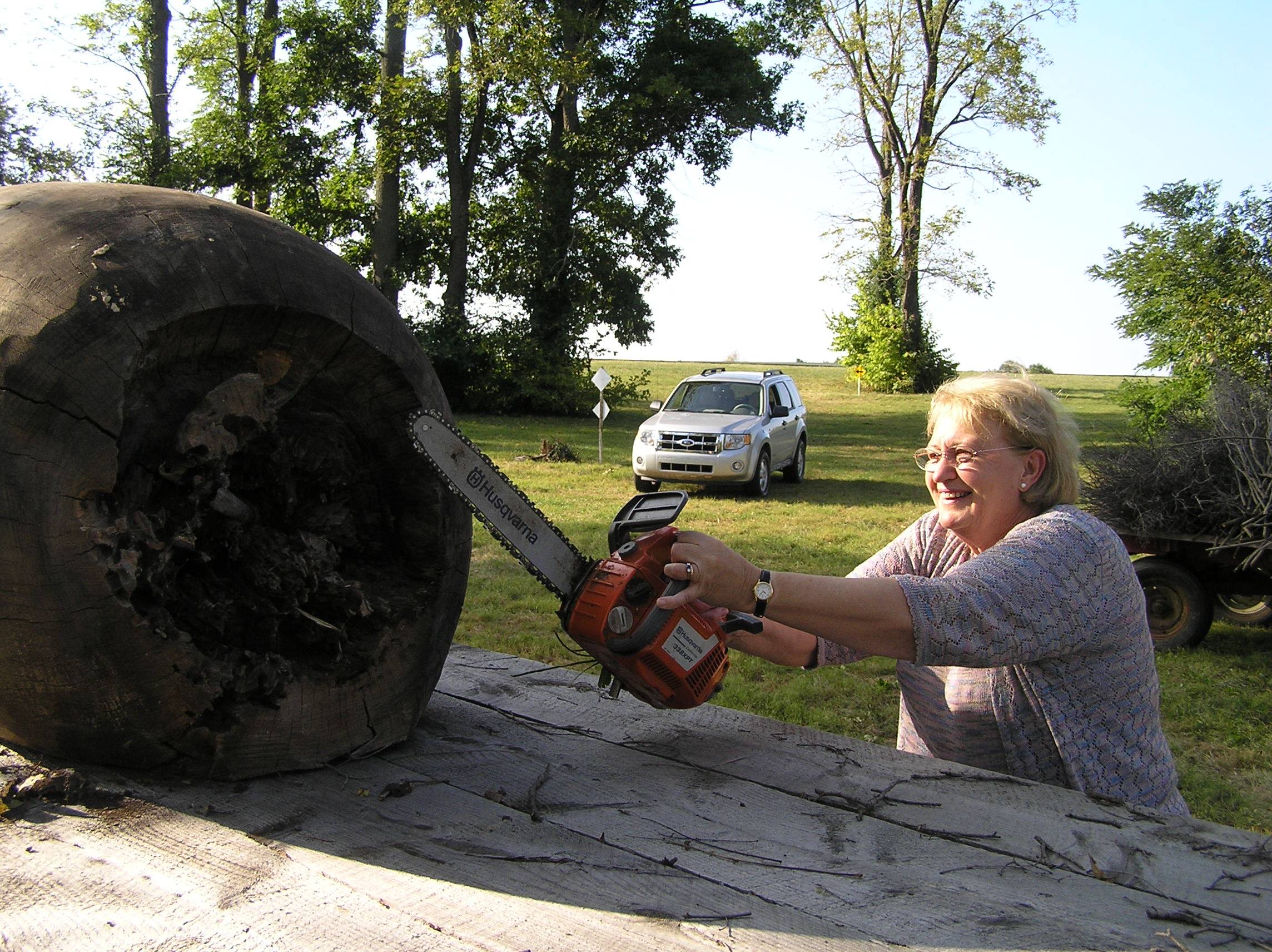 Diana took the chainsaw 'just for fun' in Kentucky 2009
Photo:
Philip Bateman
First single horse dressage test
In 1998 the first World Championship for single horses was held in Ebbs, Austria. Diana was a member of the FEI Driving Committee at the time and was the author of the very first dressage test for this division. "I was asked by Jack Pemberton to write the test which was to include a canter tour. There was a lot of feedback in the beginning but that quickly became the new normal. In hindsight I was really happy with the test and was later involved in writing the first test for four-in-hand ponies, but that one I was never quite as happy with."
Two years of writing the rule book
During her time on the Driving Committee (2007-2011) which was at the time led by Richard Nicoll, Diana put together the first Powerpoint presentation for the courses on judging. One of her biggest contributions to international combined driving was the writing of the FEI rule book. Diana made the decisions, Ian Douglas put that into readable text and Philip Bateman entered everything into the computer. "It was an enormous project as at the time the rulebook was not very specific. Our goal was to pare it down and clarify it by itemizing it into chapters. All in all, this cost us at least two years!"
Race horse owner
After the passing of her husband in 2011, Diana remained on the west coast of Scotland where mostly due to health issues she leads a quiet life. She still manages to enjoy horses, albeit in a totally different manner. "A few years ago for Christmas, I received a share of a racehorse from my son. There are now constructions set up where for 50 pounds you can buy a share in a horse, and along with some 3000 others you own a racehorse! But I have to say that it feels like your own horse, and I love following the races on tv. I am now a member from the Owners Group and I 'own' a number of other horses as well. This keeps me, especially in this quiet time, involved in horses and that is really good. One of my horses even won in Cheltenham! His win felt like my win, so great!"
With the exception of World Championships, Diana only follows driving sporadically. "But I love watching the dressage tests at the World Championships live on my IPad. Dressage has always been my favourite and I can still really enjoy a beautifully driven test."
Note from Diana
"I would really like to take this opportunity to thank all of the people who have given me over 25 years in this amazing sport. I feel very honoured to have been able to make a contribution to the sport. The contact with officials, judges and drivers have enriched my life and have given me great pleasure over the years."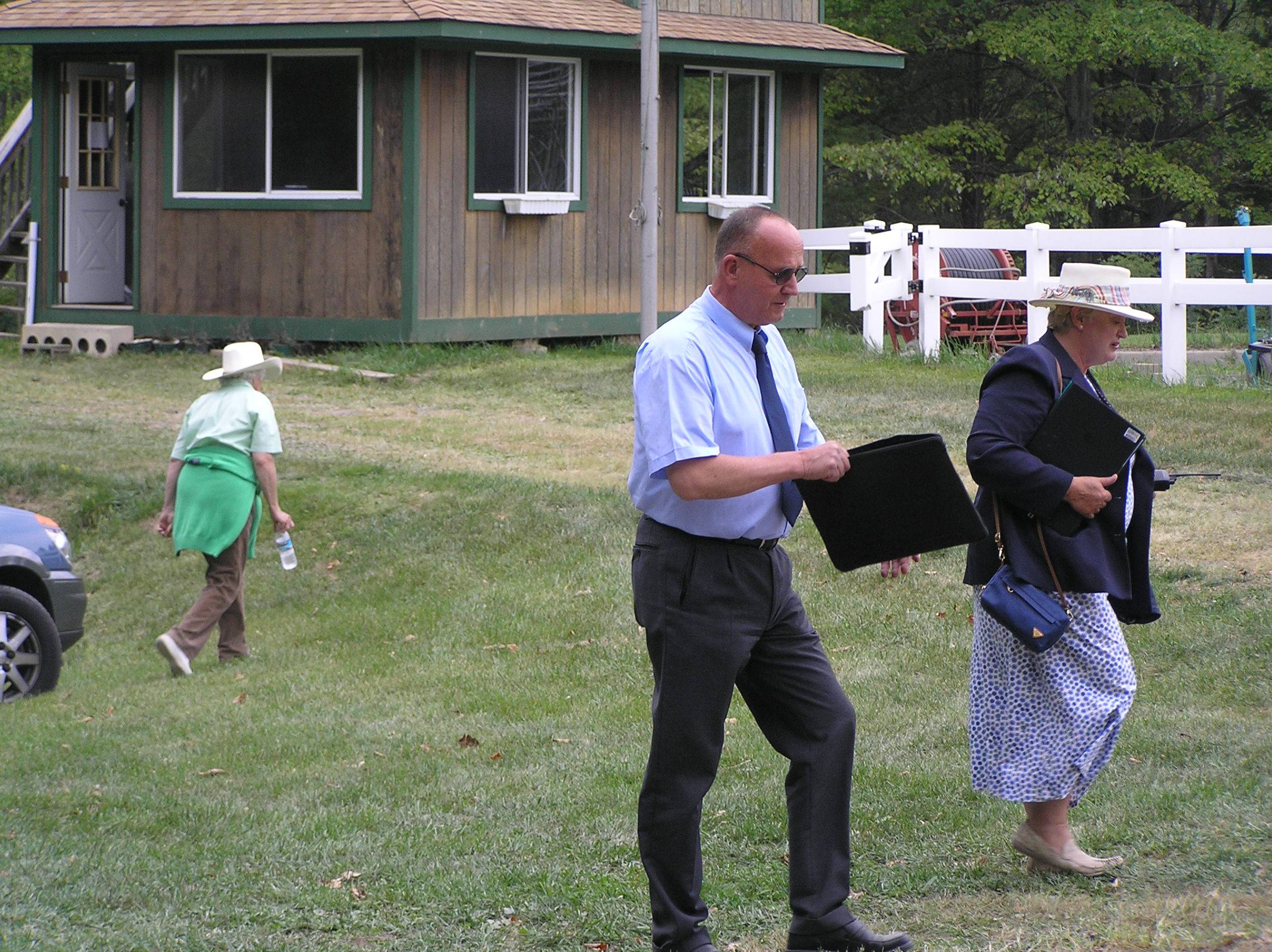 Diana with the late Dr. Franz Vetter in Gladstone
Photo:
Philip Bateman
Copyright reserved. Acquisition without acknowledgment and permission from info@hoefnet.nl is not allowed.