12 June 2021
Checking in with…….Udo Hochgeschurz!
The sport of combined driving has had the privilege of knowing a great number of people who have had a lasting impact on the sport. Hoefnet went in search of these legends in the sport to ask how they are doing now. In this chapter we are talking with Udo Hochgeschurz.
In 1989, German-born Udo Hochgeschurz (1942) represented Canada at the FEI Driving World Championship for Pairs in Balaton Fenyves, Hungary where he wrote history by winning the World title. After a successful career in competitive driving, Udo retired from the sport after the 1993 World Championship.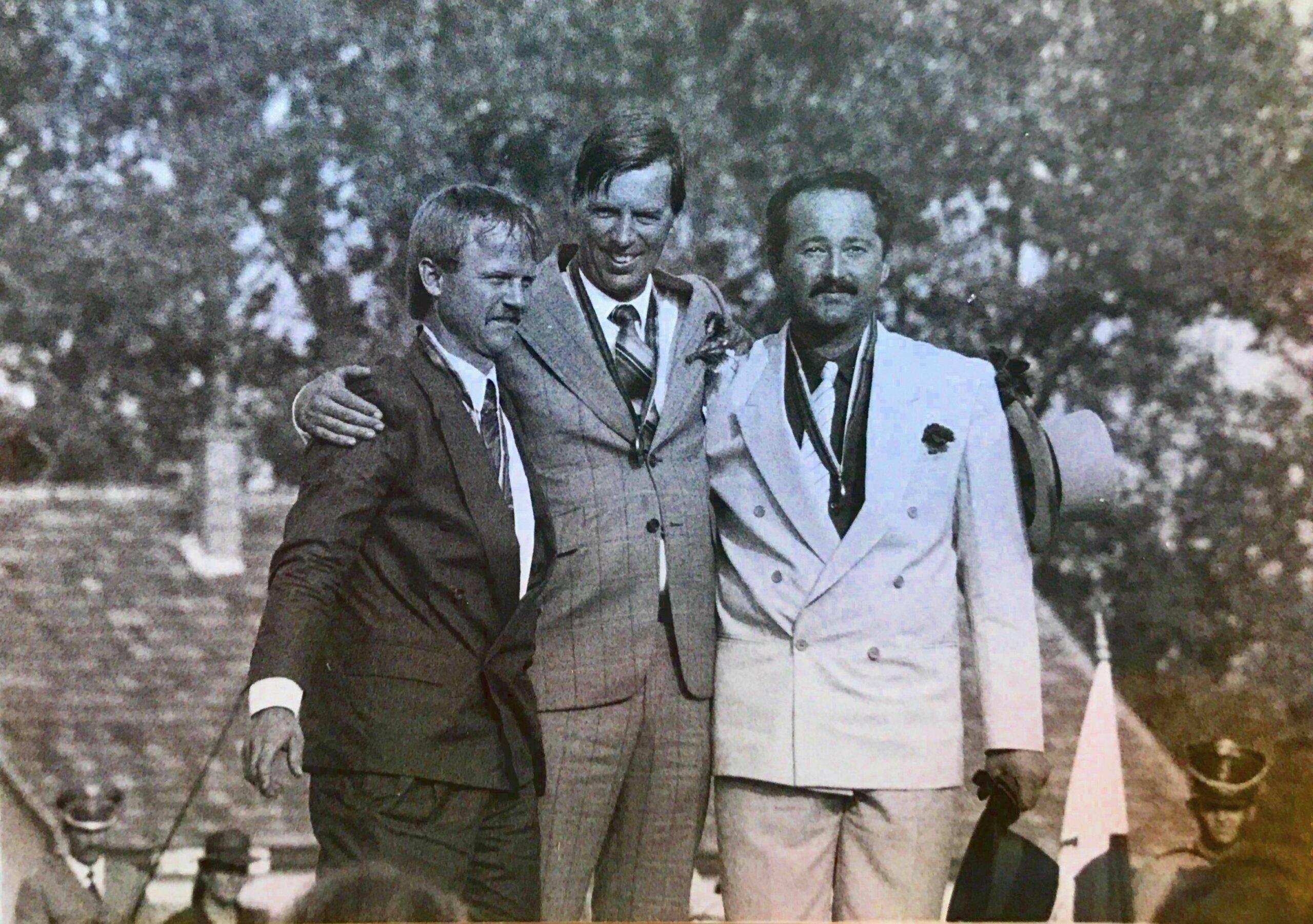 1989 WCH Balaton Fenyves from left to right Werner Ulrich (silver), Udo Hochgeschurz (gold), Mihaly Feher (bronze). Photo Piet Ensing
Picture book
With his son Eric and his wife Heide, Udo was a picture book 'family undertaking.' Just after marrying, Hochgeschurz and his wife moved to Ontario, Canada in 1966. He was originally a bank employee from the Cologne region of Germany and Udo started his career in Canada as a school bus operator and started a small riding school.
Chasing horses around trees
"What is Combined Driving?" This question was posed by Udo during a conversation he had with a well-known Canadian harness maker. "Well…..it's sort of like chasing horses around trees" was the comical response he received. To Udo, that sounded like more fun than driving around in circles at a pleasure show. "I had been raised with horses all my life and had been competing in pleasure carriage shows at that time. I was looking for something a little more challenging!" stated Udo. "I was ready for a bit more excitement."
Udo had driven four-in-hand, pairs and singles. After moving to Canada he competed with local horses in various carriage driving events. In 1980 and 1981 he attended some CDE's in the USA and the excitement of these competitions spurred him to travel to Germany where he purchased five untrained geldings, mostly of Holsteiner and Oldenburger breeding.
All was not lost
"That's when the disaster started" joked Udo. One of the new horses would not even stand to be harnessed. Another was okay under saddle, but not when driving. Another was spoiled and undisciplined. But all was not lost. Two of the horses showed potential. One was an Oldenburg gelding named Ramone and the other was a Holsteiner named Frederico "Rico". After considerable training, Udo took his new pair to local CDE's and in the USA. He was on the road to future successes. Some local supporters got behind him but the sport at that time did not receive any funding. Much of his private funds were required to support his endeavors which eventually included competing in Europe on three occasions at World Championships where he represented Canada.
Time to face the mighty Hungarians
"My first World Championship was in Riesenbeck, Germany in 1987, and I was scared to death!" says Udo. The European sport is very competitive, and Udo was excited and encouraged when he achieved 5th place out of a field of 58 competitors in Riesenbeck.
In 1989, the World Pairs were held in Balaton Fenyves, Hungary. Before heading to Europe, Udo and his pair competed in several shows including the World Cup event in Tampa, Florida. As a warmup event in Europe, he competed in the Dutch National championships in Beekbergen, where he soundly defeated the field! This bode well heading to the World Pairs in Hungary. Udo and his horses had not lost a competition that year in North America and the Netherlands. His horses were peaking at the right time and it was now time to face the mighty Hungarians and the rest of the world! "Everybody in Hungary drives horses, the sport is very popular there and they have many top international drivers… and they had home field advantage!" stated Udo.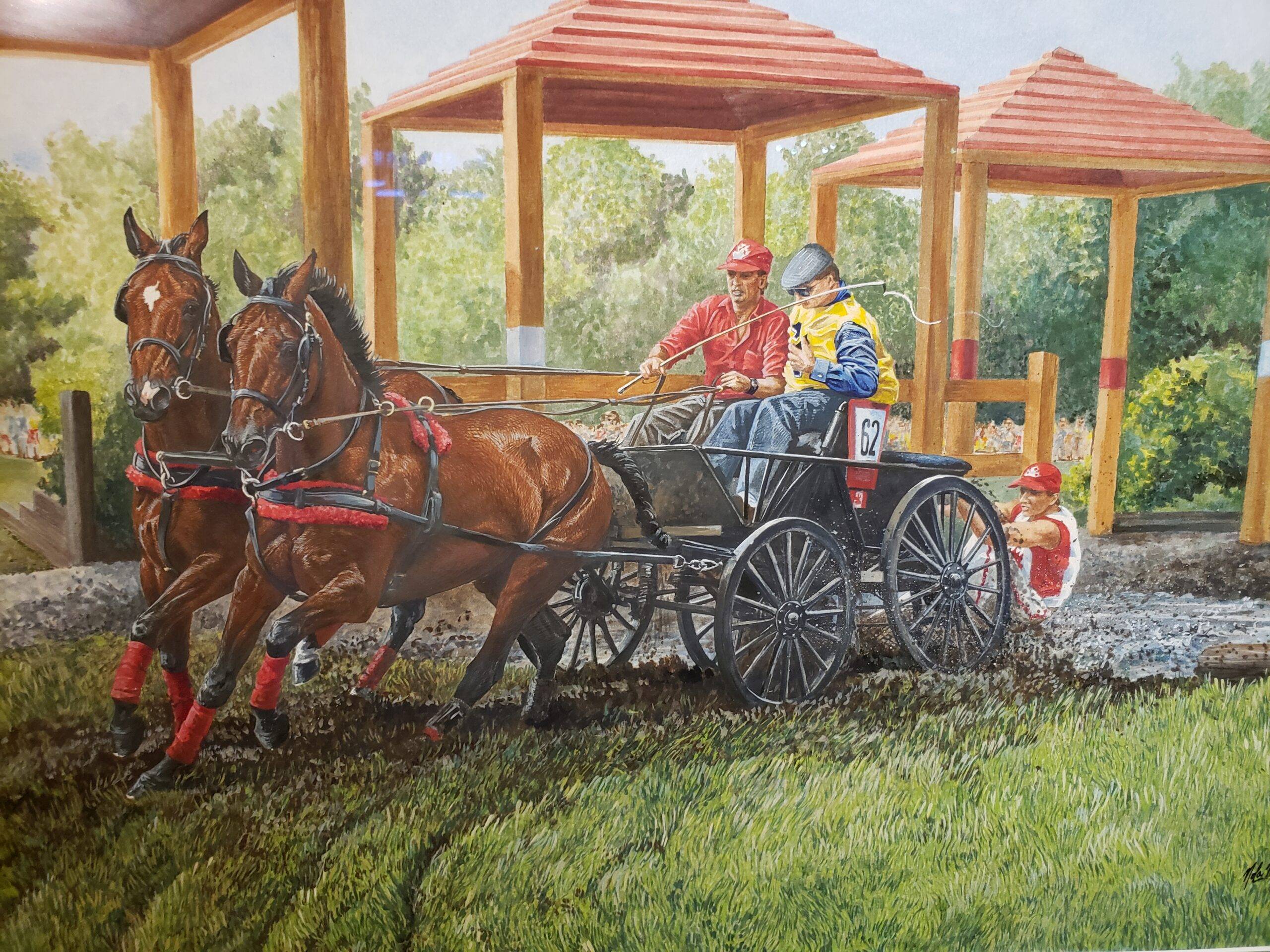 Udo at the Dutch Championship in Beekbergen 1989 where he won the competition
Photo:
Private collection
The 1989 World Championship
Day one is dressage and Udo drove a conservative test. "I knew that the marathon would be where we could excel, and I did not want to risk a bad result in dressage by being too aggressive on the first day," said Udo. The dressage result was good and placed him within striking distance of the leaders. "I was very confident in Rico and Ramone going into the marathon phase".
Udo's son, Eric, was on the back as navigator. Together, the four competitors ferociously attacked the marathon hazards on day 2. The result was spectacular! All of the hard work and training had paid off and after completion of day two Udo stood alone in 1st place with a 6-point lead. The rest is history as they say! Udo and his magnificent pair shrugged off the pressure of day 3 and completed the cones course flawlessly to become World Champions!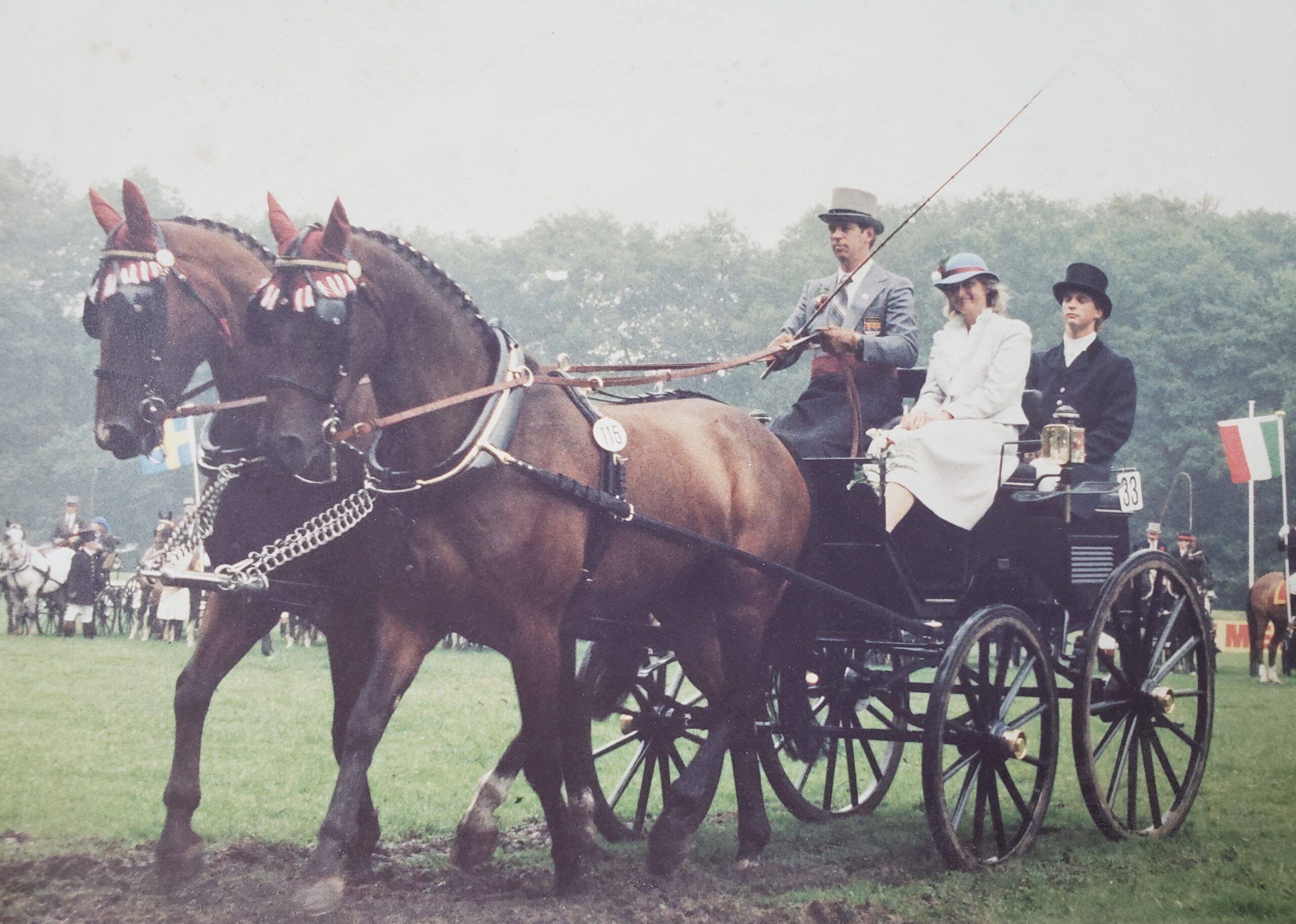 Photo:
Private collection
Special Chief
Udo returned to Europe in 1991 to compete again at the World Pair Championship in Zwettl, Austria, however, this time with some bad luck. His Oldenburg gelding became lame, so he had to use his spare. In an effort to save on costs he used a borrowed carriage that had delayed steering. He was not familiar with this type of carriage and its steering "innovation". "We actually crashed," said Udo. I was not used to how the carriage reacted, and it did not suit my driving style." But despite his misfortune he was not ready to give up the sport.
In 1993, the World Pair Championship was held in Gladstone, New Jersey which was much closer to home – so how could he resist? But with his best horse still lame and retired, what could he do? No suitable substitute could be found, so, at the last minute, Udo inserted one of his commercial carriage horses. Udo had a carriage business for weddings and special events at that time and one of these horses was a grey Appaloosa named Chief. Chief had previously only competed in one mandatory CDE qualifying event. He stood three inches shorter than his experienced Holsteiner and "his movement, shall we say, did not meet a world class standard," laughed Udo. "But his pleasing attitude and willingness made up for a lot of his shortcomings". He went on to New Jersey with the "unmatched" pair and won 9th place out of 58 entries. "People don't understand why I feel this way, but looking back over my entire driving career, I am very proud of this accomplishment; I was working against such unusual circumstances". To me, achieving 9th place with such a disadvantage was almost as satisfying as becoming World Champion."
Grateful
After 1993 Udo returned home and decided it was time to retire from competitive driving. It had become a fulltime job of working 3 or 4 hours a day and involved a financial outlay of two trucks, two trailers and four horses plus innumerable other expenses… In addition, Udo's son was starting a career and no longer able to help with training and competing. As well, Udo's loving wife, Heide, needed a much-deserved break from years of organizing, planning, paper work and documentation required to compete on an international level. "I am so grateful for the love and support I received from my family and owe much of my success to them!"
Udo currently lives near Ottawa, Ontario with his wife and continues to enjoy some pleasure driving around the countryside with his family and horses: "A love for horses will always be an important part of my life!"
Text: Bob Thomas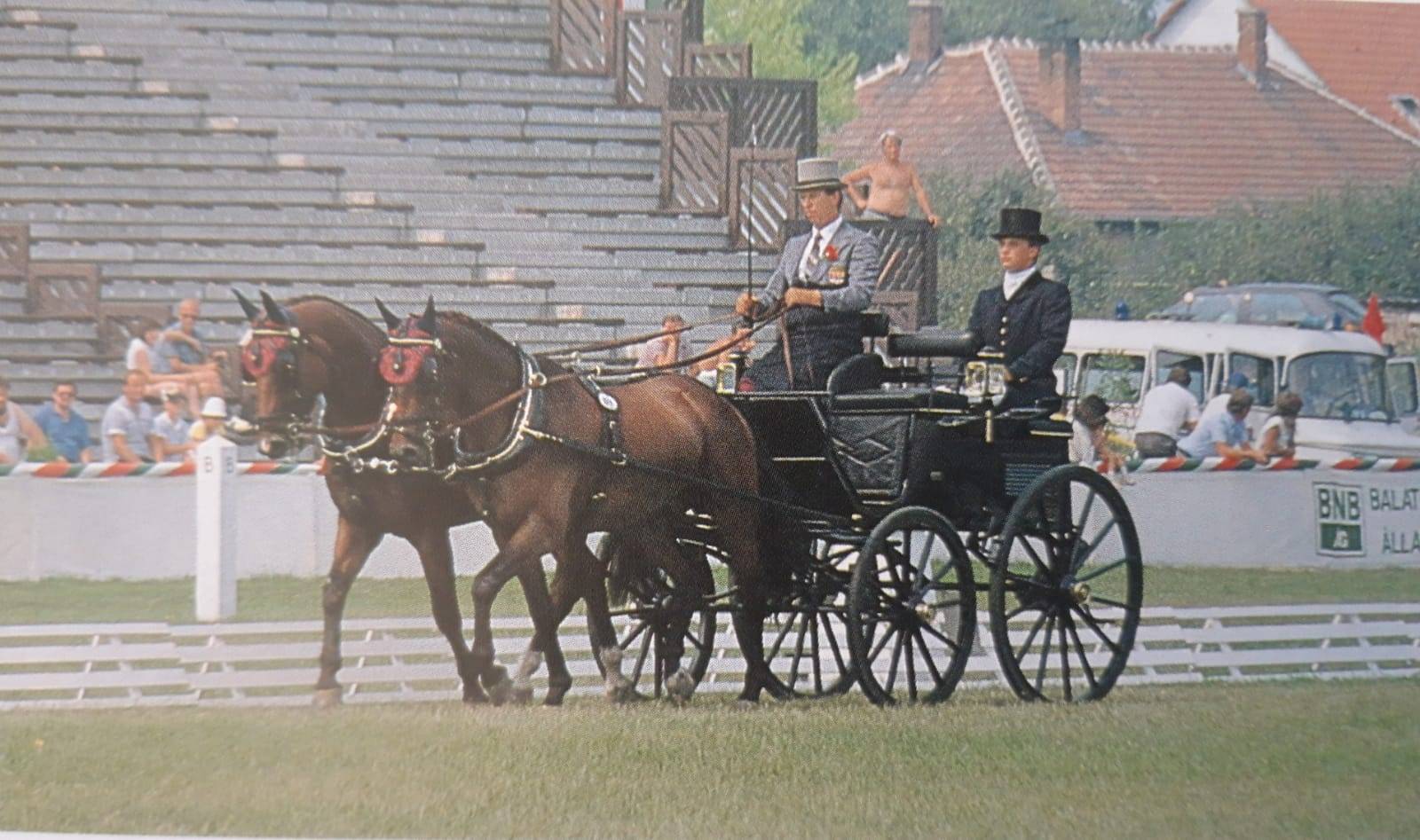 Udo in dressage at the 1989 World Championship. Photo: Karl Iseli.
Copyright reserved. Acquisition without acknowledgment and permission from [email protected] is not allowed.