29 April 2021
Horse in focus: Vulcano
The horses and ponies that we drive are the stars of the driving sport. In the report 'Horse in focus' we will be telling the story of one horse or pony who deserves a moment in the spotlight.
Vulcano (v. Manno) the impressive single horse driven by Hungarian Vilmos Jámbor, and later his protegé Pille-Riin Roosileht was also a cornerstone of Bram Chardon's team at the beginning of his four-in-hand horse career. The eye-catching dark bay KWPN stallion made an impression everywhere he went and had a lasting impact on the careers of every driver he has been under. It is time to give him a moment in the spotlight.
How it began
"I saw the then 5 year-old Vulcano for the first time during the Open House days at Van der Wiel Harness," tells owner Vilmos Jámbor. "I had travelled there with a friend, and he was immediately impressed by the stallion who was presented by Wim Cazemier and Mieke van Tergouw. He wanted to buy him on the spot, but I wasn't convinced. He was a fabulous mover but I wasn't convinced he was suitable for the sport. A few weeks later Mieke sent me a video of Claudio Fumagalli driving him and it looked like another horse. I was sold. My friend bought the horse and gifted him to me for Christmas. That was how his driving career began."
Piaffing in his stall
"Vulcano is a special horse, and he wanted everyone to know it. He is large from stature and is constantly stamping his feet and calling out in the stables. Sometimes he would stand for hourse piaffing in his stall. In the beginning we didn't know what to do with him, we had never had a horse like this in the stable. It was like we traded in a Fiat Uno for a Ferrari Formula 1 car; it was such a huge transition for us. If we knew now what we knew then, he would certainly have been a World Champion. Vilmos competed with the stallion in a single nationally and internationally and represented Hungary at the 2010 World Championships in Pratoni del Vivaro and 2014 in Izsák.
He also started the stallion in pair at national competitions in Hungary.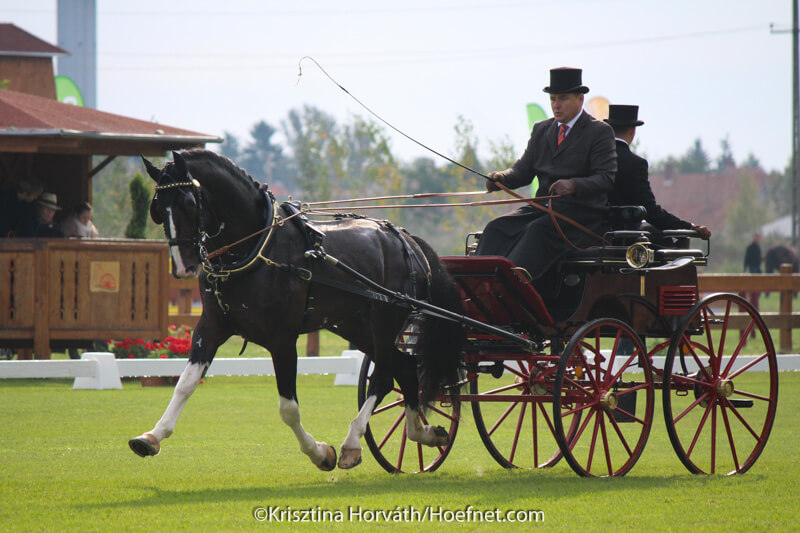 Vilmos Jámbor with Vulcano at the World Championship Izsák 2014
Photo:
Krisztina Horváth
From single to team
After the 2014 World Championships, Vilmos handed over the reins to Pille-Riin Roosileht who qualified to represent Estonia at the World Championships in Piber. But after disastrous judging in the dressage, Vilmos was so disappointed he decided to remove Vulcano from the sport altogether. This was short lived, as just a few months later his son Donald started the stallion single in Ermelo. It was then that the horse was offered to Bram Chardon, who was just making the transition to a team of horses. For a number of years Vulcano was an important member of Bram's team, and together they achieved quite a bit of success. "Bram used Vulcano as a leader but also in the wheel. It was sometimes better to use him in the wheel as he was a real stallion, especially in the spring when he would cover mares. We did discuss castrating him, but that would never have been good been a good decision."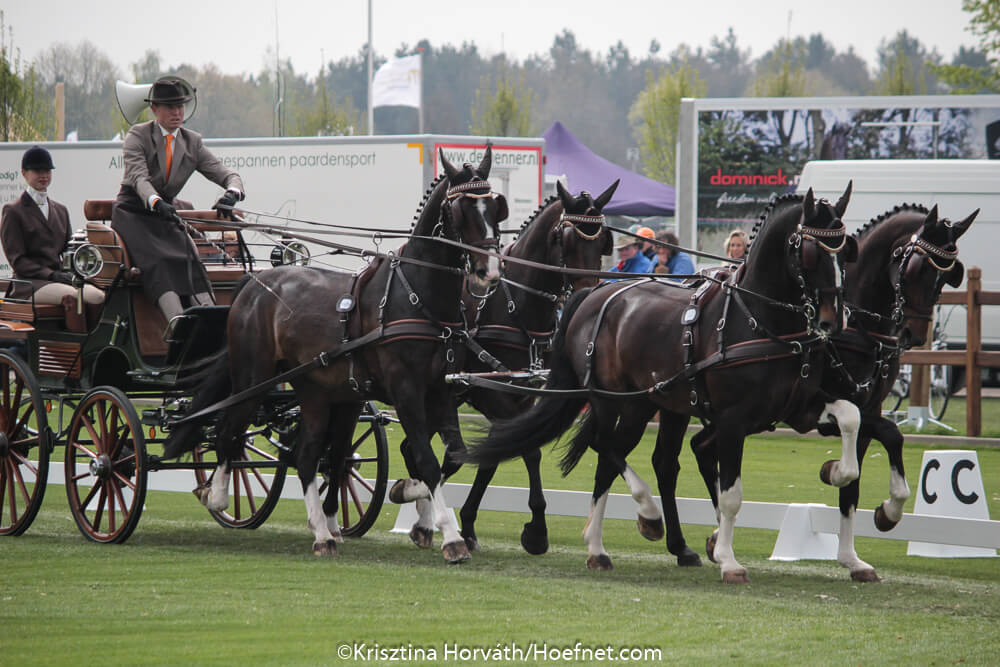 Bram Chardon with Vulcano as right wheeler at CAI3* Kronenberg 2017
Photo:
Krisztina Horváth
Bad decision
At the beginning of 2020 Vulcano came back to Jámbor's stables in Kisbér, where Pille-Riin was preparing him for the World Championships in Pau. "My mother is elderly, and my nephew has Down Syndrome, so I was worried about the risks making the trip. Looking back, it was not a good decision as the competition was so well organized, it would have been ok to go."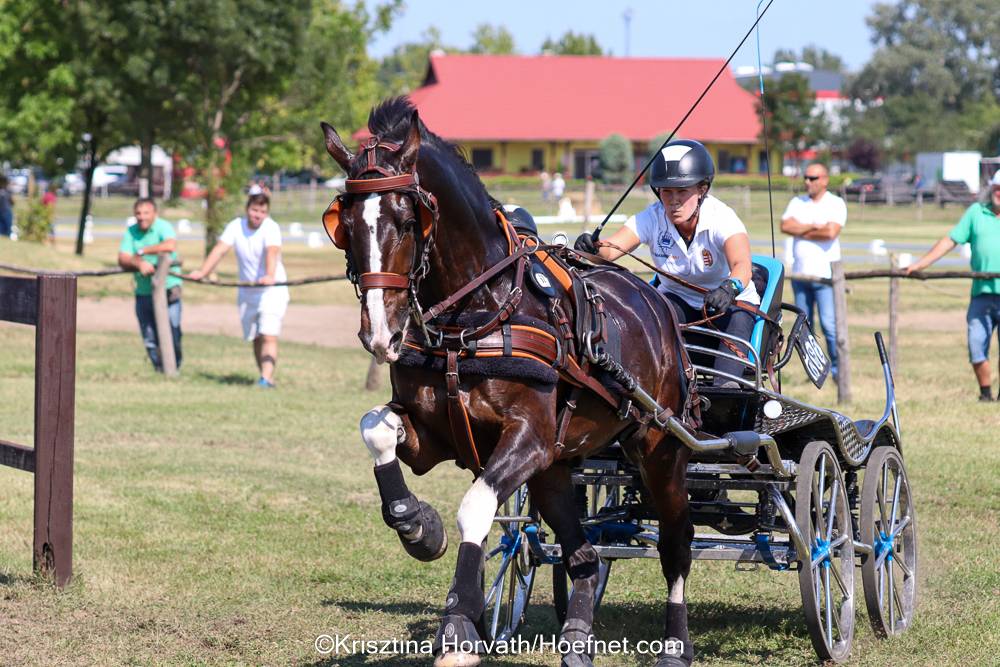 Pille-Riin Roosileht with Vulcano at CAI2* Vecsés 2020
Photo:
Krisztina Horváth
Marilyn Monroe
"You could say that Vulcano is like Marilyn Monroe. He can be hysterical and unpredictable. He is a super star who loves attention, but the hysteria is definitely an issue. When we would arrive at a competition, he would lose so much energy and weight being distracted and stressed, calling out and stomping his feet all day. We ended up solving this by arriving at the competitions a few days early so that he could rest before the competition began. All of the horses that he sired have a very strong resemblance to him, but for the most part they are much quieter and trustworthy!  His offspring compete in the teams of World Champions Boyd Exell (Celviro) and Martin Hölle (Dior)."
He does his job
"The high point of Vulcano's career was his double clear round in cones at the World Championships in Piber after that whole dressage debacle. That gave us such a good feeling, he knew that he had to go clear, and he did it. That was often the case with him, he really knew when he had to step up for us. I do have to say that he drove better with Pille-Riin and Bram then with me, I think that we are much too much alike," jokes Vilmos.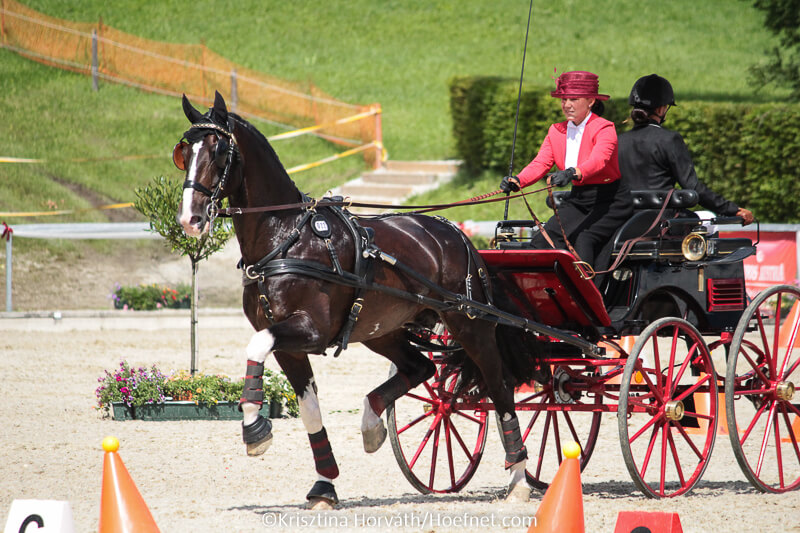 Pille-Riin Roosileht with Vulcano at the World Championships Piber 2016
Photo:
Krisztina Horváth
Father of the four-in-hand
At the moment Vulcano is being used in the dressage in a team that Vilmos has put together of his 4- and 5-year-old sons: "He goes in a single, pair or four-in-hand every day and he loves it! This really is the best phase of his life, he has calmed down a bit, but is still extremely fit at 19 years old. I hope that we can still enjoy him for many more years to come."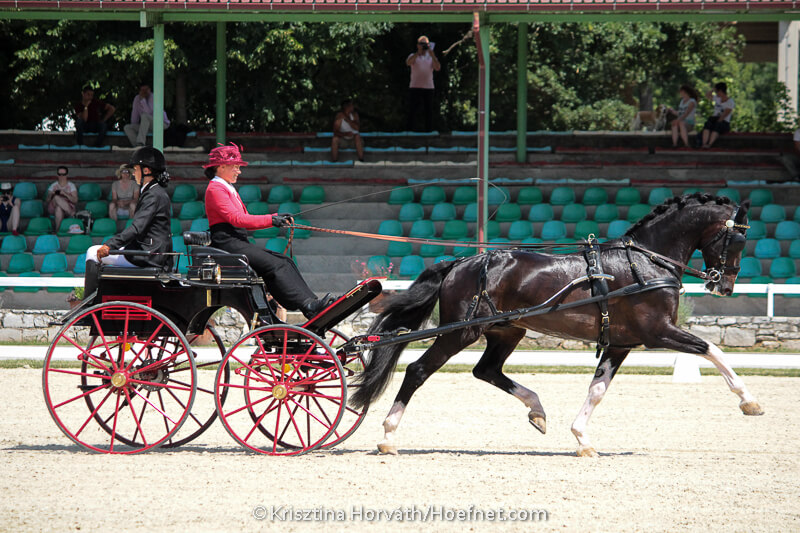 Pille-Riin Roosileht with Vulcano at CAI3* Lipica 2016
Photo:
Krisztina Horváth
Copyright reserved. Acquisition without acknowledgment and permission from [email protected] is not allowed.