24 April 2014
Horst: the competition has started!
The international driving event in Horst aan de Maas (NED) has started today with the horse inspection under wonderful weather circumstances. Over 270 horses were presented and two were declared 'not fit to compete'.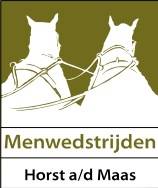 One of the horses of Dutch international four-in-hand driver Hans Heus and a horse of Belgian par driver Dries Degrieck did not get the approval of the judges and veterinarians.
The beautiful site of the 'Kasteelse Bossen' is the backdrop for a huge competition with over 230 starts in all classes.

Click here for the starting orders and results