9 November 2019
Boyd Exell wins World Cup in Maastricht
The second edition of the FEI Driving World Cup at Jumping Indoor Maastricht developed into an exciting battle between Boyd Exell and IJsbrand and Bram Chardon on Saturday evening. Finally IJsbrand Chardon had to acknowledge the superiority of Boyd Exell to finish runner-up ahead of his son Bram with the smallest of margins: 0.16 seconds.
International level 4 course designer Jeroen Houterman had built a technical and selective course for the six drivers and offered the public, that came in big numbers, an exciting competition. Exell and both Chardons qualified for the second round in which the drivers start with a clean sheet.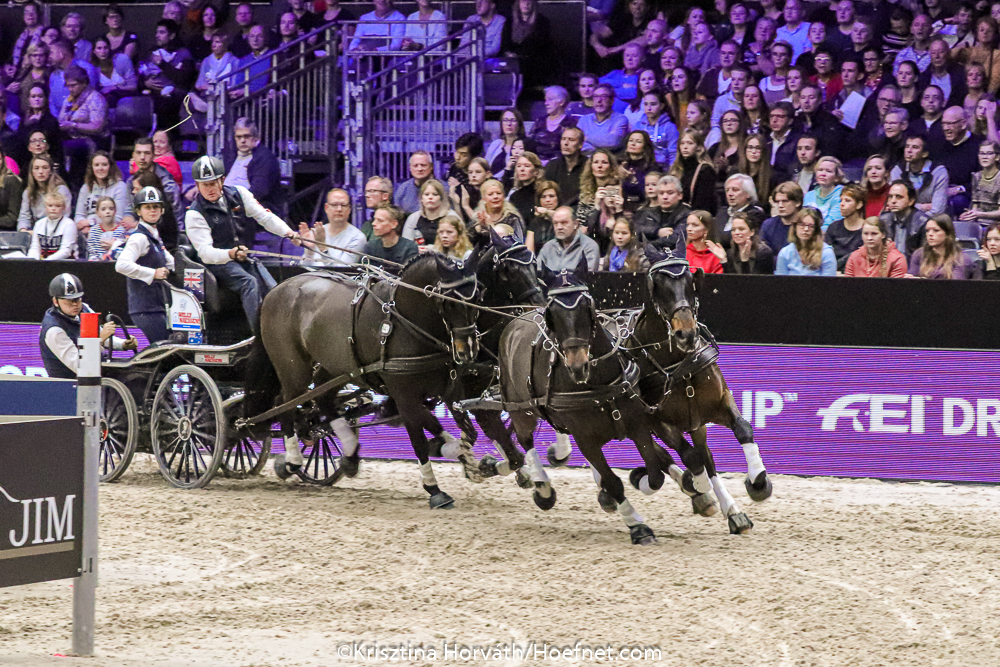 Photo:
Krisztina Horváth
0,16 seconds short
Boyd Exell started first and drove a clear round in 126.35, over two seconds faster than IJsbrand Chardon in the first round. The fourfold World Champion, second starter, gave everything he had and clocked the fastest time with his mixed team of Lipizzaners and a KWPN-bred. Unfortunately on of his leading horses hit a ball which resulted in four dear time faults. "I was really into the race, it went fantastic, this unlucky ball at obstacle two is upsetting. After that it was all or nothing at the remaining three obstacles and I was just 0.16 seconds short, how unfortunate! My horses did a fantastic job, I knew I was slightly faster than Boyd at the straight line. With this team of horses I am as fast, or even faster, than Boyd. Before the last obstacles I had the feeling I was faster, but unfortunately the ball fell."
Boyd was very pleased with his horses: "I went clear in a time of 126,35 seconds, which put the pressure on the Chardons. They took full risk after they made their first mistake and went even faster. If you go in with an advantage, if you are the last person in you have the most information and the key is then to hold your nerve and not let it get to you." Boyd was presented with a beautiful watch during the prize giving ceremony, which he appreciated very much.
Fine tuning
Bram Chardon had received a wild card in Maastricht and therefore could not win World Cup point. The European Champion used the opportunity to use two new lead horses: "It went rather well, however the lead horses need some more fine tuning, especially in preparing them for the approach of the obstacles." Bram was last to go, but had two faults in the first marathon and lost some focus and a third ball dropped. His chances for a victory was lost. "My speed was exactly the same as my father's and Boyd's, that was not the problem. When this team gets more developed it will be one of the fastest teams."
World Cup debutant Mareike Harm had an excellent competition in Maastricht. The German driver finished fourth with her team of three outdoor horses and a horse formerly owned by Mark Weusthof. As Bram Chardon competed with a wild card, Harm will receive the world cup points instead. Mareike will participate in Stuttgart with a wild card next week.
Last year's winner Koos de Ronde finished fifth and Glenn Geerts had four unfortunate faults and to settle with sixth place in his first World Cup qualifier of the season.
Results FEI Driving World Cup™  Maastricht 9 November 2019:
Boyd Exell (AUS) 126,35
IJsbrand Chardon (NED) 126,51
Bram Chardon (NED) 136,50
Mareike Harm (GER) 146,52
Koos de Ronde (NED) 149,24
Glenn Geerts (BEL) 159,57
Standings FEI Driving World Cup 2019/2020 after 2 out of 9 competitions:
1         Boyd EXELL                                      AUS            20
2         Bram CHARDON                               NED            7
2         Ijsbrand CHARDON                               NED            7
4         Koos DE RONDE                          NED            6
5         József DOBROVITZ                                 HUN            5
5         Mareike HARM                               GER             5
7         Glenn GEERTS                           BEL            2
7         Jerome VOUTAZ                                 SUI            2
Click here for all results.
Click here for the photoalbum.
Copyright reserved. Acquisition without acknowledgment and permission from info@hoefnet.nl is not allowed.