21 November 2014
In Memory of Mia Allo
After a very long and brave battle with illness, the president of the Belgian Equestrian Federation (KBRSF) driving committee past away last night. Mia Allo was a fixture in the international driving scene who with her flashy team of palomino ponies represented Belgium at many World and European Championships.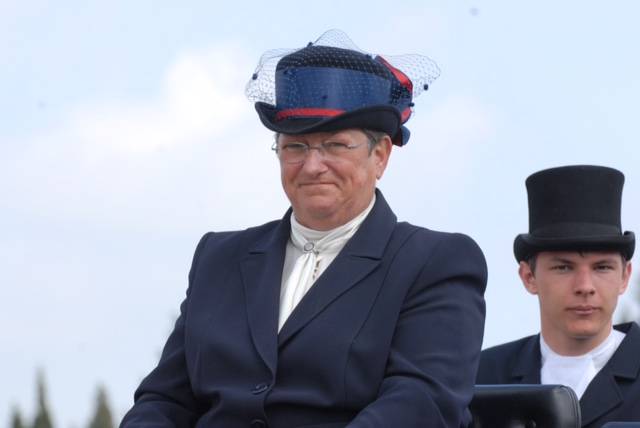 Mia's love of horses was inherited through her father Willy Allo, a true horseman decades active in the equestrian sport, and an expert in antique carriages. After the passing of her father, Mia went about furthering the equestrian activities of their stable Peerdshof, in Nieuwenrode, Belgium. The stables and carriages were kept in immaculate condition and Mia's ponies were always turned out by the book.
Just over six months ago, Mia had just returned from a third place finish in Dothealyst, Denmark when she was urgently taken to the hospital. From the very beginning Mia knew that the prognosis was not good, but insisted "They won't get me without a fight", the last time I was able to visit.
Mia Allo was not only active in the sport as an athlete. She shared her knowledge and experience of the driving sport with many. She represented Belgium seven times at the FEI World Championships, the first in Breda in 1995. She was also crowned Belgian Champion many times.
In 2010 Mia Allo was accredited as an international judge for the FEI. She was also president of the Belgian driving committee where she headed up meetings for more than ten years.
"With the passing of Mia Allo we are not only losing a piece of our traditional driving heritage, but also a sportwoman who always strove to be one of the best, giving the new young generation a run for their money. This is a huge loss for the International driving world, as she was respected globally. Her influence stretched far, just last year at the pony championships in Pau (FRA) she made her team available to an American competitor. We offer our sincerest condolances to her family, friends and loved ones. It will be nearly impossible to replace her in all of the places where she played an active roll in organizations and committees. Just before the World Equestrian Games in Caen Mia had to step down from her appointment as Chef d'equipe for the four-in-hand horses due to her health problems" tells Mark Wntein, President of the Vlaamse Liga Paardensport and member of the FEI Driving committee.
Mark Wentein