16 May 2019
World's top international drivers gather in Valkenswaard
From Thursday 30th May until Sunday 2nd June the fourth edition of Driving Valkenswaard International (DVI) has solidified its place on the international driving calendar. A record number of 75 pair and four-in-hand drivers representing 16 different countries have signed up to compete at this beautiful competition held on the grounds of World Champion Boyd Exell's home at the Horse Boulevard in Borkel en Schaft, The Netherlands. Free admission is offered to the public over all four days of competition.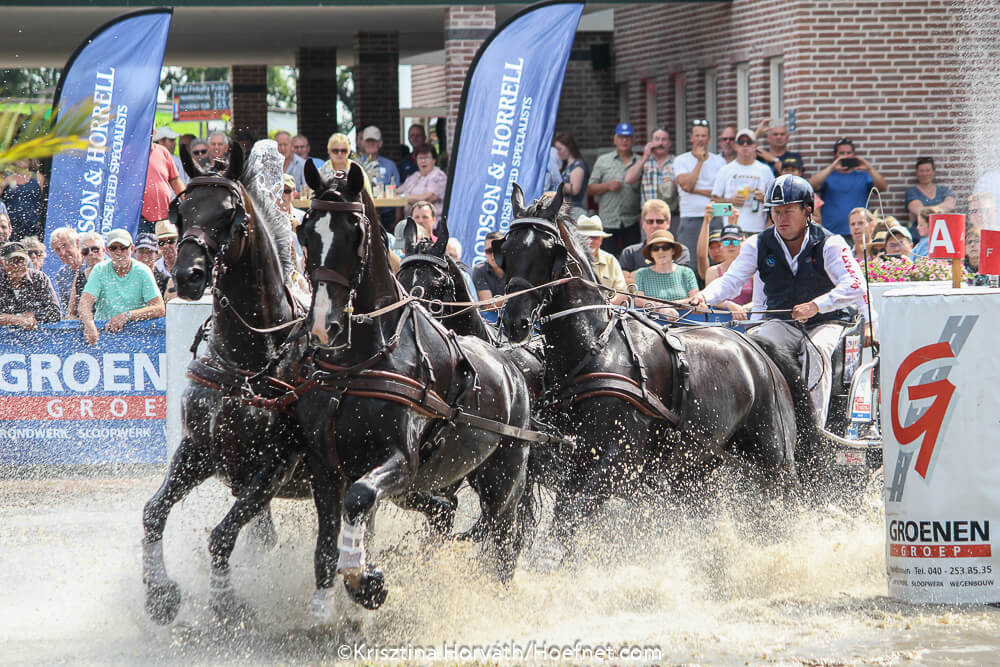 Photo:
Krisztina Horváth
Competitors from Australia, Argentina, Austria, Belgium, Denmark, France, Great Britain, Germany, Luxembourg, The Netherlands, Poland, Spain, The Czech Republic, South Africa, Sweden and the United States will all be making roads to Exell Equestrian. In addition to a large number of four-in-hand turnouts over 40 pair drivers will also be coming to Borkel en Schaft. They will compete in the dressage, cones and spectacular marathon competitions.
Nations Cup
In addition to an individual competition, Valkenswaard is once again host to a Nations Cup competition for the four-in-hand horses (CAIO). Teams from Australia, Belgium, The Czech Republic, France, Great Britain, Germany and The Netherlands will compete for the Nations Cup.
Gratis toegankelijk voor de hele familie
Free admission for the entire family
Driving Valkenswaard offers four full days of programming with more than just top equestrian sport. One featured activity is the Bicycle Challenge. Another is the Tug of War, where the drivers are put onto teams to test their ultimate strength. And the Pro-Am Challenge will add an extra element of rivalry between the drivers as Pro(fessional) and Am(ateur) drivers are teamed up in both the pair and four-in-hand divisions with the teams helping each other over the course of the competition.
DVI offers free admission for all four days of competition, making it an event suitable for the entire family. The trade fair offers lots of options for shopping, food, drinks and children's activities. Driving Valkenswaard International takes place from 30th May to 2nd June on the grounds of Exell Equestrian, Klein Schaft 5 in Borkel en Schaft.