1 May 2018
The best of the international driving world is coming to Valkenswaard
The third edition of Driving Valkenswaard International (DVI) is set to take place from Thursday 24 until Sunday 27 May. Over 50 pair and four-in-hand drivers from 12 different countries have signed up to compete at this beautiful competition located on the grounds of reigning World Champion Boyd Exell's estate in Borkel en Schaft (Valkenswaard, NL). Entry is free to the public over all four days.
Competitors from Australia, Austria, Belgium, France, Great Britain, Germany, Ireland, The Netherlands, South Africa, Sweden, Switzerland and the United States will make camp at Exell Equestrian in a few short weeks. In addition to the 29 four-in-hands there will also be 24 pair horses coming to Borkel en Schaft. They will all compete in the three phases of dressage, cones and of course the spectacular marathon.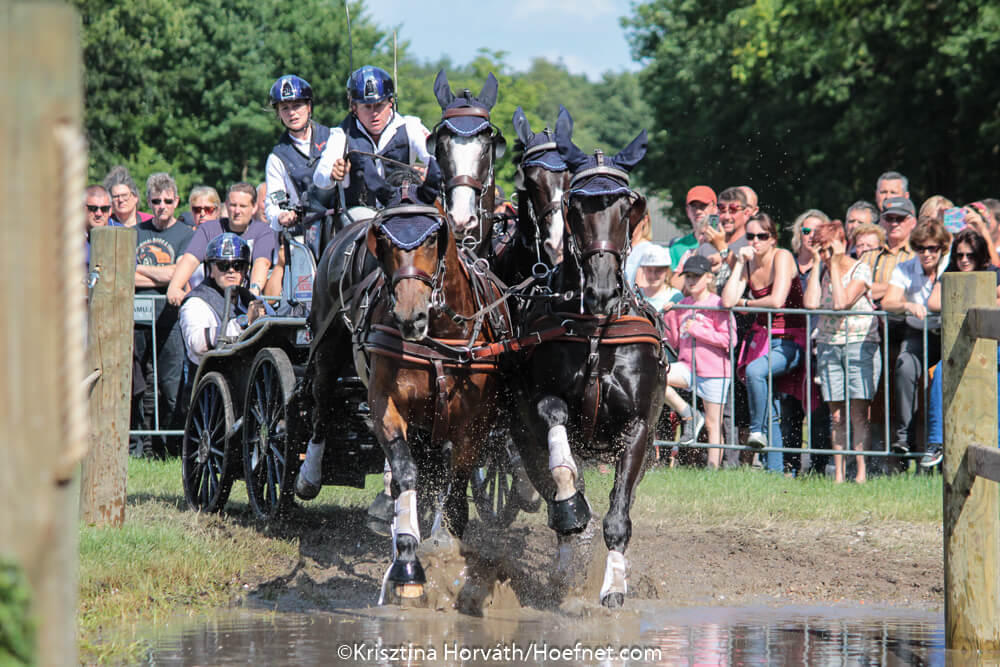 Photo:
Krisztina Horváth
Nations Cup
In addition to the individual competition where host Boyd Exell ultimately reigns, Valkenswaard has been awarded for the first time a Nations Cup for four-in-hand horses. The Nations Cup (CAIO) was until this year always held in Breda, but after the collapse of that competition, the Royal Dutch Equestrian Federation (KNHS) approached the organization of DVI to take over the facilitation of the Nations Cup. Teams from Belgium, France, Great Britain, Germany, The Netherlands and Sweden are all planning on taking part.
Free admittance for the entire family
Driving Valkenswaard has put together a four-day program that includes much more than just international equestrian top sport. Activities include the spectacular bicycle challenge, and for the first time this year a Tug-of-War competition which will have drivers pitting themselves against each other to determine their true strength! After its overwhelming success last year, the Pro-Am challenge will once again be a part of the competition to stimulate a little friendly rivalry. In both the pair and four-in-hand divisions, teams will be formed with on Pro(fessional) and one Am(ateur) driver. It is the intention that the Pro driver will help their teammate over the course of the competition to achieve together the best possible result. The best teams will of course be rewarded with fantastic prizes supplied by our sponsors. The gates are open to everyone over the four days, with free admission for young and old. There are various attractions for kids, but also a charming Promo Village with food, drinks and lifestyle shopping. Driving Valkenswaard International takes place from 24 to 27 May, on the grounds of Exell Equestrian, Klein Schaft 5 in Borkel en Schaft.
For more information: www.drivingvalkenswaard.com